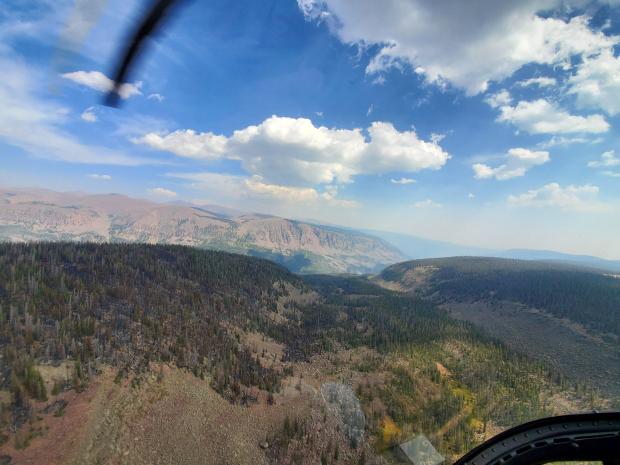 Center Creek Trail Fire
Location: 13 miles north of Hanna, Utah
Start Date: August 21, 2020 lightning-caused  
FINAL UPDATE
The Center Creek Trail Fire was declared 100% contained on October 13, 2020. Unless conditions warrant, this will be the final update for the Center Creek Trail Fire. Please note that area and road closures are in effect, as well as fire restrictions. Please continue to look for this information by visiting the East Fork Fire Inciweb:  https://inciweb.nwcg.gov/incident/closures/7052/  and also by going to the Ashley National Forest website and Facebook page. 
Basic Information
Incident Type:
Wildfire
Cause:
Lightning
Date of Origin:
Tuesday August 25th, 2020 approx. 12:00 AM
Location:
17 miles north of Mountain Home, UT.
Incident Commander:
California Interagency Incident Management Team 10
Coordinates:
40.64, -110.452
Size (Acres):
1,281
Containment:
95%
Estimated Containment Date:
Friday October 30th, 2020 approx. 12:00 AM
Fuels Involved:
Timber (Litter and Understory)
Timber (Grass and Understory)

Upper elevations across the fire area are dominated by timber fuel models with heavy dead and bug kill. Many patches of rock break up continuity. Fire is located on a ridge top and is partially protected from the predominate winds.
Significant Events:
Minimal
Creeping
Smoldering

Planned Outlook
Planned Actions:
The fire is 95% contained within the wilderness with a total of 1,281 acres burned. No rehabilitation or repair is necessary.
Projected Incident Activity:
24 Hours: Minimal fire behavior is expected due to below freezing daytime temperatures and lingering precipitation on the ground will drastically limit fire activity.
Remarks:
With cooler temperatures in the forecast, an increase in acreage is not expected. Due to remoteness of the fire and its location within the High Uintah Wilderness area, no direct tactics will be taken.
Weather Synopsis
Weather Concerns:
Scattered snow showers (1 inch of accumulation) and significant drops in temperatures will continue overnight and into the next operational period at the fire. Ridgetop west winds at 5-10 mph gusting up to 15 mph. Slope/valley winds are at variable down drainage 3-7 mph, with gusts up to 12 mph. At 10,000ft, maximum temperatures are 14-20, minimum RH is 70-90, Haines of 2, very low.
Incident Contact
Incident Contact
Center Creek Trail Fire Info
Email: 2020.eastfork@firenet.cov
Phone: 435-635-8738
Hours: 7 am - 9 pm Daily
Fire Unit Information
Ashley National Forest
U.S. Forest Service
Utah
Vernal, UT 84078