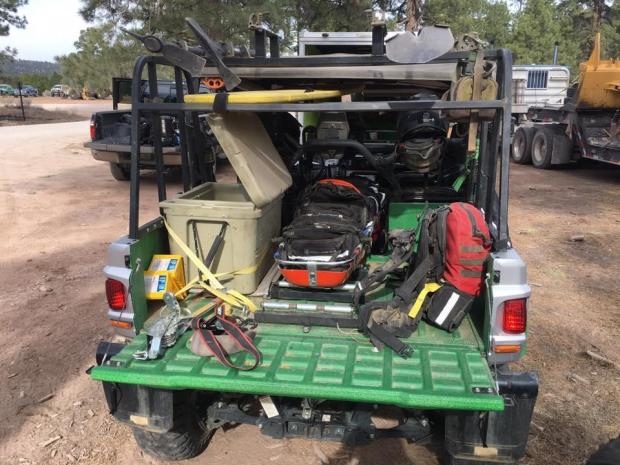 The Fork Fire started in the Crystal Basin near Gerle Creek under critical fire weather conditions. Driven by east winds gusting 30-50 miles per hour, the fire grew rapidly to the west. It is burning in the Rubicon River drainage and the 2014 King Fire burn scar. The Rubicon canyon is in an extremely steep and remote area which makes firefighting difficult. This area of the King Fire had burned at high severity with nearly 100% tree mortality, leaving large snag patches of fire killed trees. The standing snags are a significant safety hazard, especially in strong winds. There is also a high concentration of dead and down trees creating a heavy fuel load, as well as dense post-fire regrowth of 4-6 foot tall brush.
Basic Information
Incident Type:
Wildfire
Cause:
Under Investigation
Date of Origin:
Tuesday September 08th, 2020 approx. 11:15 AM
Location:
Crystal Basin/Gerle Creek, 15 Miles NE of Pollock Pines
Incident Commander:
Carl Schwope, Southwest Area Type 2 Incident Management Team 4
Coordinates:
38.99, -120.394
Current Situation
Total Personnel:
338
Size (Acres):
1,667
Containment:
70%
Estimated Containment Date:
Tuesday September 22nd, 2020 approx. 12:00 AM
Fuels Involved:
Fire is burning in King Fire scar, where fuels consist of heavy concentrations of standing snags and 4-6 foot brush.
Significant Events:
Surface fire is consuming broken ground fuels in the King Fire scar, sheltered locations experience spread during daytime hours.
Planned Outlook
Planned Actions:
Establish direct control lines where possible, utilizing indirect control line where direct control line is not feasible. Hold and monitor existing lines along current perimeter. Provide structure defense to residential structures in the threatened communities. Protect critical utility infrastructure and values at risk.

Projected Incident Activity:
12 hours: Fair relative humidity recovery and dry conditions with light downslope flows will prevail.



24 hours: Light, terrain-driven morning winds will give way to afternoon southwest winds. Dry conditions will continue to drive daytime humidity down to near 20 percent, as maximum temperatures remain in the mid-70s.
Weather Synopsis
Weather Concerns:
Dry conditions, slightly cooler temperatures, and a wind pattern dominated by terrain-driven flow will prevail over the next couple of days. Expect afternoon southwest winds gusts over ridges and aligned portions of the Rubicon drainage.
Incident Contact
Incident Contact
Fork Fire Information
Email: enfincident@gmail.com
Phone: 530-303-2455
Hours: 8AM-8PM
Fire Unit Information
Eldorado National Forest
U.S. Forest Service
100 Forni RD Placerville California 95667
Placerville, CA 95667