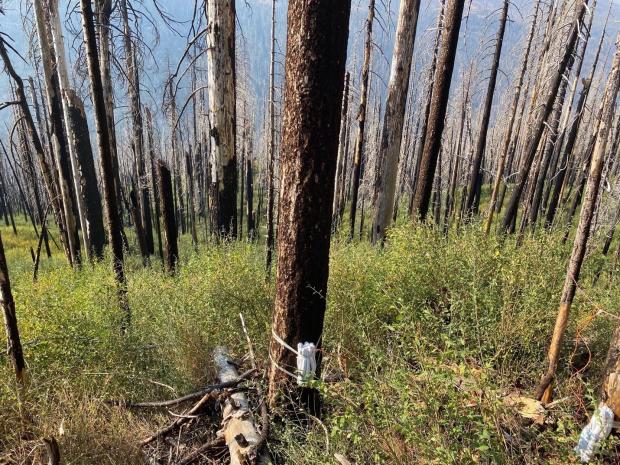 A Type 5 organization is managing the Fork Fire. The Fork Fire is 1673 Acres with 100% containment. Fire activity has been minimal, however windblown needle cast over the completed fire lines and strong winds resulted in a 2.6-acre slop over on 10/27 which was contained at 97 acres.
The Fork Fire started in the Crystal Basin near Gerle Creek under critical fire weather conditions. Driven by east winds gusting 30-50 miles per hour, the fire grew rapidly to the west. It is burning in the Rubicon River drainage and the 2014 King Fire burn scar. The Rubicon canyon is in an extremely steep and remote area which makes firefighting difficult. This area of the King Fire had burned at high severity with nearly 100% tree mortality, leaving large snag patches of fire killed trees. The standing snags are a significant safety hazard, especially in strong winds. There is also a high concentration of dead and down trees creating a heavy fuel load, as well as dense post-fire regrowth of 4-6 foot tall brush.
Basic Information
Incident Type:
Wildfire
Cause:
Under Investigation
Date of Origin:
Tuesday September 08th, 2020 approx. 11:15 AM
Location:
Crystal Basin/Gerle Creek, 15 Miles NE of Pollock Pines
Incident Commander:
Rob Scott
Coordinates:
38.99, -120.394
Current Situation
Total Personnel:
21
Size (Acres):
1,673
Containment:
100%
Estimated Containment Date:
Sunday November 15th, 2020 approx. 12:00 AM
Fuels Involved:
Fire is burning in King Fire scar, where fuels consist of heavy concentrations of standing snags and 4-6 foot brush.
Significant Events:
Minimal
Creeping
Smoldering
Planned Outlook
Planned Actions:
Establish direct control lines where possible, utilizing indirect control line where direct control line is not feasible. Hold and monitor existing lines along current perimeter. Provide structure defense to residential structures in the threatened communities. Protect critical utility infrastructure and values at risk.

Projected Incident Activity:
Predicting mild interior hot spots due to needle cast
24 hours: Predicting mild interior hot spots due to needle cast
48 hours: interior creeping is biggest concern and fire will be monitored by resources as well as with the Bunker Hill camera.
Remarks:
Due to wind event on 10/26 the fire burned 2.6 additional acres.
Weather Synopsis
Weather Concerns:
High pressure will persist over eastern California through most
of this upcoming week with continued poor overnight humidity recovery
for mid slopes and ridges. Winds will remain generally light with
no rain or snow expected. Local breezy north to east winds for
north Sacramento Valley and foothill locations will produce
elevated fire weather concerns. A low pressure system could bring
gusty southwest winds and raise fire weather concerns by the end
of the week, along with chances for precipitation.
Incident Contact
Incident Contact
Fork Fire Information
Email: enfincident@gmail.com
Phone: 916-500-4712
Hours: 8AM-430PM
Fire Unit Information
Eldorado National Forest
U.S. Forest Service
100 Forni RD Placerville California 95667
Placerville, CA 95667