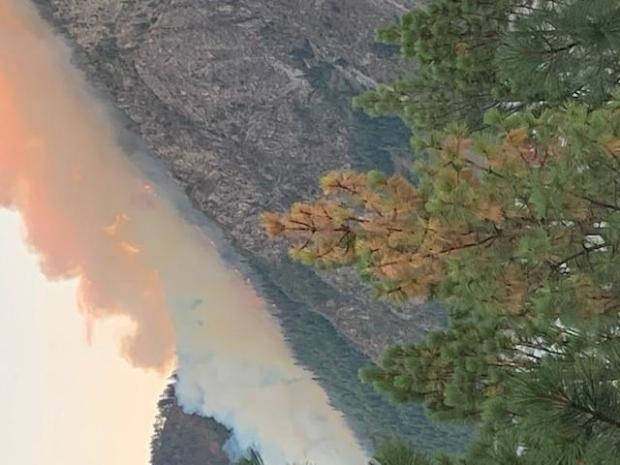 The Bernard Fire was detected on 7 September, 2020.  It is burning in steep timber from Echo Bay up to Bernard Peak. Red flag conditions on Labor Day, that included very high northerly winds, created wind-driven fire behavior into the evening. There are no evacuation orders associated with this fire. See the closures and maps tabs for information on the September 9th area closure.
Basic Information
Incident Type:
Wildfire
Cause:
Human Caused - Under Investigation
Date of Origin:
Monday September 07th, 2020 approx. 04:30 PM
Incident Commander:
North Idaho T3 IMT - Rod Weeks
Coordinates:
47.946, -116.51
Current Situation
Total Personnel:
91
Size (Acres):
1,357
Containment:
20%
Fuels Involved:
Timber and brush
Planned Outlook
Planned Actions:
Fire activity continues to move west on the north and east sides of Bernard Peak. Lolo IHC and two other crews, heavy equipment and engines are constructing control line to tie in with Stimson Lumber dozer line along their boundary to the west of the fire.
The Panhandle Hotshots are working in West Gold Creek drainage to keep the fire from crossing the creek.
Engines and heavy equipment continue to improve control lines on the south and east sections of the fire. Crews and equipment continue working on structural protection for Lakeview and Gold Creek Lodge, and on the shaded fuel break west of Lakeview. Two helicopters are filling buckets from Echo Bay and dropping water on both sides of the fire. Road grading operations will begin on roads 278 and 332.
Weather Synopsis
Weather Concerns:
Low pressure system pushing into area is reducing smoke cover and increasing the chance of showers and westerly winds. Possible isolated thunder and gusty winds through Saturday evenings. Drier weather arrives Sunday with cool temps, then gradual warming through mid-week and another chance of showers then.
Incident Contact
Incident Contact
Karen Robinson
Email: krobinson@idl.idaho.gov
Phone: 208-557-8813
Hours: Mon-Sun 0900-2000
Fire Unit Information
Idaho Panhandle National Forest
U.S. Forest Service
3815 Schreiber Way
Coeur d'Alene, ID 83815