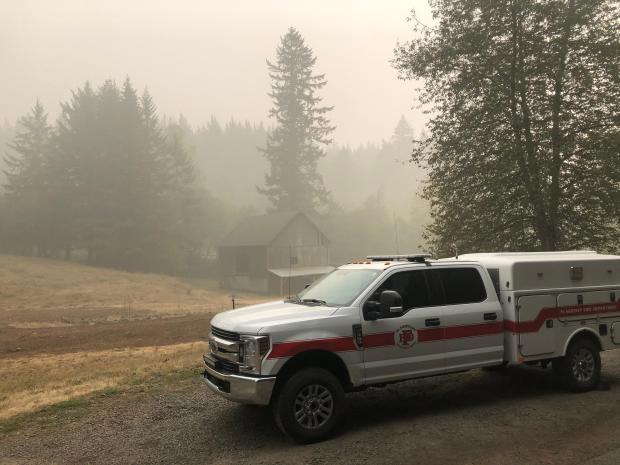 Acres: 137,880
Percent Containment: 20%
Start Date: September 8, 2020
Cause: Human-caused
Location: 1/2 miles SE of Estacada, OR
Fuels: Timber, Grass, Rugged Terrain
Total Personnel: 710
Riverside Fire 20% Contained; Moderated Fire Activity Expected Today

"Our firefighters continue to make progress in strengthening and expanding containment lines near local communities," said Incident Commander Alan Sinclair. "We understand the importance of getting back home and we are having daily conversations with the cooperators and are moving as quickly as possible to get residents back where they need to be."

Cool, damp weather is expected to moderate fire activity again today. Yesterday firefighters were able to take advantage of improved visibility to fly a helicopter over the northeast side of the fire to conduct an aerial assessment in that area. An Unmanned Aircraft System (UAS) was used to monitor fire activity on the southwest side of the fire.  Aircraft will continue to be used to support firefighters as needed and conditions allow. Infrared data continues to show heat near the fire's perimeter. Hand crews, engines, and heavy equipment including bulldozers are working to contain the fire where they can do so safely and effectively.
"Our aircraft are important when we use them, and we want to make sure that we have them available when we need it, so please keep any personal drones on the ground," said Incident Commander Alan Sinclair.
If you fly, we can't. A Temporary Flight Restriction is in effect (tfr.faa.gov). All fire aircraft will be grounded if a drone is spotted in the area. knowbeforeyoufly.org/uasandwildfires/
 
Firefighters are working to protect a wide variety of values at risk including: public and firefighter safety; local communities in Clackamas County; ancestral tribal lands; powerlines; recreation sites and facilities; hydropower and natural gas energy resources; communication sites; federal, state, and private forest resources; archaeological, historical, and cultural resources; designated wilderness areas and wild and scenic rivers; river ecosystems and riparian areas; wildlife and fisheries resources and habitat. 
 
There will be a Riverside Fire virtual community meeting tonight at 6pm on Fb.com/RiversideFireInfo. A recording with captioning will be posted to YouTube at https://tinyurl.com/RiversideFireInfoVideos.
Current evacuation information is available at clackamas.us/wildfires or by calling 503-655-8224.
Smoke info: oregonsmoke.blogspot.com. Willamette Valley Smoke outlook: wildlandfiresmoke.net/outlooks/nworegon
Visit
TripCheck.com for numerous road closures in the area. The Mt. Hood National Forest, state forest lands in the fire area, and large portions of Bureau of Land Management lands are closed: inciweb.nwcg.gov/incident/closures/7174/  
Basic Information
Incident Type:
Wildfire
Cause:
Human
Date of Origin:
Tuesday September 08th, 2020 approx. 12:00 AM
Location:
1/2 Mile SE of Estacada, OR
Incident Commander:
Alan Sinclair, Southwest Area Team 1
Coordinates:
45.049, -122.062
Current Situation
Total Personnel:
710
Size (Acres):
137,880
Containment:
20%
Fuels Involved:
Timber, Grass, Rugged Terrain
Significant Events:
The fire growth is minimal. Seeing some smoldering fire being held in heavier fuels such as tree stumps and logs.
Planned Outlook
Planned Actions:
The overall strategy is focused on securing spot fires, supporting fire lines within the area and coordinating with local agencies to address evacuations.
Projected Incident Activity:
Rain will continue to moderate fire behavior. We are still seeing smoldering fire activity in heavy fuels such as tree stumps and logs. In the next 24-48 hours, we anticipate the fire will remain static and smoldering along the fire lines.
Weather Synopsis
Weather Concerns:
Mostly cloudy conditions with high humidity and a few light rain showers occurred Saturday morning into the afternoon. Partly cloudy skies with a stable onshore flow is expected Sunday. Seasonal conditions are expected
Monday and Tuesday with near normal temperatures and humidity and light west winds.
Incident Contact
Incident Contact
Fire Information
Phone: 509-228-7805
Fire Unit Information
Mt. Hood National Forest
U.S. Forest Service
Oregon
Sandy, OR 97055
Dispatch Contact
Columbia Cascade Communication Center
| Vancouver, WA
Phone:
360-891-5140
Website:
https://gacc.nifc.gov/nwcc/districts/CCCC/