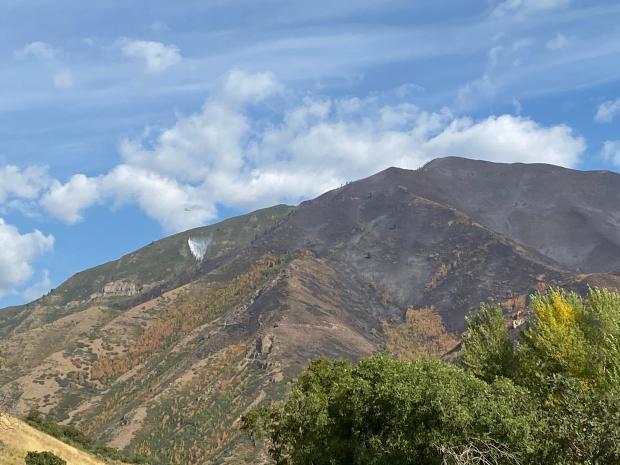 The Ether Hollow Fire started on September 7, 2020 at approximately 17:30. The fire was caused by target shooting. Due to hot and dry conditions the initial fire activity was burning fairly quickly. Because of the urban interface multiple homes and families were initially impacted. No structures were damaged. The cold front which moved in on September 8, 2020 brought increased winds, followed by snow and rain decreasing fire activity which remains minimal, smoldering and creeping. Fire activity is expected to pick up again as weather conditions continue to warm and dry. The fire is being manged by Great Basin Team 3, a Type 2 incident management team. 
Basic Information
Incident Type:
Wildfire
Cause:
Target Shooting
Date of Origin:
Monday September 07th, 2020 approx. 05:27 PM
Location:
Ether Canyon in Mapleton Utah
Incident Commander:
Ron Bollier Great Basin Team 3
Coordinates:
40.145, -111.55
Current Situation
Total Personnel:
26
Size (Acres):
849
Containment:
86%
Estimated Containment Date:
Sunday September 20th, 2020 approx. 12:00 AM
Fuels Involved:
Brush(2 feet) Short Grass(1 foot) Closed Timber Litter
Significant Events:
Minimal for Ether Hollow in the form of smoldering and surface creep and isolated torching in heavy
mountain brush/grass, mixed conifer and riparian stringers.
Planned Outlook
Planned Actions:
The fire will remain in patrol and confinement status. Continue mopping up and improving fireline where safety allows. Continue development of strategic plan including tactical options for parts of the fire that impact safety of firefighters due to extreme terrain. Suppression repair has begun on the west dozer line.
Projected Incident Activity:
Expect fire activity in the 72-hour period to remain minimal with continued Red Flag Warning conditions for low humidity and strong, gusty winds with little or no precipitation. Cool down of burned areas and suppression efforts eliminates areas for fire to burn or spread.
Weather Synopsis
Weather Concerns:
Yesterday temperatures reached 87F and humidity dropped to 9% with terrain driven winds gusting 9-12 mph across the fire.

Late Thursday southwest winds will increase with a dry cold front expected for Friday. There is a Red Flag Warning for the strong winds on Friday and a dry cold front expected for late Friday.
Incident Contact
Incident Contact
2020.William@firenet.gov
Email: 2020.William@firenet.gov
Phone: 1-435-414-9418
Hours: 8am-7pm
Fire Unit Information
Utah Division Forestry Fire State Lands
1594 W North Temple
Salt Lake City, UT 84114
Dispatch Contact
Northern Utah Interagency Fire Center
| Salt Lake City, UT
Phone:
801-495-7600
Website:
https://gacc.nifc.gov/gbcc/dispatch/ut-nuc/index.html