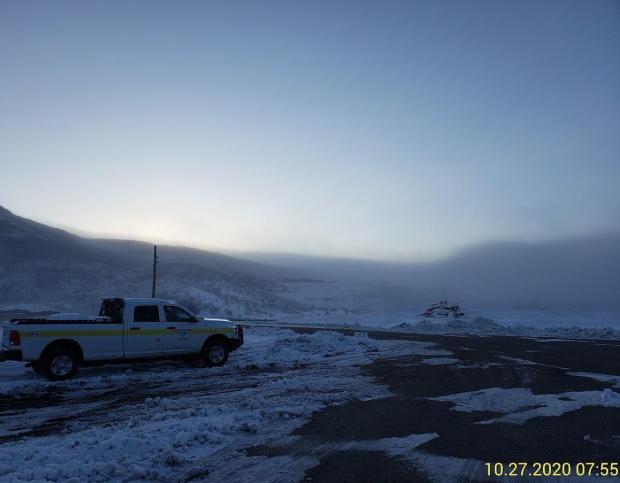 Middle Fork Fact Sheet - 11/02/2020, 2:30 p.m.        Acres: 20,433          Containment: 60%

Minimal Fire Behavior with Snow Cover Continues

Recon flights over the weekend showed no growth. Acreage and containment remain current; most heat remains in the northeast corner of the fire. Most of this isolated heat source is on a north-facing slope and remains covered by snow with minimal sun exposure. Currently 3 engines, 1 squad, and one Type 3 helicopter are assigned to the fire. Many roads and trails approaching the fire are still covered in snow and no ground crews have been able to access the perimeter. Fire behavior continues to be minimal. Area, road and trail closures remain in effect. 
Basic Information
Incident Type:
Wildfire
Cause:
Lightning
Date of Origin:
Sunday September 06th, 2020 approx. 12:00 PM
Location:
Routt National Forest, Mount Zirkel Wilderness Area, approximately 10 miles north of Steamboat Springs, Colorado.
Incident Commander:
Chris Green
Incident Description:
Full Supression
Coordinates:
40.628, -106.794
Size (Acres):
20,517
Containment:
100%
Estimated Containment Date:
Tuesday December 15th, 2020 approx. 12:00 AM
Fuels Involved:
Mixed conifer
Significant Events:
Minimal fire behavior with smoldering.
Remarks:
Area closures are in place.
Incident Contact
Incident Contact
Fire Information
Phone: 970-819-2898
Hours: 8-5, M-F
Fire Unit Information
Routt National Forest
U.S. Forest Service
925 Weiss Dr
Steamboat Springs, CO 80487