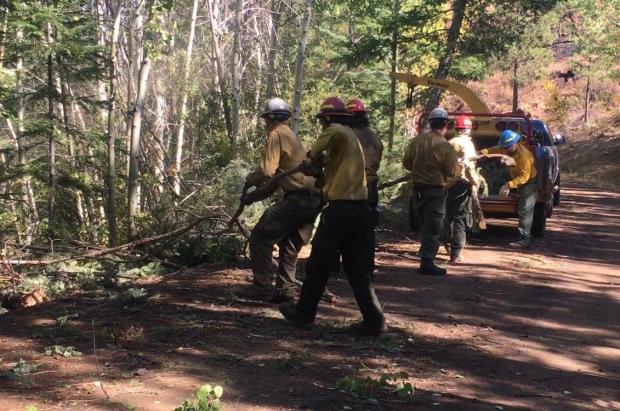 The Woodhead Fire is contained and is in patrol status.
Suppression rehab is completed with the expectation of winter weather conditions in the near future. Over 60 miles of dozer line was repaired across private, state, Bureau of Land Management, and Forest Service lands. It took a lot of coordination with other agencies, landowners, and permittees to perform the repair work. The fire personnel and resource advisor were able to complete the repair with the help of three excavators, one dozer, and the Black Mountain Hot Shot crew. This work concludes the Woodhead Fire incident.

The BAER assessment was also completed this week and a proposed treatment plan was submitted to the Intermountain Regional Office for review and approval. Additional details regarding the BAER treatments will be announced upon approval and a new Inciweb site will be established for the Woodhead BAER efforts.   
Basic Information
Incident Type:
Wildfire
Cause:
Human
Date of Origin:
Monday September 07th, 2020 approx. 03:34 PM
Location:
3 miles northwest of Cambridge, ID
Incident Commander:
West Zone Duty Officer
Incident Description:
The Incident Is In A Patrol Status With The Onset Of Early Winter Weather. The Fire Is 100% Contained.
Coordinates:
44.756, -116.877
Current Situation
Total Personnel:
11
Size (Acres):
96,614
Containment:
100%
Estimated Containment Date:
Saturday October 31st, 2020 approx. 12:00 AM
Fuels Involved:
Valley bottom dominated by short grass and brush, with sagebrush and pockets of mountain mahogany. The upper elevations and side drainages are dominated by pine and fir with grass and brush in understory, especially on the cooler north slopes.
Significant Events:
work completed
Planned Outlook
Planned Actions:
Patrol will continue until winter weather is well established.

Projected Incident Activity:
The fire is suppressed, containment is complete, and the fire perimeter is secured. Suppression rehab has been completed. This fire is in patrol status.

This is the final incident update expected for the Woodhead fire incident.
Remarks:
Resources assigned include 2 engines for patrol.
Weather Synopsis
Weather Concerns:
none
Incident Contact
Incident Contact
Council Ranger District
Phone: 208-253-0100
Hours: Mon-Fri 8AM-4:30PM
Fire Unit Information
Payette National Forest
U.S. Forest Service
500 N Mission St
McCall, ID 83638
Dispatch Contact
Payette Interagency Dispatch Center
| McCall, ID
Phone:
208-634-2757
Website:
https://gacc.nifc.gov/gbcc/dispatch/id-pac/pac/index.php