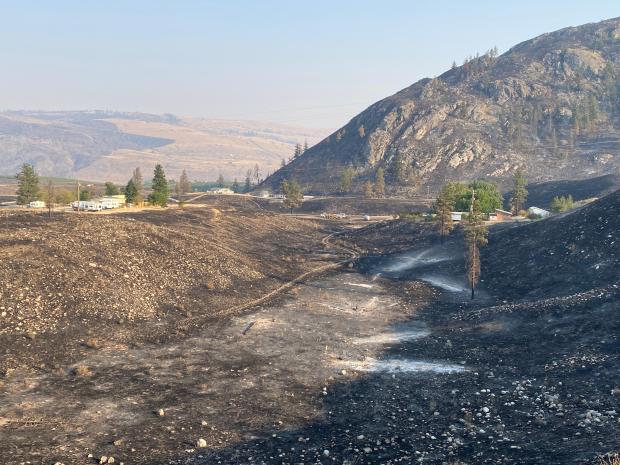 The Apple Acres Fire started September 7, 2020 at 11:33 AM four miles north of Chelan, WA.  The fire spread quickly due to strong winds and low relative humidity.  Local fire crews responded and provided point protection. No injuries have been reported.  Level 3 evacuations and numerous road closures were in effect. Evacuations were reduced to Level at 8:00 AM on Thursday, September 10, 2020. Residents can call (509) 670-5331 for Red Cross assistance. 
Basic Information
Incident Type:
Wildfire
Cause:
Under Investigation
Date of Origin:
Monday September 07th, 2020 approx. 11:30 AM
Location:
4 miles north of Chelan, WA
Incident Commander:
Shawn Sheldon, Northwest IMT #6
Coordinates:
47.909, -119.963
Current Situation
Total Personnel:
10
Size (Acres):
5,500
Containment:
99%
Estimated Containment Date:
Tuesday September 15th, 2020 approx. 12:00 AM
Fuels Involved:
Short grass (1 foot), timber (grass and understory), and brush (2 feet)
Significant Events:
Fire behavior will be limited to interior smoldering or remaining large fuels. Any remaining areas of heat may show if smoke shading effects are reduced.
Planned Outlook
Planned Actions:
Mop up and patrol
Projected Incident Activity:
Reduced fire behavior with primarily interior smoldering. No anticipated spread.
Weather Synopsis
Weather Concerns:
Light showers early Tuesday morning helped thin our canvas of thick smoke. This allowed more sunshine to penetrate the smoke resulting in warmer temperatures compared to Monday. Humidity levels varied based on elevation with the Plateau experiencing the lowest humidity of the day. High temp:78-83 RH: 25-28% Plateau. 34-36% Columbia Breaks Winds: Unslope 1 to 4 mph. On the Plateau, southeast 5 to 9 mph. High pressure will be over the region Wednesday bring stable weather conditions and light winds. Areas of smoke will remain present but should be thin enough to allow temperatures to warm back into the 70's and lower 80's. High Temps: 79-84. RH: 24-27%Plateau. 32-35% Columbia Breaks. Winds: Upslope 1 to 4 mph. On the Plateau, southeast 6 to 10 mph.
Incident Contact
Incident Contact
Public Information Officers
Phone: 360-489-8731
Hours: M-Sun 7:30 AM - 8:00 PM
Fire Unit Information
Northeast Region-Department of Natural Resources
225 S. Silke Road
Colville, WA 99114
Dispatch Contact
Central Washington Interagency Center
| Wenatchee, WA
Phone:
509-884-3473
Website:
https://gacc.nifc.gov/nwcc/districts/CWICC