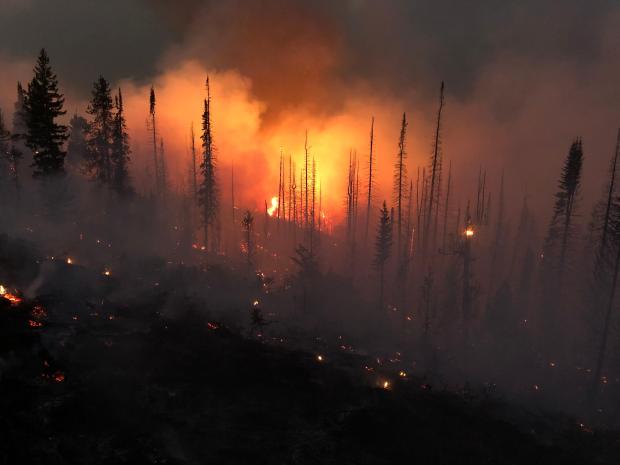 The Grouse Fire started Sept. 6, 2020, about 7:30 p.m. The fire's ignition location was along the boundary of the Boise and Sawtooth National Forests about 6 miles northeast of Pine, Idaho, in the area of National Forest System (NFS) roads 166 and 166e. Campers were evacuated from the area of the closure.
September 21
The Grouse fire is currently 3,980 acres. The fire crossed into the Sawtooth National Forest and both forests are coordinating on the management of the fire. For public health and safety, a multi-forest closure is in place for the entire fire area. The Incident Commander and all firefighting personnel appreciate the public's cooperation in staying out of the forest closure area and the Incident Command Post.

A local Type 3 IMT continues managing the fire for full suppression.
 
Objectives: An area closure is in place, including a number of trails and roads. Bulldozers  and handcrews continue to put in line where possible with ground crews cutting line where the dozer is not able. Aircraft will continue to support ground efforts as needed. Fire crews are working along NFS road 166 to reduce fire activity to the west if the fire progression changes.
 
Weather: Colder temperatures and higher RHs will be in place for the day, but a warming trend is expected into next week.
 
Closures: Visitors are reminded that Sawtooth National Forest Campgrounds Abbot, Chaparral, Bird Creek, Shake Creek and Baumgartner are closed. Boise National Forest Elks Flat Campground and dispersed camping remains open at this time. 
 
Reminder:  Please be aware of forest fire restrictions before heading out for the weekend.
Basic Information
Incident Type:
Wildfire
Cause:
The Fire Is Still Under Investigation And The Cause Is Not Yet Known.
Date of Origin:
Sunday September 06th, 2020 approx. 11:15 PM
Location:
35 Miles NNE OF Glenns Ferry, ID
Incident Commander:
R ERNE ID-BOF
Incident Description:
Minimal, Creeping, Smoldering, Backing
Coordinates:
43.541, -115.173
Current Situation
Total Personnel:
68
Size (Acres):
3,980
Containment:
40%
Estimated Containment Date:
Thursday October 01st, 2020 approx. 12:00 AM
Fuels Involved:
Brush and Timber
Significant Events:
Road and area closure in effect.
Planned Outlook
Planned Actions:
PLANNED ACTIONS FOR THE NEXT OPERATIONAL PERIOD INCLUDE HOLDING AND SECURING PERIMETER AND IMPROVING INDIRECT CONTROL LINE AS WELL AS LOOKING AT OPPORTUNITIES TO UTILIZE RESOURCES TO GO DIRECT IN DIVISION C. REHABILITATION WORK WILL BEGIN ON NON CRITICAL SECTIONS OF CONTAINMENT LINE.
Projected Incident Activity:
Minimal growth is expected across the fire area as a result of precipitation that occurred over the area on 9/18-/919.

Remarks:
Grouse Fire is now being managed by the local unit.
Weather Synopsis
Weather Concerns:
Sky/weather.
Mostly sunny.
Max temperature.
64 to 69.
Min humidity.
22 to 27 percent.

Incident Contact
Incident Contact
Venetia Gempler
Email: venetia.gempler@usda.gov
Phone: 208-373-4105
Hours: M-F-9 a.m. - 4 p.m.
Fire Unit Information
Boise National Forest
U.S. Forest Service
1249 S. Vinnell Way
Boise, Idaho, ID 83709
Dispatch Contact
Boise Interagency Dispatch Center
| Boise, ID
Phone:
208-384-3400
Website:
https://www.idahofireinfo.blm.gov/southwest/