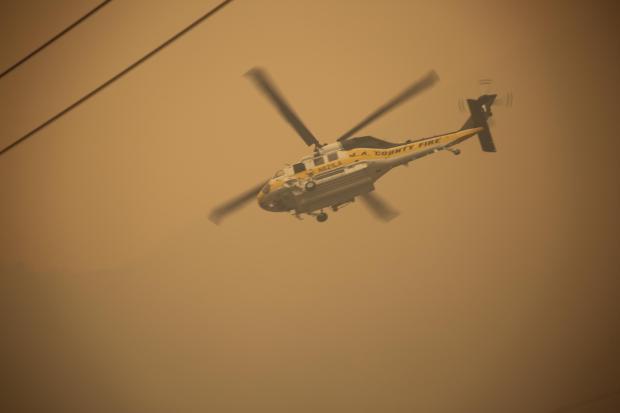 | Angeles National Forest Facebook | Angeles National Forest Twitter  | Español |
Story Map: https://storymaps.arcgis.com/stories/9c7f785b48ca4724883ef0e679ad1424
Location of Origin: Angeles National Forest, Azusa, CA
Start date: September 6, 2020
Size: Approximately 99,428  acres (current as of 8:00 AM)
Percent Contained: 15%
Cause: Under Investigation
Resources Assigned: 1,686 personnel
Engines: 215
Handcrews: 25
Helicopters: 6
Dozers: 18
Water tenders: 10
TODAY
Today's priorities for work on the Bobcat Fire are to continue work on the control lines. These lines are being built in the northeastern and northwestern portions of the fire in order to stop the forward progression. Additionally, firefighters will continue to mop up and secure the areas around structures where the fire burned into Antelope Valley and Juniper Hills. We will also be looking for ways to secure the line between Mt. Wilson and Highway 2 to eliminate the threat to that area. Residents are urged to remain alert for any additional evacuation orders or warnings that may be issued. For information on evacuations follow LA County Sheriff's Dept. Twitter at @LASDHQ or https://bit.ly/35Uy9Ld
YESTERDAY
Additional evacuations were ordered for residents in the Antelope Valley yesterday. Yesterday and into the night the fire remained active due to windy conditions, especially on the north end. Over the evening the fire did moderate some and work started on direct lines. Successful strategic firing occurred to secure the area around Mt. Wilson last night. Aside from Mt. Wilson, the fire remained quiet from Crystal Lake all the way around the south end back up to Highway 2.
 
WEATHER
The weather today will me mostly clear with areas of smoke and temperatures will be steady throughout the day. Humidity will drop into the teens again and winds will remain southerly, with the strongest winds occurring in the northern portion of the fire again. A warming and drying trend is expected for mid-week.
 
EVACUATION ALERTS
Evacuation Orders:
- South of 138th St East, North of Big Pines Hwy & Hwy 2, West of 263rd East, East of Largo Vista Rd.
- North of Angeles Crest North and between Clear Creek Station and Hwy 39.
- East of Devils PunchBowl Rd, South of Big Pines Hwy, North of Big Rock Creek, & West of Jackson Lake.
- Aqueduct: South of Pearblossom Hwy (SR138), North of Big Pines, East of 165th and West of Largo Vista Rd.
- Ward: North of Fort Tejon Rd, South of Avenue V, East of 87th E., West of 121 St E.
- Longview: South of Avenue 12, North of Aqueduct, West of 165 St E and East of 121 St E.
-Tejon: South of Fort Tejon Rd, North of Cooley Place, East of 89th St. E. and West of Longview Rd.
- Peach: North of Pallett Creek, South of W. 114th St., East of Longview Rd and West of 165th St.
- Cima Block: 96th east to 116th St. E/Fort Tejon Rd south to SR 2.
- Juniper Block: 116th E to Devis Punchbowl Rd / Fort Tejor Rd to SR 2.
- Punchbowl Block: Devils Punchbowl Rd to and including Fenner Camp.
- Paradise Block: Fenner Camp to intersection of SR 2 and Big Pines.
- Chilao, the CalTrans Yard, the 3 Points area and the Angeles Crest Christian Camp were all issued Evacuation Orders. Crystal Lake area remains under Evacuation Order.
Evacuation Warnings:
Recent evacuation warnings include; South of Pearblossom Hwy, East and North of Angeles Forest Hwy, North and West of Mt. Emma Rd., East and South of Hwy 122, and West of Cheseboro Rd. Evacuation Warnings remain in effect for the communities of Wrightwood, Altadena and Pasadena.
A Red Cross Evacuation Center has been established at Palmdale High School, located at 2137 E Avenue R, Palmdale, 93550. The first evacuation point at Santa Anita Park is now closed and anyone still needing assistance can call the Disaster Distress Hotline at 800-675-5799. Antelope Valley Fairgrounds for large animals.
SUMMARY:
The Bobcat Fire started on September 6th at 12:21 PM. The fire is located near the Cogswell Dam and West Fork Day Use area. The fire is burning in heavy fuels with a rapid rate of spread.
Basic Information
Incident Type:
Wildfire
Cause:
Under Investigation
Date of Origin:
Sunday September 06th, 2020 approx. 12:21 PM
Location:
West Fork of San Gabriel Canyon at Cogswell Dam
Incident Commander:
Angeles National Forest
Incident Description:
Wildfire
Coordinates:
34.241, -117.868
Current Situation
Total Personnel:
1,686
Size (Acres):
99,428
Containment:
15%
Estimated Containment Date:
Friday October 30th, 2020 approx. 12:00 PM
Fuels Involved:
Chaparral, Brush, and Tall Grass
Significant Events:
The Bobcat fire remained active overnight due to poor humidity recovery. Flanking continued in the Mt Wilson area and toward the northern part of the Bobcat Fire. Spotting continues to present challenges.
Planned Outlook
Planned Actions:
Continue direct and indirect line construction with resources available utilizing pre existing dozer lines when possible. Provide structure protection when fire impacts communities.
Projected Incident Activity:
Fire will continue to spread from the foothills into communities of Juniper Hills, Valyermo and Big Pine. Wind-driven fire spread downslope with spotting and rapid growth threatening structures. Community of Littlerock and Wrightwood will be impacted soon. On the east side, fire continues to threaten containment lines north of the Ranch 2 fire and threatens the Hwy 39 corridor. Very poor humidity recovery, especially in higher elevation, and warm overnight temperatures will allow the fire to burn actively through the night. Fire activity on the eastside
of Mt. Wilson Observatory is threatening all of the values on that peak
Remarks:
Containment dates are dependent on resource availability. Currently have limited resources for the fire. Critical need for resources continue.
Weather Synopsis
Weather Concerns:
Slightly cooler temperatures were observed today. Humidity
exhibited moderate recovery this morning, before dropping into the 15-25% range this afternoon. Gusty southwesterly/upcanyon winds
prevailed through the afternoon. Wind speeds, albeit lower than Friday, were still gusting between 20 and 30 MPH in the windier spots.

For tonight and Sunday, little change in temperatures is expected. However, some drier air will move into the area. This will result in poorer humidity recovery tonight and lower relative humidity on Sunday. Weak southerly/downcanyon winds will prevail tonight with southwesterly/upcanyon winds on Sunday. After similar
conditions on Monday, a warming and drying trend is expected midweek.
Incident Contact
Incident Contact
Public Information
Phone: 626-574-5208
Hours: 8 am - 8 pm daily
Fire Unit Information
Angeles National Forest
U.S. Forest Service
701 N. Santa Anita Ave.
Arcadia, CA 91006
Dispatch Contact
California Department of Forestry and Fire Protection
| Sacramento, CA
Website:
http://calfire.ca.gov/