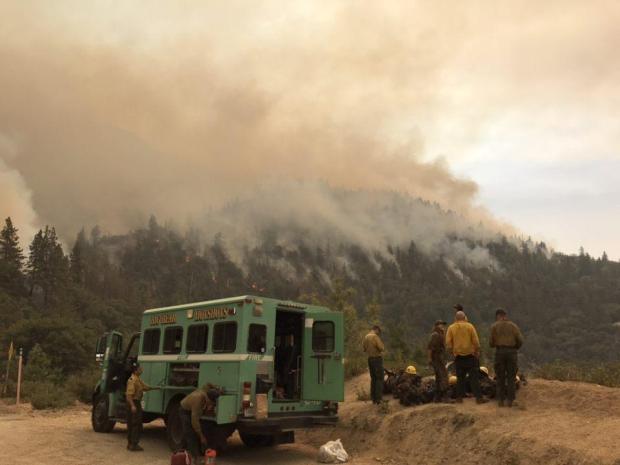 Updates: Read the September 17, 2020 Evening Update.

Daily Videos - Operational Update from the El Dorado Fire (9/17).

View the Fire Perimeter Maps for the Angelus Oaks Area, and the Forest Falls Area

 

 
CURRENT CONDITIONS:  The El Dorado fire burned more actively today along Hwy 38 in the vicinity of Angelus Oaks. Ground crews continue to directly attack the fire utilizing hose lines and strengthening fire containment lines to protect the community.  
Fire burned with increased intensity along Hwy 38 near the Pinezanita area.  Spotting occurred within the indirect fire line and did not cross Hwy 38.  The spots fires were quickly extinguished by the ground resources working in the area. Structure protection continues from Pinezanita to Jenks Lake by increasing defensible space, hose line placement and fire line construction. The road has been widened to create a better fire break and assist fire resources with containing the fire south of Hwy 38.
In the higher elevations, the fire progressed past Forsee Creek and continues to burn northeast towards San Bernardino Peak as the upcanyon winds align with topography.
There are no active spot fires that have crossed Hwy 38.  We understand that many residents may be looking at Modis online.  Modis is an instrument aboard the Terra and Aqua EOS Satellites and measure thermal and infrared detections. This can create confusion as anything emitting heat registers in Modis, including smoke AND fire-fighting equipment.  What communities are perceiving as spot fires across Hwy 38 is likely smoke or equipment operating in the area.  As of this update, the El Dorado Fire has NOT crossed Highway 38.  Please know that the firefighters working in this area are monitoring this possibility very carefully. 
There is NO evacuation directive for Big Bear residents AT THIS TIME. Please monitor official sources for any changes including the San Bernardino National Forest information listed at the top of this update, San Bernardino Sheriff's Department, the CAL Fire San Bernardino Unit and San Bernardino County Fire.
All residents waiting to return home:  we ask for your continued patience. We are re-evaluating repopulation daily with the utility companies, CalTrans, CHP and San Bernardino County Sheriff's Department as they repair critical infrastructure. We ask that you continue to support the firefighters by staying out of the way until we can open your neighborhood safely for you.
Angelus Oaks and Forest Falls Post Offices are closed temporarily, however residents of these communities can pick up their mail at the Yucaipa Post Office, located at 12460 California St, Yucaipa, CA 92305 until further notice.  Please bring a valid photo ID when picking up mail. The Yucaipa Post Office is open Monday – Friday 9:00 to 5:00, Saturday 11:00 – 4:00.

The El Dorado Fire has been burning for 13 days, and is currently estimated at 19,098 acres with 66% containment.  
Residences: 4 destroyed, and 2 damaged; Minor structures/outbuildings: 6 destroyed, and 4 damaged.    

Weather:

A high-pressure weather system remains over the fire resulting in winds from the southwest above 6,000 feet elevation. The predominant diurnal winds continue below 6000 feet elevation and will transition to down canyon overnight.

Smoke Impacts:

Please read the Daily Smoke Report issued by the Wildland Fire Air Quality Program.  Smoke will continue to impact portions of the Inland Empire and the San Gorgonio Pass area today and tonight, although much of the smoke in the upper atmosphere is from fires in central California.  The Southern California AQMD has issued a Smoke Advisory due to smoke from the El Dorado Fire and the Bobcat Fire.   Visit www.airnow.gov for air quality updates in your area.
Evacuations Orders:

The area east of Bryant Street on Highway 38  REMAINS UNDER AN EVACUATION ORDER.  This including Mountain Home, Forest Falls, Angelus Oak, 7 Oaks and Barton Flats / Jenks Lake Area east to Onyx Summit.  

 Residents and businesses may check to see if they are within evacuation order or warning areas by going to the San Bernardino County Sheriffs Interactive Mapping Tool. 
Big Bear residents, please monitor the El Dorado Fire and stay informed on fire conditions. Please check social media platforms frequently for updates on the #ElDoradoFire. 

Fire Managers and Big Bear Emergency Agencies issued a Travel Advisory Notice for visitors to the Big Bear Area, who are urged to consider postponing their travel due to the El Dorado Fire. 

A Red Cross is located at the Redlands East Valley High School, 31000 E. Colton Ave. Redlands. 

Emergency Notification Systems: 

San Bernardino County Assistant Fire Chief Kat Opliger talks about the importance of the Telephone Emergency Notification System (TENS) in helping San Bernardino County manage evacuation notifications during fires and other emergencies.   

San Bernardino County Residents:  Sign up for San Bernardino County Telephone Emergency Notification System, or call 1-888-435-7565.

Riverside County Residents:  Sign up for the Riverside County Swift911 System.    Visit https://www.rivcoready.org/ for updated information and preparedness information.

Road Closures: 

Highway 38 is closed between Bryant St. and Lake Williams Dr.  

Recent Facebook Live Meeting:

A Facebook Live event was held on Sept 15th through the San Bernardino County Fire Facebook Page.  Representatives from the San Bernardino County Board of Supervisors, San Bernardino County Fire, San Bernardino County Sheriffs Department, Cal Fire BDU, and California Incident Management Team 11 discussed the current activity on the El Dorado Fire, what things might happen with future evacuations, and answered questions that were posted online.  Please take the time to watch this informative video by connecting to the San Bernardino County Fire Facebook. Meeting starts at 6:00, (Skip ahead).

Forest Closure Order of 8 National Forests:

The Regional Forester has closed All National Forests in California, including the San Bernardino National Forest.  This is due to the threat from Extreme Fire Danger, rapid fire growth in new fires starts, and firefighting resources being spread stretched to the limit.  This includes driving Forest Roads, Hiking on Forest Trails, and being in any Forest Service Developed Recreation Areas.   Please take the time to read and understand the Regional Forester's Decision Letter.  The Regional Forest Emergency Closure Order and Regional Forest Fire Restriction Order were extended to September 21st.  These orders will be reviewed daily, and may be rescinded early if the underlying conditions which prompted the orders change.

Unified Command Partners:

 - CAL FIRE BDU 

- San Bernardino County Fire 

- San Bernardino County Sheriff's Department 

- California Highway Patrol 

- City of Yucaipa 

- San Bernardino National Forest 

 

Aviation and Drone Safety: 

The FAA has issued a Safety No Fly Zone for civilian aircraft around the El Dorado Fire.  Restricted Air Space is 5 Nautical Mile Radius from the Fire, and below 10,000 feet.  This includes all types of personal hobby drones.  Remember, If you Fly, We Cant!   For specifics, please visit the FAA NOTAM Webpage.
Basic Information
Incident Type:
Wildfire
Cause:
Human Caused
Date of Origin:
Saturday September 05th, 2020 approx. 10:30 AM
Location:
Yucaipa Ridge area, West Oak Glen, San Bernardino Mountains
Incident Commander:
John Truett T1 IC, SBC Fire, Cal Fire BDU, Yucaipa, County Sheriff, and CHP
Coordinates:
34.053, -116.992
Current Situation
Total Personnel:
1,351
Size (Acres):
19,098
Containment:
66%
Fuels Involved:
Grass and Chaparral transitioning to timber in higher elevations
Significant Events:
Fire continues to actively back through all fuels on the North facing slope above the 38. Most ground fuels are being completely consumed and there is intermittent single and small group torching.
Planned Outlook
Planned Actions:
Crews and dozers will aggressively continue to build both direct and indirect line where feasible to limit the fire spreading into the communities or any areas with any values at risk and to secure the fire perimeter. Air resources will continue to support the ground forces to moderate fire activity from aggressively spreading beyond the current management capabilities. Utilize defensive firing operations to meet perimeter control objectives as needed. Engines will continue to provide structure defense in the threatened and impacted communities and will continue to mop-up and secure areas of the fire and around structures. Extensive contingency plans are developed and have been implemented.
Remarks:
The fire continued to burn actively through the shift today as gusty S/SW winds picked up over the fire area, in line with expected weather conditions and behavior forecasts. Fire continues to move towards Highway 38 to the north and progress east even further into designated wilderness areas. The fire continues to back down the slopes to Angelus Oaks to the west, and down the north aspect slopes facing Highway 38.
Weather Synopsis
Weather Concerns:
Conditions around the fire were warmer and drier today, and temperatures will remain above average in most areas through tomorrow until a gradual cooling trend develops Saturday. Winds shifted from down canyon in the morning to up canyon this afternoon and increased in strength over the course of the afternoon, and gusty terrain driven winds being the primary driver of the fire. Mid slope and ridgetop winds from the S/SW were consistent around 10-15 mph with gusts as high as 20mph. Minimum relative humidities were 5 and 15 percent over most of the fire area, as forecasted. Tonight, winds will shift to down valley out of the W/SW 10 to 15 mph with little RH recovery overnight. Gusty winds will continue pushing the fire north towards Angelus Oaks and Highway 38 and to the east towards the Lake Fire burn scar. Excessively smoky conditions will remain over the fire area through the night but could clear out and improve visibility as winds increase over the fire.
Incident Contact
Incident Contact
San Bernardino Incident Information Call Center
Phone: 909-383-5688
Hours: 8 a.m. - 8 p.m.
Fire Unit Information
San Bernardino National Forest
U.S. Forest Service
602 S. Tippecanoe Ave.
San Bernardino, CA 92408