Last Updated:
52 mins, 19 secs ago
Incident #:
2020-CACDF-7e359448-0344-4407-a289-e4fb7823ac3c
Fire Start:
Friday, September 4, 2020 6:21 PM PDT
Fire Unit:
California Department of Forestry and Fire Protection
Resources:
10 Helicopters, 126 Engines, 16 Dozers, 46 Water Tenders
Dispatch Notes:
This fire is approximately 44% contained.

GENERAL INFORMATION

Fresno County – Emergency Resources

Creek Fire Evacuation Zone Map

Creek Fire Structure Status Map

INCIWEB – Creek Fire

Wildfire Cameras

Bullfrog Fire Information

Preparing for Wildfire Smoke

Wildfire Smoke and Covid-19

Wildfire is Coming, Are You Ready?

Local Fire Resources

ROAD INFORMATION

CHP Traffic

Caltrans Quick Maps

INCIDENT UPDATE 9/30/20 PM

Current Situation

GENERAL INFORMATION

The reported fire growth on the Creek Fire during the the evening's operational period was 1,811 acres and the containment remained at 44%. Today's resource count reflects assigned personnel and resources as reported by California Incident Management Team 5's Situation Unit. As assigned resources are reconciled between the South and North Zone transition between the Creek Fire's incident management teams.

As areas under evacuation warning and orders are repopulated residents, business owners and others returning to the area must do so safely. Adhering to posted speed limits, following guidance of utility providers, and following manufacturer recommendations on auxiliary equipment (e.g. generators) must be implemented for the safe return to areas where orders and warnings are being lifted. Special attention must also be given to heavy machinery and firefighting apparatus still operating in the area.

Residents should continue to prepare for potential interruptions in utility services and follow recommendations by utility providers. Additionally, manufacturer recommendations for generator use and only using them outdoors to prevent carbon monoxide poisoning within enclosed spaced such as homes and businesses.

Fresno County: SOUTH ZONE

Today on the South Zone of the Creek Fire, it continued to bring activity on the eastern portion of the zone towards the 80 Road and Potter Pass. The fire progress will slow as the fire moves into fuel type transitions into lodge pole pine from red fir.

Fire resources will perform tactical patrol near the fire perimeter mopping up hot spots and ensuring structures are prepared for defense in the event the fire approaches communities. Containment remains a priority, and handcrews will be deployed in areas where heavy equipment (i.e. bulldozers) cannot be utilized due to challenging terrain.

Operationally, the Incident Command Post at Sierra High School will be relocated to the Clovis Veterans Memorial Building at 808 4th St. Clovis Ca. 93612. With this move, Information and support will continue in place at the Sierra High School. South Zone Media Line (209)628-3097 continues to be available for support of the community and media needs related to the Creek Fire Incident.

Madera County: NORTH ZONE

On the North Zone of the fire today, activity continued to be moderated in the early portion of the operational period due to to early low humidity. There was slight progresson of the fire towards the northeast near Cattle Mountain. Fire activity will be present in Chetwood Creek, Norris Lake, East Fore Chiquito, and Northeast of Little Shuteye Peak, and south of Whisky Falls.

Diurnal winds and low humidity will keep the hot areas alive which could be fanned into short flare ups, especially where smoke clears off during the day. Smoke will be seen breaking through the smoke cap. Fire resources on the North Zone will remain committed to improving containment line utilizing heavy equipment and handcrews where bulldozers are unable to make access. There have also been preparations to ensure threatened structure are protected.

WEATHER INFORMATION

The significant change in weather brought downslope and downcanyon winds. The fire experienced drier air with reduced humidities and will have poorer moisture recovery in the evening. Combined with increasing temperatures through midweek, there will be increased fire behavior in all areas of the fire as fuels are able to preheat earlier in the day and hot spots will show more open flame and smoke. Stable atmospheric conditions will allow smoke from active areas of the fire within the existing perimeter to rise higher than in prior days. These may present as columns, which can shade other portions of the fire from sunlight, ultimately reducing fire intensity.

Fire resources will be patrolling and mopping up in all areas of the fire as part of their tactical patrols and efforts to fully contain the Creek Fire.

Please respect the Temporary Flight Restriction. The use of drones is not permitted over the

fire area. A drone incursion will result in the grounding of all firefighting aircraft. Remember,

"If you fly - We can't."

Evacuation Map

To view an interactive map of Creek Fire evacuations for Fresno and Madera Counties open the following link: https://nifc.maps.arcgis.com/apps/webappviewer/index.html?id=28ce52cb86bf49dea0adef5a78b3c1b5

Incident Briefing

The Sierra National Forest will host an Incident Briefing Wednesday night at 7pm via

Facebook Live: / https://www.facebook.com/SierraNF

Damage Assessment Map

Damage assessments are approximately 98% complete.

An interactive damage assessment map for Fresno County and Madera County is available:

Fresno County and Madera County:

To view an interactive damage assessment map for Fresno County open the following link: Fresno County Damage Assessment Map

Madera County: The Madera County Sheriff's Office is contacting property owners directly.

Sign Up for Emergency Alerts:

Fresno County: Fresno County Emergency Alerts – Fresno Co. Everbridge alerts

Madera County: Madera County Emergency Warning Systems - mcalert.org.

Mariposa County: Mariposa County Sheriff Office - msoalert.com

Temporary Flight Restriction: Perimeter runs from South Merced River Fork on the south

end of Yosemite National Park, south to Millerton Lake roughly following Route 41, east

to Kings Canyon National Park, and north to Inyo National Forest. See: tfr.faa.gov

Evacuation Warnings:

Fresno County: Community of Prather. South of Little Sandy / Lodge Rd. North East of Tollhouse Rd. North of Millerton Rd. / Nicholas Rd. East Auberry Rd.

Madera County: For a complete list of evacuation warnings, see the Sheriff's

website (QR code and complete web address in yellow highlight).

Road Closures:

Fresno County: Maxon Road at Trimmer Springs Road, Sycamore Road at Watts Valley Road,

Highway 168 at Lodge Road, Lodge Road at Tollhouse Road, Auberry Road at Jose Basin

Road, Duncan Canyon Road at Burrough North Road

Madera County: Cascadel Road at 8S09 Cascadel Rd, Mammoth Road at 59701 Mammoth

Road, Beasore Road at Road 274, Road 274 at Central Camp Road, and Road 632 at Buckskin

Lane. Closure updates are listed at: https://www.facebook.com/MaderaSheriff/

Temporary Evacuation Points:

Fresno County

Clovis North High School - 2770 East International Ave. Clovis, CA

Animal Evacuation Centers:

Fresno County

Fresno County

Small animals – Clovis North 2770 East International Ave.

Large animals – The Fresno Fairgrounds, 1121 S Chance Ave, Fresno, CA 93702, is set up to

receive evacuated animals but please contact the Central California Animal Disaster Team

(888-402-2238) to make arrangements so animals can be received at the fairgrounds.

Madera County

Small animals – Oakhurst Community Center 39800 Road 425B Oakhurst, CA

Large animals – Producer's Livestock Facility at Madera Farm Bureau, 1022 South

Pine Street, Madera, CA

Missing Persons:

Fresno County Sheriff 559-600-3111

Madera County Sheriff 559-658-2555

National Park Closures:

Sequoia and Kings Canyon National Parks are closed to the public due to smoke conditions.

National Forest Closures:

US Forest Service temporarily closed Southern California Forests, including the Sierra

National Forest. Regional Order Number 20-12 Emergency Forest Closure

Bullfrog Fire Information

The Bullfrog Fire is burning on the Sierra National Forest but is not related to the Creek Fire.

For information about that fire, please check Inciweb: Sierra National Forest Bullfrog Fire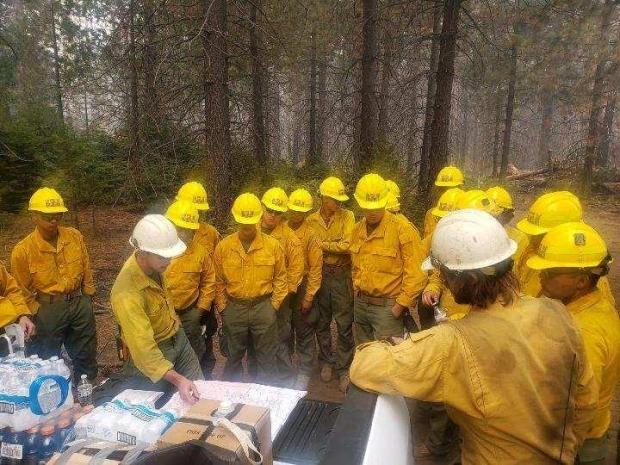 Fresno County:
Continuing hot and dry weather conditions are allowing for increased fire activity on the eastern portion of the fire near the 80 Road and Potter Pass. Sparser fuels and a changing fuel type (red fir and lodgepole pine) is expected to slow fire progression.
Fire fighters continue to patrol and enhance containment lines. Crews are mopping up and increasing the depth of the established fire line and treating hot spots. As a precaution, structure defense also continues in several areas within and near the southern and eastern edges. Hand crews are working in areas where dozer access is limited due to steep terrain, and helicopter support is also helping to treat hot spots and flare ups.
Operationally, the Incident Command Post at Sierra High School is relocating to the Veterans Memorial Building in Clovis, located at 808 4th Street. Public information will now be working from both Sierra High School and the Memorial Building. Please see the phone numbers listed above, media contact information has changed.
Madera County:
The hotter/drier weather conditions combined with dry/receptive fuels have the potential for flare ups and upslope runs along with short range spotting. The fire was more active in the north/northeast yesterday, within the Ansel Adams Wilderness, but confined by natural barriers. On the northwestern edge crews worked to put out hot spots and are planning a small backfiring operation to connect and fill in the containment line today. East of Central Camp and south of Little Shuteye Peak continues to be monitored, the fire is still hung up in the rocks in the same location as it has been for the last 10 days. Firefighters continued to mop up, widen the containment line and patrol the Central Camp, Whiskey Falls and southwestern corner of the fire. Helicopters were able to fly yesterday and support several areas around the fire with bucket drops.
Removal of hazardous standing dead trees continues along the primary roads within and adjacent to the fire area including the 81 and 274 Roads and Beasor Road. The structure protection group continues to work throughout the fire area including in the Johnson and Arnold Meadow areas.
The fire is still 10-12 miles west of Mammoth Lakes, no forward progression is occurring due to the natural barriers of rock and the Lions Fire (2018) burn scar which help to limit fire spread on the north-eastern flank. Conditions continue to be monitored very closely by emergency officials. Additional information is available via the Sierra National Forest Facebook page, or the below link:
https://creek-fire-preparednessmonomammoth.hub.arcgis.com
Cattle in and around the fire area are being rounded up and moved. Be aware of cattle, those working with them, fire personnel and other hazardous conditions when returning to the fire area once it re-opens.
Please respect the Temporary Flight Restriction. The use of drones is not permitted over the fire area. A drone incursion will result in the grounding of all firefighting aircraft. Remember, "If you fly - We can't."
Basic Information
Incident Type:
Wildfire
Cause:
Under Investigation
Date of Origin:
Friday September 04th, 2020 approx. 06:00 PM
Location:
Big Creek, Huntington Lake, Shaver Lake, Mammoth Pool, San Joaquin River Canyon
Incident Commander:
Rick Young CIIMT5
Rick Connell NR IMT
George Huang Cal Fire
Madera County SO
Fresno County SO
Coordinates:
37.201, -119.272
Current Situation
Total Personnel:
1,837
Size (Acres):
307,051
Containment:
44%
Estimated Containment Date:
Saturday October 31st, 2020 approx. 12:00 AM
Fuels Involved:
The fuel loading in the timber is estimated at 2,000 tons per acre. The brush in the area is at critical fuels moisture levels, 60% in the ceanothus and manzanita.
Significant Events:
Active fire behavior. Diurnal transport winds overnight provided ventilation for active fire behavior; especially within drainages and valleys that were favorably aligned. With poor relative humidity recovery, 1 and 10 hour fuel classes maintained their contribution to fire spread during the burn period. Low to locally moderate surface fire and rollout contributed to the active fire footprint.
Planned Outlook
Planned Actions:
Construct, strengthen and improve control lines.
Mop up around structures in the burn.
Implement progressive hose-lays as needed.
Prepare for firing operations.
Fall hazard trees and trees that threaten control lines.
Mop up in from control lines.
Locate and construct secondary control lines.
Projected Incident Activity:
NORTH ZONE:
Diurnal winds and low humidity will keep hot areas alive which could be fanned into a short flare up, especially in areas where smoke clears off during the day. Dry heavy fuels have enough heat energy when burning to break through the smoke cap. These potential flare ups could occur most anywhere along the fire perimeter where there are available fuels adjacent to persistent hot spots. Torching and short-range spotting. Spots across the North Fork of the San Joaquin River continue to retain heat. Creeping and smoldering will continue with heavy duff loads. Heavy fuel loading with 80% plus conifer mortality in the higher elevations. Grass/brush in the lower elevations will back and flank downslope with upslope runs where alignment occurs.

SOUTH ZONE:
Strong high pressure will again provide a warm and dry, but stable fire environment. Poor overall ventilation to the southern and eastern portions of the fire will support smoke shading through daylight hours. Expect slow, steady, active fire spread in the downwind direction. Deep seated fire in heavy fuels will advance through high intensity surface fire. As the expanding fire front transitions from backing to head fire through slope reversal, very steep terrain will support short, aggressive runs through tightly spaced timber.

Weather Synopsis
Weather Concerns:
Persistent high pressure is yielding an extended period of well above average temperatures and dry conditions for the Creek Fire. Poor humidity recoveries were experienced overnight especially for ridge tops, and it will be even poorer in coming nights as the inversion level sinks lower to expand mid-slope thermal belts. Winds will continue to be generally light and terrain-driven; upslope/up-canyon winds developing during the day, transitioning to downslope/down canyon at night.
Incident Contact
Incident Contact
Creek Fire Information
Email: CreekFire2020@gmail.com
Phone: 844-668-3473
Hours: Daily 7am to 9pm
Fire Unit Information
Sierra National Forest
U.S. Forest Service
1600 Tollhouse Road
Clovis, CA 93611
Dispatch Contact
California Department of Forestry and Fire Protection
| Sacramento, CA
Website:
http://calfire.ca.gov/