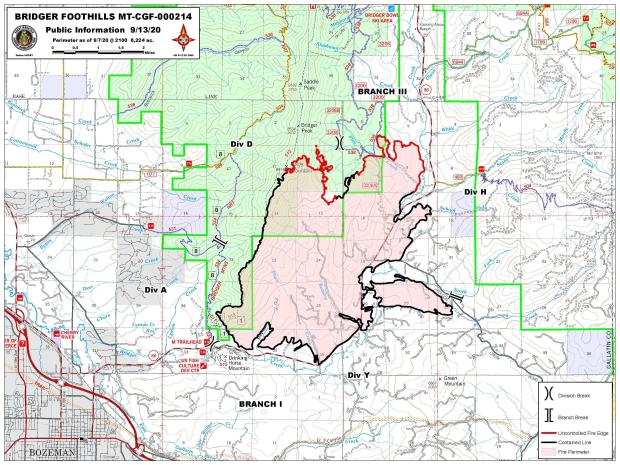 Creek Fire Incident Summary
On Friday September 4, 2020 at about 6:44 PM the Creek Fire was reported. Burning in the Big Creek drainage between Shaver Lake, Big Creek and Huntington Lake, the fire quickly spread on Saturday September 5, 2020 crossing over the San Joaquin River and began a run toward Mammoth Pools. The cause of this fire is under investigation. The Creek Fire continues burning on both Ranger Districts of the Sierra National Forest, with a unified incident command working toward 100% containment and suppression.
Unified Command Agencies:
Great Basin Team 1

CalFire 1

Fresno County Sheriff

Madera County Sheriff
Forest and CalFire Units:
Sierra National Forest

CalFire Fresno-Kings Unit

CalFire Madera-Mariposa-Merced Unit
Wildfire activity can change quickly! Evacuation warnings and orders may also change at any time. The map of Creek Fire evacuations for Fresno and Madera counties is available online.
Sign up for emergency alerts notifications:
Fresno County: https://t.co/Otack9NyKc?amp=1
Madera County: mcalert.org
Mariposa County: msoalert.com
Fire Information: 415-737-5758
Madera Media Line: 559-492-7755
Fresno Media Line: 209-628-3097
Incident Email: Creekfire2020@gmail.com
CalFire Incident Website: www.fire.ca.gov
Inciweb: https://inciweb.nwcg.gov/incident/7147/
Basic Information
Incident Type:
Wildfire
Cause:
Under Investigaion
Date of Origin:
Friday September 04th, 2020 approx. 06:00 PM
Location:
Big Creek, Huntington Lake, Shaver Lake, Mammoth Pool, San Joaquin River Canyon
Incident Commander:
Nick Truax CAL FIRE IMT1, Martin Adell Great Basin IMT1, Madera County SO, Fresno County SO
Coordinates:
37.201, -119.272
Current Situation
Total Personnel:
2,915
Size (Acres):
278,368
Containment:
25%
Estimated Containment Date:
Thursday October 15th, 2020 approx. 12:00 AM
Fuels Involved:
The fuels in the area consist of large expanses of beetle kill timber, 80-90 percent of the stand. The fuel loading in the timber is estimated at 2,000 tons an acre. The brush in the area is at critical levels, 60 percent in the ceanothus and manzanita. Thousand hour fuels are at 6 percent moisture level.
Significant Events:
North Zone - Smoke and higher relative humidity limited fire behavior. Nighttime RH recoveries will serve to keep fire behavior low.

South Zone - The fire activity was moderate with good overnight humidity recovery. The fire continued to back and smolder in the heavier fuels. There was some activity in the light fuels in the wind prone areas. The overstory in the lightly burned areas are starting to drop leaves and needles creating a new surface fuel.
Planned Outlook
Planned Actions:
Construct, strengthen and improve control lines.
Tactical patrol around structures in the burn.
Implement progressive hose-lays as needed
Prepare for firing operations.
Fall hazard trees and trees that threaten control lines.
Mop up in from control lines.
Locate and construct secondary control lines.
Projected Incident Activity:
North Zone: Fire activity will be low overnight. Areas that will show heat are in the Whisky Falls, East Fork Chiquito Creek, Norris Trailhead, Cattle Mountain and Pine Flat locations.

South Zone: The fire intensity will continue to increase as the weather continues to dry through the day. The heavy fuel retain heat for long periods of time and will spread to the lighter fuels in the afternoon. Spotting can become an issue again today as sun will heat fuels in the morning before smoke covers the fire. Limited progression is expected in most areas of the fire today.
Weather Synopsis
Weather Concerns:
North Zone: Quiet weather is expected the next several days with a warming trend for midweek. Temperatures and humidity will remain near seasonal levels with typical terrain driven winds each afternoon. General southwest winds up the west slope of the Sierra will continue to affect the ridges with peak gusts 20-25 mph.

South Zone: Slight drying overnight with clear skies and relatively light winds. Smoke settled back into the lower drainages and canyons. Sunny skies will prevail today with a gradual warming and drying trend. Smoke will lift through the day, but not completely mix out.
Incident Contact
Incident Contact
Creek Fire Information
Email: CreekFire2020@gmail.com
Phone: 415-737-5758
Hours: Daily 7am to 9pm
Fire Unit Information
Sierra National Forest
U.S. Forest Service
1600 Tollhouse Road
Clovis, CA 93611
Dispatch Contact
Sierra National Forest Center
| Fresno, CA