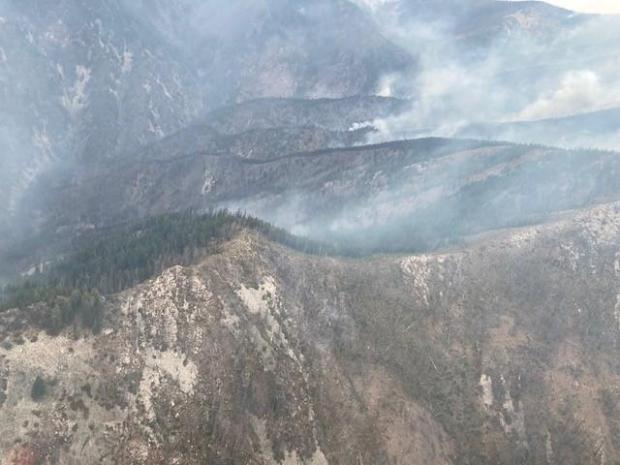 Porphyry Fire Update
September 28, 2020 

All fire area closures have been lifted on the Porphyry Fire.

Trail and road closures have all been lifted and access is open to hunter and recreators. Please be cautious in and around the fire area as fire weekend trees and hot spots are still present. Smoke may still be visible at times but there is no need to report it as the fire will continue to be monitored by air and ground resources, until a season ending rain event occurs. Structure protection will take place as needed and crews are clearing out the Mosquito Ridge Trail and Hand Creek Trail.
The Porphyry Fire is still estimated at 14,486 acres, due to more accurate mapping, as fire progression was slowed thanks to rain and lower temperatures. No season ending event is forecasted for the Payette National Forest area. A season ending event is when wide spread precipitation of a quarter inch is received for three consecutive day.  Temperatures will begin to climb back up through the week and that will allow fuels to dry back out. Fire spread and activity may increase as the fire area dries out but overall fire activity will be low due to time of season, cooler temperatures and length of daylight. 

Although rain is expected over most of the Payette National Forest, fire season is still present, and all precautions should still be followed.  
 
The Porphyry Fire will continue to be monitored by air and ground as needed. Crews continue structure protection on 4 bridges and one structure along with mitigating some hazard trees around the Big Creek and Edwardsburg area.
Basic Information
Incident Type:
Wildfire
Cause:
Natural - Lightning
Date of Origin:
Tuesday August 25th, 2020 approx. 12:00 AM
Location:
Frank Church Wilderness of No Return, McCall Ranger District. 20 miles North of Yellow Pine, Idaho.
Incident Commander:
Sayer(Q)Bohnstedt(T)
Incident Description:
Wildfire - Located In The Porphyry Creek Drainage, In The Frank Church Wilderness Of No Return. Point Protection Strategy Is Being Used Due To Lack Of Safe Access For Firefighters.
Coordinates:
45.248, -115.438
Current Situation
Total Personnel:
31
Size (Acres):
14,486
Estimated Containment Date:
Thursday October 01st, 2020 approx. 12:00 AM
Fuels Involved:
Timber (Grass and Understory)
Significant Events:
Fire activity is minimal with smoldering, creeping and backing
Planned Outlook
Planned Actions:
Continue to monitor growth and areas of impact, reconnaissance flights, use of lookouts, and Infrared mapping. Implement structure protection as needed.
Projected Incident Activity:
Minimal fire growth is expected in the next 24-72 house as a high pressure weather system enters over the fire area. Winds will stay light over the fire area as temperatures continue to climb through the week.
Remarks:
Area closure is expected to be lifted effective 0001 9/27/2020 unless significant activity occurs.
Weather Synopsis
Weather Concerns:
A high pressure system is setting up over the Payette National Forest and surrounding areas. Temperatures will continue to climb as the week goes on causing fuels to dry back out.
Incident Contact
Incident Contact
Payette Fire Information
Phone: 208-634-0820
Hours: M-F 8:00am - 4:30pm
Fire Unit Information
Payette National Forest
U.S. Forest Service
500 N Mission St
McCall, ID 83638