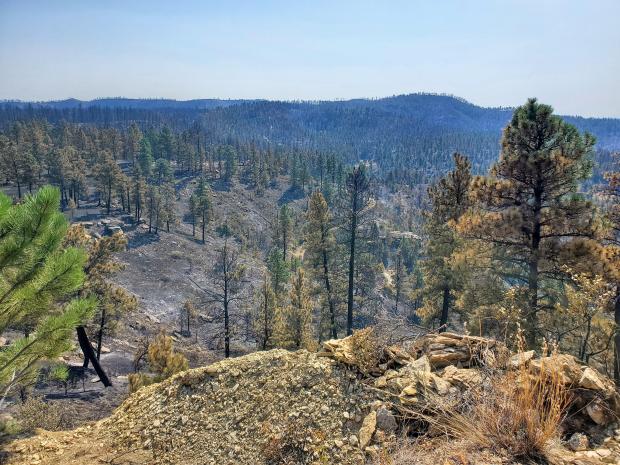 The BobCat Fire was detected on 9/2/2020 on private lands approximately 7 miles southeast of Roundup, MT, east of MT Highway 87. The cause of the fire is currently under investigation. At 0600, September 4, 2020, Type 2 Northern Rockies Incident Management Team 4, Rick Connell I.C., took command of incident. At 0600, September 14, 2020, Northern Rockies Incident Management Team 4 transferred command to the local unit.
The BobCat fire has low levels of activity and burned in tall grass, intermixed with ponderosa pine stands and sagebrush. Primarily wind-driven, the fire spread to the southeast from the origin. Firefighters worked to protect residences, contain the fire through direct and indirect attack, heavy equipment containment lines, and air operations.  
Private residences and structures have been damaged by the fire. Communities within the fire perimeter include Johnnys Coal Subdivision, Bruner Mountain Subdivision, Old Divide Subdivision, and remote structures dispersed along Fattig Creek road and the Signal Peak Coal Mine. 
 
There are no evacuation orders or restrictions at this time.

Cooperating agencies include DNRC, BLM, Bull Mountain Fire Dept, Musselshell County Fire Dept, Musselshell County DES, Musselshell County Sheriff's Dept.
Basic Information
Incident Type:
Wildfire
Cause:
Unknown
Date of Origin:
Wednesday September 02nd, 2020 approx. 02:30 PM
Location:
7 miles southeast of Roundup, MT
Coordinates:
46.304, -108.393
Current Situation
Total Personnel:
104
Size (Acres):
30,030
Containment:
95%
Fuels Involved:
Short Grass and Timber
Significant Events:
Minimal, smoldering. The fire interior still has some smoldering.
Planned Outlook
Planned Actions:
Transfer of command from Northern Rockies Team 4 to the local unit will occur at 0600 Monday 9-13-2020.
Complete mopup and continue suppression repair, provide IA response as requested.
Projected Incident Activity:
Fire behavior confined to smoldering. Timber will still hold heat. Burn out of roots under snags. Red Flag Warning. Warm dry conditions established again in the area.
Weather Synopsis
Weather Concerns:
Red Flag Warning is in effect from noon to 9PM Monday 9/14. Low humidifies, hot temperatures, and brisk gusty winds will create erratic fire behavior.
Incident Contact
Incident Contact
Jeff Bollman
Email: jbollman@mt.gov
Phone: 406-670-4642
Hours: 7:30am-4pm M-F
Fire Unit Information
Montana Department of Natural Resources & Conservation
1539 Eleventh Ave.
Helena, MT 59601