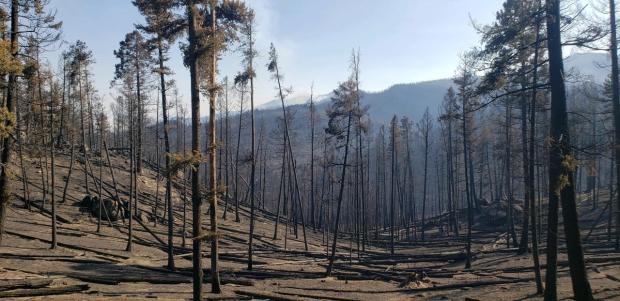 Order Number 2020-D4-023, applicable to the Beaverhead-Deerlodge National Forest, pertaining to the State Creek Fire closure is rescinded.

RESCINDING ORDER BEAVERHEAD-DEERLODGE NATIONAL FOREST Butte Ranger District Pursuant to Title 36 Code of Federal Regulation 261.50 (a) & (b), the prohibition listed in Order number 2020-D4-023, applicable to the Beaverhead-Deerlodge National Forest dated September 22, 2020 and signed by Cheri Ford Forest Supervisor is hereby rescinded effective October 20, 2020 @ 0900. Done at Dillon, Montana this 20th day of October 2020.
Basic Information
Incident Type:
Wildfire
Cause:
Lightning
Date of Origin:
Saturday August 29th, 2020 approx. 12:00 PM
Location:
Approximately 16 miles NE of Whitehall
Incident Commander:
Chambers, Dunn (T)
Incident Description:
Wildfire Lightning/natural
Coordinates:
46.099, -112.233
Current Situation
Total Personnel:
22
Size (Acres):
4,400
Estimated Containment Date:
Friday October 30th, 2020 approx. 12:00 AM
Fuels Involved:
Timber (Litter and Understory) medium logging slash with a heavy component of dead and down Lodgepole Pine and Subalpine Fir.
Significant Events:
A new closure order is in effect, September 22, 2020.
Planned Outlook
Planned Actions:
Monitor and mop up.
Projected Incident Activity:
The fire's activity will continue to be smoldering with backing and creeping until a season ending event of moisture happens. Smoke will still be visible from interior pockets of fuel smoldering and burning.
Incident Contact
Incident Contact
Dillon Ranger District
Phone: 406-683-3900
Hours: M-F 8:00 - 4:30
Fire Unit Information
Beaverhead-Deerlodge National Forest
U.S. Forest Service
420 Barrett St
Dillon, MT 59725