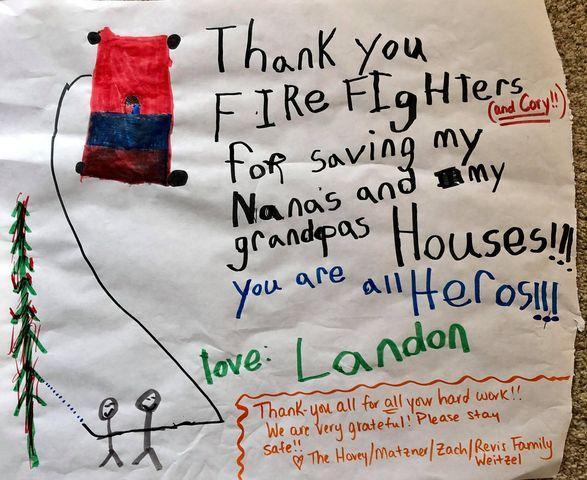 The Cameron Peak Fire is currently 124,021 acres. Cooler temperatures and decreasing winds today will create less havoc for firefighting efforts and be a welcome change after the past two difficult days. Crews and equipment will continue engaging the fire directly where there is a high probability of success and it is safe to do so. Firefighting efforts will focus heavily on protecting structures at risk.
The Pacific Northwest Incident Management Team 6 began arriving and will be shadowing Southwest Area Incident Management Team 3 to gather intelligence and situational awareness.
Basic Information
Incident Type:
Wildfire
Cause:
Unknown, Under Investigation
Date of Origin:
Thursday August 13th, 2020 approx. 01:48 PM
Location:
15 miles SW of Red Feather Lakes, CO
Incident Commander:
Dave Gesser, Southwest Area Team 3
Coordinates:
40.609, -105.879
Current Situation
Total Personnel:
815
Size (Acres):
124,026
Containment:
21%
Fuels Involved:
Timber (Grass, Litter, and Understory)

Narrative:
High elevation mixed conifer with moderate dead and down fuel loading, along with a high percentage of beetle-killed lodge pole. Lower elevation grass fuels are drying and more available to burn. Energy Release Component values continue to slowly climb and staying steady near the 90th percentile.
Significant Events:
Active
Short crown runs
Single tree torching
Smoldering

Narrative:
Burning continues to be active moving to extreme as the mountain wave system breaks down areas that have heat and available dry fuels. Fire burning continues to be mainly fuel and terrain driven. When the winds forecasted for the day appear at ground level,
increased fire activity should be expected. All dead fuel moistures continue stay low as the forecasted weather pattern continues.
Planned Outlook
Planned Actions:
Fire activity was diminished today based on weather. Equipment and crews continue to build direct fire line where it is safe and makes sense to do so. Firefighters are currently engaged in holding the Manhattan Road and engaged in structure protection. Mandatory evacuations were issued for the communities of Red Feather Lakes, Crystal Lakes and Glacier View. Fire activity, topography, bug-killed fuels, critical fire weather including winds gusts over 60 mph have been observed. Lack of crews and critical resources has made direct line tactics difficult to obtain. Resources are monitoring limited fire activity within Rocky Mountain National Park. Other divisions are currently continuing to mop-up, monitor and patrol. Structure protection is in place and plans to implement continue to be developed and refined as fire continues to move towards values at risk. Engines will continue to patrol and mop-up as needed. Structure assessments, structure protection implementation and control features continue in the Crystal Lake, Red Feather Lakes, Glacier View and neighboring communities. Structure triage, assessments have been completed in the Falls River corridor, Rocky Mountain National Park, Estes Park, Estes Park Valley, Glen Haven and Storm Mountain areas and surrounding communities. Proposed lines are in place to begin indirect line construction in and around the communities of Glen Haven, The Retreat, Cedar Park, and Storm Mountain should fire activity dictate.
Projected Incident Activity:
12 hours: Terrain that aligns with the forecasted NW winds will help the fire activity remain moderate to extreme as the mountain wave system passes. Dead fuels keep dry through most of Sunday tapering off late evening into early morning. The late afternoon transition period from daytime up slope winds to nighttime down slope winds will allow the forecasted NW winds to greatly influence fire behavior.

24 hours: NW winds influence the fire activity along with the terrain. The mountain wave wind system brings strong winds into the fire area and will continue into Sunday to help maintain dead fuels at their low levels. The increase in wind speed will keep fire behavior active.

48 hours: Fire activity will be moderate as the weather pattern helps maintain dry fuels, NW winds will continue to affect the fire and help the fire follow the available fuels and terrain.

72 hours: Lower temperature and higher RHs will moderate the fire activity but one can still expect rates of spread following the dry available fuel.

Anticipated after 72 hours: With the high pressure system over the fire area we will return to near normal temperatures and RHs. A cooling trend will start, but no immediate changes in dead fuel moistures are expected.
Weather Synopsis
Weather Concerns:
Current 72 hours:
Weather conditions have relaxed today with much cooler and cloudier conditions. NW winds of 10-20 mph with gusts to 20-30 mph prevailed during the afternoon. A few sprinkles and flurries are possible with afternoon temperatures mostly in the 40s. A hard freeze is expected Monday morning. The cold temperatures will carry over into the afternoon with highs only in the 40s and 50s. Minimum humidity will drop down to near 20% as NW winds gust to 20 mph. Tuesday high temperatures will warm back into 60s with little change in the RH and wind.

72 hours +:
Generally cool and dry Wednesday-Friday with high temperatures in the 50s and 60s. A persistent NW ridgetop wind with gusts 25-30 mph and minimum RHs in 20-25% range are expected.
Incident Contact
Incident Contact
Public Information Line
Email: 2020.cameronpeak@firenet.gov
Phone: 970-541-1008
Hours: 7 a.m. to 8 p.m.
Fire Unit Information
Arapaho and Roosevelt National Forests and Pawnee National Grassland
U.S. Forest Service
2150 Centre Avenue Building E
Fort Collins, CO 80526
Dispatch Contact
Fort Collins Interagency Dispatch Center
| Fort Collins, CO
Phone:
970-295-6800
Website:
https://gacc.nifc.gov/rmcc/dispatch_centers/r2ftc/