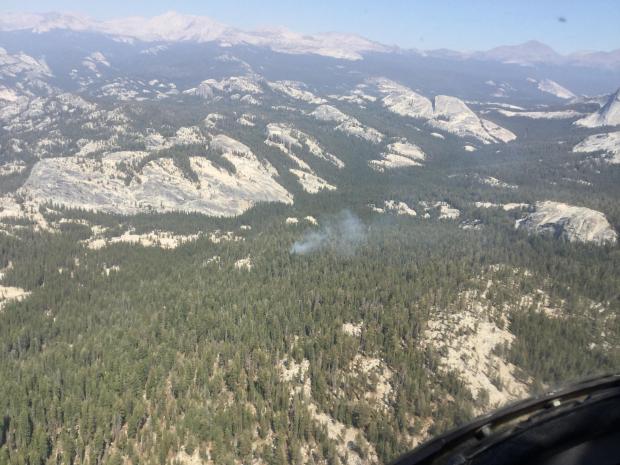 Air Quality Web Page
North Whizz Dome Web Map
National Air Quality Fire Web Page
 
The North Whizz Dome Fire is burning in wilderness approximately 4/10 mile south of Cathedral Creek and one mile northwest of Tioga Rd at approximately 8,400 feet elevation.
 
Tioga Road (continuation of Hwy 120 through Yosemite) will remain open as fire behavior and operations allow.
Call 209-372-0200 (press 1, then 1) for the most up-to-date road conditions.  
Fire behavior is creeping and smoldering through ground litter on the forest floor and burning in pockets of accumulated dead and down logs with some isolated single tree torching and short-range spotting.  The fires are expected to continue creeping and smoldering as they burn through timber litter with an overstory of lodgepole and red fir.
The North Whizz Dome Fire is being managed with a confine and contain strategy utilizing Minimum Impact Suppression Techniques (MIST) in fire adapted wilderness. There are currently no threats to infrastructure or hiking trails. The fire will be visible from Tioga Road, Glacier Point, and high-country vistas.
Smoke production is very light with minimal local impacts dispersing to the north and northeast. Park Managers are working with the local Air Quality Districts and will be monitoring smoke impacts to the park and local communities.
Basic Information
Incident Type:
Wildfire
Cause:
Lightning
Date of Origin:
Wednesday August 26th, 2020 approx. 04:00 PM
Location:
In Wilderness, 4/10 mile south of Cathedral Creek and one mile northwest of Tioga Rd at approximately 8,400 feet elevation.
Incident Commander:
Type 3 Incident Organization (under Blue Jay and Wolf)
Coordinates:
37.876, -119.444
Size (Acres):
63
Fuels Involved:
Timber Litter, Dead and Down, Lodgepole and Red Fir overstory
Significant Events:
50% active perimeter of main fire. Mostly burning on western perimeter with a moderate rate of spread based.
Southern edge has stalled at a decomposed granite bench. Smoke is light rising to 100 feet and dispersing. Burning in heavy dead and down, duff and logs smoldering, creeping, some spotting, some single tree torching.
Planned Outlook
Planned Actions:
The strategy for this fire is to monitor fire growth and behavior.

Firefighters are continuing to monitor fire weather behavior and growth on both fires. Looking for opportunities to black line as needed and scout natural barriers.
Weather Synopsis
Weather Concerns:
Smoke from regional wildfires in California may impact the area reducing visibility.
Incident Contact
Incident Contact
Yosemite Fire Information
Email: yose_fire_info@nps.gov
Phone: 209-375-9517
Hours: M-F 9am to 5pm
Fire Unit Information
Yosemite National Park
National Park Service
P.O. Box 577
Yosemite National Park, CA 95389