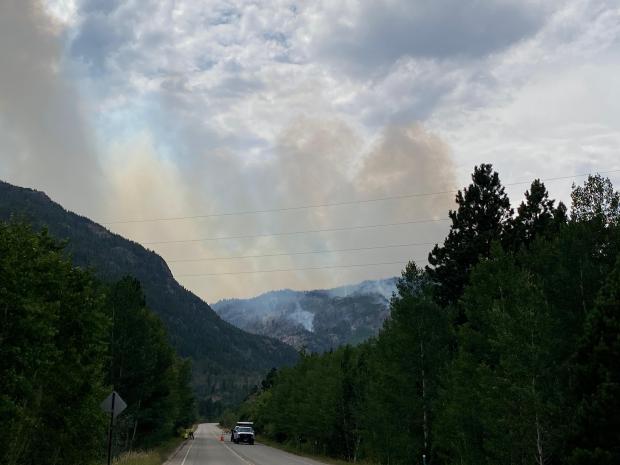 Griffin, Alder, Rock House, Juniper Fires – August 30, 2020 Morning Update
Alder Fire: 120 acres                   0% contained                    Cause: Lightning                               Vegetation: Grass and Brush Started 8/27     Location: 16 miles north of San Carlos, AZ
Resources: 437 total including: 7 Crews; 28 Engines; 4 bulldozers; 11 water tenders; 2 masticators; 5 helicopters; 2 amphibious super scooper planes
Minimal Rain Over Fires Yesterday; Scattered Thunderstorms Possible Today
Ko' Ba Nagoni i'
 A Flash Flood Watch is in effect today. Scattered thunderstorms with locally heavy rain, outflow winds, and lightning are concerns today. Dry washes and valley drainages should be avoided during heavy rain. Keep in mind that heavy rain several miles away can flood a dry wash with little warning. Plan for an alternate route if this occurs.
All of the fires received minimal rain yesterday, ranging from 1/2" on the Juniper Fire to less than 1/10" on the Rockhouse Fire. Fire activity is expected to continue until these areas receive significant, widespread rain.
Firefighters are patrolling for hotspots and rehabilitating areas that have burned in the Griffin Fire along the highway.  They are cold trailing, making sure there are no active areas of heat near the fire's perimeter on the northeast side. The portion of the Griffin Fire west of Highway 60 and the southeast flank of the fire on the San Carlos Reservation remain inactive. Firefighters plan to complete approximately ¾" miles of prep work along the 1300 Road on the northeast side of the Griffin Fire today. Firefighters continue work along the 1120 Road. They are also working on suppression repair including restoring dozer lines in areas of the fire that are now contained.
Highway 60 remains closed north of Globe from S. Parker Street (MM251) north to MM318 in Show Low. Highways 188 and 288 are open. Call 511, visit https://az511.gov or https://www.az511.com/about/mobileapp for current road status.
Road 1300, near Highway Tanks, Road 900, are closed on the San Carlos Apache Reservation. Please be careful while driving in the fire area as firefighters are working along roadways and travelling through communities to reach the fires.
Firefighters are monitoring fire activity on the Alder Fire, located northeast of the Griffin Fire. They are prepared to conduct firing operations if needed. The fire is located in steep terrain where it is primarily spreading laterally due to the steep terrain when burning vegetation rolls downslope, then runs back upslope.

Yesterday firefighters made significant progress helping to secure the Juniper Fire, constructing line and using burnout operations to tie in within roads in the area. Direct suppression continues today.
Fire activity and movement will continue to be driven by dry fuels, terrain, slope and potential of winds from thunderstorms through the area. We are expecting higher temperatures and lower humidity over the fire area for the next several days. The chance of afternoon thunderstorm buildup and outflow winds will remain a concern for public and firefighter safety.
Firefighters are focused on protecting values at risk where they can do so safely and effectively. Challenges include extreme temperatures, steep and remote terrain, flash flooding, lightning and outflow winds associated with thunderstorms. Firefighter and public safety are the highest priority. Firefighters are working to protect local communities, power lines, mines, range improvements, historical, cultural, ceremonial sites and natural resources. We are working with nearby Incident Management Teams and agency administrators to share resources where they are needed most.
The communities along the east side of Highway 60 (north of Globe) from ADOT yard north to Winters Ranch including    Johnson Ranch and McMillianville remain in a "Go" evacuation Status. The San Carlos communities of Upper Gilson and Skill Center have returned to "Ready" status. For emergency alert and Red Cross evacuation information, visit http://www.readygila.com/. Ready (Prepare Now) – Set (Be Alert) – Go (Evacuate) Info: https://ein.az.gov/ready-set-go
A South Central Arizona Smoke Outlook is available on https://wildlandfiresmoke.net/outlooks/SouthCentralArizona. Rain and clouds today and tomorrow should moderate fire activity and smoke generation. Some areas may still see peeks of sun which will increase fire activity in those areas. Outflow winds from storms will add an additional level of uncertainty to smoke forecast. Wildfire Smoke and COVID-19 Frequently Asked Questions: https://tinyurl.com/y3xp4cy3
The Tonto National Forest has issued Public Safety Closure Orders for the areas impacted by these fires. Visit  https://www.fs.usda.gov/alerts/tonto/alerts-notices for details.
Temporary Flight Restrictions are in effect. Wildfires are a No Drone Zone. If you fly, we can't. Every time a drone is spotted near the fire all aircraft are grounded until we can be sure the drone is clear of this area. knowbeforeyoufly.org
Fire Information: 928-421-4539 (public)      928-421-4579 (media)
Griffin Fire Inciweb: https://inciweb.nwcg.gov/incident/7020/
Meddler Fire Inciweb: https://inciweb.nwcg.gov/incident/7072/
Rockhouse Fire https://inciweb.nwcg.gov/incident/7103/
Juniper Fire https://inciweb.nwcg.gov/incident/7106/
Facebook: https://www.facebook.com/SaltGinGriffinFire/ and https://www.facebook.com/SCATFORESTRY/
Arizona Fire Information: https://wildlandfire.az.gov and https://ein.az.gov/
Interactive Fire Map: https://maps.nwcg.gov/sa/
Basic Information
Incident Type:
Wildfire
Cause:
Lightning
Date of Origin:
Thursday August 27th, 2020 approx. 05:45 PM
Incident Commander:
IC Alan Sinclair, Deputy IC Dave Bales
Coordinates:
33.6, -110.45
Size (Acres):
120
Fuels Involved:
Short grass and brush
Planned Outlook
Planned Actions:
Crews will continue to implement an indirect suppression strategy and provide point protection for
values at risk. Direct attack will be implemented in areas where possible.
Incident Contact
Incident Contact
Alder Fire Information Line
Phone: 928-421-4539
Hours: 8 am to 8 pm
Fire Unit Information
Tonto National Forest
U.S. Forest Service
2324 E. McDowell Rd
Phoenix, AZ 85006