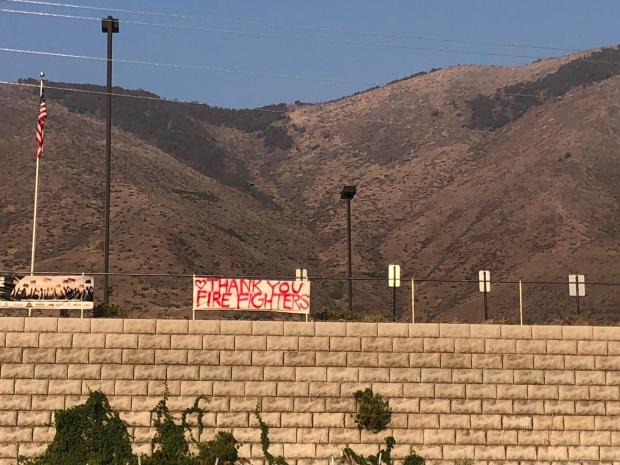 The Slink Fire was reported on August 29th at 6 p.m. in the Slinkard Valley southwest of Topaz Lake. It is burning in Ponderosa Pine, Pinyon-Juniper and mixed conifer and was a result of lightning in the area.
The fire has grown to 26,752 acres, with 71% containment.

Command of the fire has transitioned to a Type 3 Incident Management Team, Nevada Team 2.  


September 19th Update: The fire received precipitation yesterday and the existing containment lines held through the significant wind event. The north and northwest portions of the fire are transitioning from suppression to rehabilitation operations. The southwest portion remains the most active, and crews will continue to construct line directly along the fire's edge, as well as mop-up hot spots in that area.  There are 187 personnel on the fire and it remains 71% contained.

Evacuations

There are no evacuations or highway closures.

Fire Area Closure

There is a fire area closure in place, to view the closure visit https://www.fs.usda.gov/alerts/htnf/alerts-notices/?aid=61374. Please avoid the fire area. 
 

Social media sites 

Facebook: https://www.facebook.com/HumboldtToiyabeNF 

Twitter: https://twitter.com/HumboldtToiyabe 
Basic Information
Incident Type:
Wildfire
Cause:
Lightning
Date of Origin:
Saturday August 29th, 2020 approx. 06:00 PM
Location:
2 miles west of Coleville, California
Incident Commander:
Paul Washam, Humboldt-Toiyabe National Forest
Incident Description:
The Slink Fire Was Reported On August 29th At 6 P.m. In The Slinkard Valley Southwest Of Topaz Lake.
Coordinates:
38.568, -119.568
Current Situation
Total Personnel:
192
Size (Acres):
26,752
Containment:
71%
Estimated Containment Date:
Saturday September 26th, 2020 approx. 12:00 AM
Fuels Involved:
Fuels are timber dominated in the Carson-Iceberg Wilderness with extremely steep terrain. Fuels on the Sierra Front transition to Ponderosa Pine, Pinyon-Juniper, and light brush in old fire scars. Live fuel moistures are at record low levels. Terrain is extremely steep, complex, and a contributing variable to direction of spread. There are no natural barriers or features that have a high probability of success in holding. Weather remains hot, dry, and unstable. A Haines of 5 or 6 is forecasted for the next 4-5 days.
Significant Events:
Currently, fire behavior is limited to creeping, smoldering, and backing as crews hold previous days ignitions and begin to secure the primary firelines. If the air clears, there is a potential for parts of the fire to become more active with the forecasted gusty winds. No fire growth added today. West and south edges of the fire hole the most potential for compromising primary firelines due to heavy timbered fuels. Fuels remain at critically low fuel moistures.
Planned Outlook
Planned Actions:
Div L: Continue going direct. Secure fire edge and blackline indirect pieces. Use aviation when possible.
Div M: Continue mop-up and going direct when possible. Coordinate with L for operations at division break. Hold fire north of Coyote Creek and Poison Flat.
Div S: Hold fire south of Bagley Valley, north of Poison Flat and Coyote Creek. Continue mop-up and going direct when possible. Back haul hose and pumps.
Div A & G: Division will not be staffed. Suppression repair will monitor during their work.

Suppression repair is being identified and implemented on the north, east, and southeast flanks of the fire. Identify and establish trigger points for when the indirect handline on the southeast end of the fire would be implemented to limit fire spread in the USMC Mountain Warfare Training areas. Working along the southwest flank of the fire using direct and indirect tactics to keep the fire out of Coyote Valley and limit the spread within Corral Valley. Holding and improving existing containment along the east side of East Fork Carson River from previous days ignitions utilizing direct line and hose lays. Develop the strategic plan for containment opportunities for the southwest and west flanks of the fire to prevent spread into Coyote Valley, 4 mile canyon, and west of East Fork Carson River utilizing MIST tactics. Div S is preparing to begin repair to handline next shift.
Projected Incident Activity:
12 hours: Creeping, smoldering, and backing ground fire.

24 hours: Creeping, smoldering.
Weather Synopsis
Weather Concerns:
Observed: Skies cleared of heavy smoke. Temperatures remained cooler with the low pressure passing over. Ridgetop winds were exceptionally strong today with gusts forecasted up to 90 mph at times. Eye-level winds were steady around 15 mph with gusts of 40. There is a lack of moisture in the air leading to continued low relative humidity.

RED FLAG WARNING REMAINS IN EFFECT UNTIL 11 PM PDT FRIDAY FOR GUSTY WINDS AND LOW HUMIDITY FOR NORTHEAST CALIFORNIA, THE LAKE TAHOE BASIN, AND THE NORTHERN SIERRA FRONT

Weather Discussion: Wind gusts of 30-40 mph today, even with higher humidity will create critical conditions. Light showers remain possible today however the chances of wetting rains are generally less than 20%. Lows will be near freezing tonight for Sierra and rural western Nevada valleys. Expect light winds and below average temperatures Saturday.
Incident Contact
Incident Contact
Fire Information
Phone: 775-430-5103
Hours: 7am-8pm
Fire Unit Information
Humboldt-Toiyabe National Forest
U.S. Forest Service
1200 Franklin Way
Sparks, NV 89431