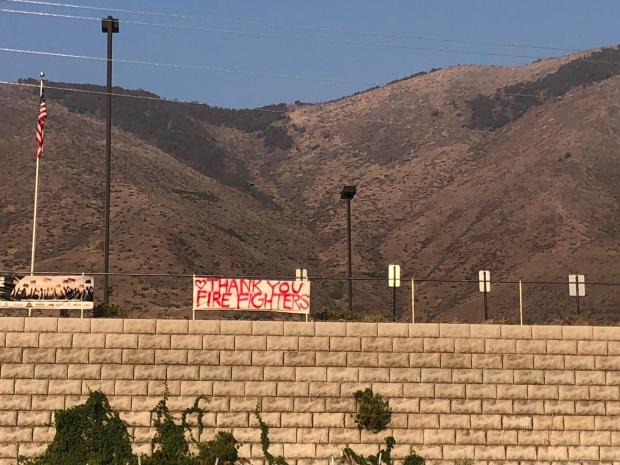 The Slink Fire was reported on August 29th at 6 p.m. in the Slinkard Valley southwest of Topaz Lake. It is burning in Ponderosa Pine, Pinyon-Juniper and mixed conifer and was a result of lightning in the area.
The fire has grown to 26,752 acres, with 84% containment.

Command of the fire has transitioned from a Type 3 Incident Management Team, Nevada Team 2, back to the local unit.  
Situation Update:  The number of resources on the fire will be decreasing, but still remain at a level to meet the objective of 100% containment, which crews will continue to work towards in the coming days. The south end of the fire remains the area with the most heat, and crews will continue to construct line directly along the fire's edge, as well as mop-up hot spots in that area. Suppression repair work, mitigating environmental resource impacts that was caused by fire suppression efforts and returning the area to as natural of a state as possible, has been completed. 
Evacuations
There are no evacuations or highway closures.

Fire Area Closure
There is a fire area closure in place, to view the closure visit https://www.fs.usda.gov/alerts/htnf/alerts-notices/?aid=61374. Please avoid the fire area. 
 
Social media sites 
Facebook: https://www.facebook.com/HumboldtToiyabeNF 
Twitter: https://twitter.com/HumboldtToiyabe 
Basic Information
Incident Type:
Wildfire
Cause:
Lightning
Date of Origin:
Saturday August 29th, 2020 approx. 06:00 PM
Location:
2 miles west of Coleville, California
Incident Commander:
Mathew Gill, Humboldt-Toiyabe National Forest
Incident Description:
The Slink Fire Was Reported On August 29th At 6 P.m. In The Slinkard Valley Southwest Of Topaz Lake.
Coordinates:
38.568, -119.568
Current Situation
Total Personnel:
70
Size (Acres):
26,752
Containment:
84%
Estimated Containment Date:
Saturday September 26th, 2020 approx. 12:00 AM
Fuels Involved:
Fuels are timber dominated in the Carson-Iceberg Wilderness with extremely steep terrain. Fuels on the Sierra Front transition to Ponderosa Pine, Pinyon-Juniper, and light brush in old fire scars. Live fuel moistures are at record low levels. Terrain is extremely steep, complex, and a contributing variable to direction of spread. There are no natural barriers or features that have a high probability of success in holding. Weather remains hot, dry, and unstable. A Haines of 4.
Significant Events:
Currently, fire behavior is minimal: creeping and smoldering.
Planned Outlook
Planned Actions:
DIV L: Continue going direct. Secure fire edge and blackline indirect pieces. Use aviation when possible
DIV M: Continue mop-up and the backhaul of hose and pumps. Prioritize retrieving accountable property. Break down hoselay and cabin wrap at Connell Camp.
DIV S/T: Perform handline repair and continue backhaul.
DIV A & G: Division will not be staffed. Suppression repair will monitor during their work.
Suppression Repair: Complete work on DIV A/G and move to the WSA in DIV T if possible.
Projected Incident Activity:
12 hours: Creeping, smoldering.

24 hours: Creeping, smoldering.
Weather Synopsis
Weather Concerns:
No current weather concerns. Winds have subsided to a typical seasonal and diurnal pattern. Skies are mostly clear. Near-term smoke impacts were very light. There is some concern of smoke impacts from other fires grounding aircraft in the coming days.
Incident Contact
Incident Contact
Fire Information
Phone: 775-430-5103
Hours: 7am-8pm
Fire Unit Information
Humboldt-Toiyabe National Forest
U.S. Forest Service
1200 Franklin Way
Sparks, NV 89431
Dispatch Contact
Sierra Front Interagency Dispatch Center
| Minden, NV
Phone:
775-883-5995
Website:
http://sierra-front.net/