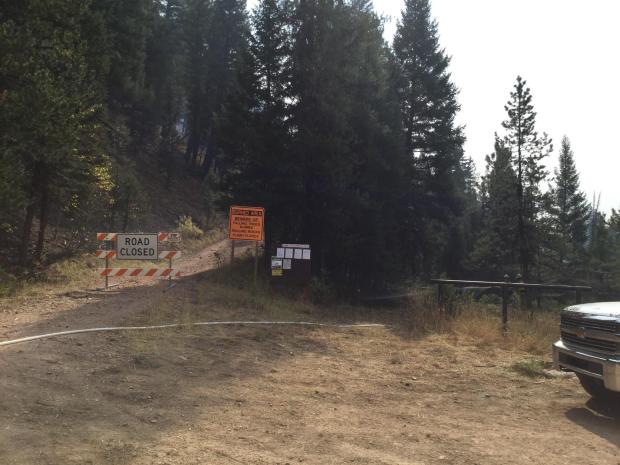 9-28-2020 - The Buck Fire is 19,474 acres and 33 percent contained. The lightning caused fire was ignited Wednesday August 26, at approximately 3:30 p.m. It is located 7 miles south of Yellow Pine.
OBJECTIVES:  The primary focus of the fire managers has been to keep the fire away from homes in Johnson Creek and to prevent it from getting to Yellow Pine. Plans have been developed in the event the fire gets closer to the town. Yesterday, crews began the construction of a contingency line along the southeast edge of town and fire managers are developing a plan to use that line and Stibnite road to prevent fire from getting into the town from the south.
LOCATION:  The fire is located near Johnson Creek road in several places between Trapper and Buck Creeks. Firefighters have been using the powerline corridor as a control feature and have so far been successful in keeping the fire from directly impacting the road. The road was closed on September 17 -20 because of the increased activity with the fire being suppressed near the road.

 
 STRATEGY:  The current strategy for the week is to continue to suppress the fire as it comes down near Johnson Creek road and to use aircraft to slow the spread of fire to the north if it becomes active again. The northwest edge of the fire is in a place that is extremely steep and rocky, and it is too risky to directly engage the fire anywhere except close to the road.

Crews and engines remain in place to protect the private homes if the fire was to become more active. Firefighters are working to slow the spread of the fire and to use natural features and previously burned areas to check the fire from moving rapidly to the north until a season-ending weather event occurs.

 
 CLOSURES:  Closures remain in effect; however, Johnson Creek Road is now open.

There is a revised area closure in place for firefighter and public safety during wildfire suppression.

The closure will be in place through Oct. 31, unless rescinded earlier. Visit Inciweb to view the closure and map at: https://inciweb.nwcg.gov/incident/7102/

 
WEATHER:  The forecast for the coming week in uncertain. There is a possibility of precipitation Thursday and Friday, but some forecasts show that that storm may pass to the north of the fire.

 
OPERATIONS: There will be new Type 3 management team taking over the management of the fire on Thursday, September 24. The team will be able to stay in place at least two weeks and will leave sooner if we get a season-ending weather event. There will likely be some level of firefighter presence in the area for the next 4 – 6 weeks.

 

### 
Basic Information
Incident Type:
Wildfire
Cause:
Lightning
Date of Origin:
Wednesday August 26th, 2020 approx. 03:30 PM
Location:
30 miles NE of Cascade, ID
Incident Commander:
ANDY BERTELSON NV-BMD
Incident Description:
Minimal Backing Creeping

Coordinates:
44.786, -115.476
Current Situation
Total Personnel:
136
Size (Acres):
19,474
Containment:
33%
Estimated Containment Date:
Saturday October 31st, 2020 approx. 12:00 AM
Fuels Involved:
Subalpine Fir - dead and down
Significant Events:
Road and Trail closures in effect. Johnson Creek Road is open.
Planned Outlook
Planned Actions:
Crews will be pulling structure protection infrastructure of hose and pumps and finishing contingency control lines along the Johnson Creek corridor.
Projected Incident Activity:
A forecasted warming and drying trend are expected to make fuels more active. Expected fire spread is expected to be minimal as fuels are expected to struggle to dry given the short days and long cool nights.

Remarks:
DUE TO POTENTIAL IMPACTS TO STRUCTRURE WITHIN JOHNSON CREEK AREA, CREWS WILL CONTINUE TO SECURE THE WESTERN EDGE OF THE FIRE THAT HAS BACKED TO JOHNSON CREEK RD.
Weather Synopsis
Weather Concerns:
Warmer than average daytime temperatures with cool nights and good humidity recovery are expected through the week.
Incident Contact
Incident Contact
Venetia Gempler
Email: venetia.gempler@usda.gov
Phone: 208-373-4105
Hours: M-F 9-4 p.m.
Fire Unit Information
Boise National Forest
U.S. Forest Service
1249 S. Vinnell Way
Boise, Idaho, ID 83709