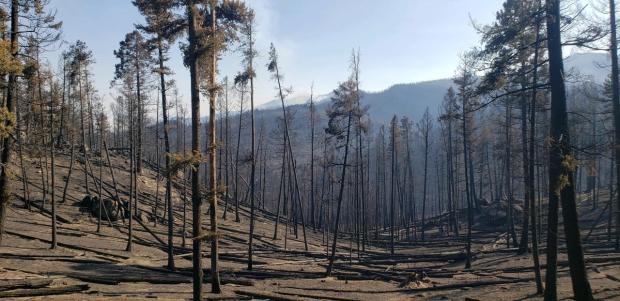 September 16, 2020               Contact Dillon Ranger District (406) 683-3900  (NEW PHONE NUMBER)
 Hours: M-F 8:00 a.m. – 4:30 p.m.
WHAT:                                                   Wildland Fire                       
DATE OF DETECTION:                        August 29, 2020
CAUSE:                                                   Lightning
CURRENT SIZE:                                     3,140 acres
COMPLETION OF OBJECTIVES:         50%
LOCATION                                             Approximately 16 miles NE of Whitehall, 2 miles NE of Whitetail Reservoir
JURISDICTION:                                     Beaverhead-Deerlodge National Forest
RESOURCES ON THE FIRE:  2 Medium Helicopters, 1 Water Tender, 4 Type 6 Engines, 1 Smoke Jumper Module (7 person), 1 Type 2 IA Crew (20 person) and miscellaneous overhead for a total of 114 personnel.
NARRATIVE:  The State Creek Fire was detected August 29, 2020. This fire is located on the Butte Ranger District and currently is 3,140 acres in an area difficult for firefighters to access due to rough terrain, numerous snags, and a significant amount of dead and down trees.  This fire is being managed with a combination of full suppression and confine/contain strategies.  Some of the strategic objectives for this fire include protect private residences and structures, protect heritage sites, keep fire off private land when possible, minimize effects to fish populations and minimize the spread of noxious and invasive weeds. This fire will continue to put up visible smoke as interior pockets of fuel continue to burn. The fire may become more active, due to weather, until there is a season ending event of moisture.  A Type 4 local organization will assume command of the fire today, September 16, 2020.
YESTERDAY'S ACTIVITY:  Crews worked on securing blackline and holding roads and containment lines previously burned.
TODAY'S WEATHER/FIRE BEHAVIOR:  The ridge of high pressure will continue to dominate the weather in the region for the next couple of days.  Expect very poor relative humidity recoveries (RH) , along with low minimum RHs in the afternoons.  Smoke will continue to linger in the area, possibly improving Thursday.  The high-pressure ridge begins to breakdown Friday evening, with increasing southwesterly winds. A chance of wetting rains will continue to increase with moisture beginning late Friday night continuing through Saturday.  Today will be mostly sunny with areas of smoke.  Maximum temperatures will be 71-76° with minimum RH 12-17%.  Winds will be variable 2-4 mph becoming southwest 5-10 mph in the afternoon.
TODAY'S PLAN:  Crews will continue to hold roads and containment lines from previously planned burnouts.  They will also finish prepping roads and containment line to the St. Anthony Mine's private land border. An area north of FS Road 8592 will be prepped for a possible burnout operation in the future, keeping the fire from spreading north and east.
SPECIAL CONCERNS & CLOSURES:  Public and firefighter's safety is always the primary concern . The Forest Service (FS) and Bureau of Land Management (BLM) issued closure orders for the area around the fire including roads and trails. A Temporary Flight Restriction is in effect for the area.  The area will continue to experience significant smoke from fires to the west.   Please check InciWeb for the current order if recreating in the area.
This is will be the last daily update unless significant changes occur.
Basic Information
Incident Type:
Wildfire
Cause:
Lightning
Date of Origin:
Saturday August 29th, 2020 approx. 12:00 PM
Location:
Approximately 16 miles NE of Whitehall
Incident Commander:
Shane Martin, Jason Willoughby (T) USFS
Incident Description:
Wildfire Lightning/natural
Coordinates:
46.099, -112.233
Current Situation
Total Personnel:
114
Size (Acres):
3,140
Estimated Containment Date:
Friday October 30th, 2020 approx. 12:00 AM
Fuels Involved:
Timber (Litter and Understory) medium logging slash with a heavy component of dead and down Lodgepole Pine and Subalpine Fir.
Significant Events:
Fire activity is moderate with smoldering, backing and creeping and single tree torching.
Planned Outlook
Planned Actions:
Crews will continue to mop up and hold completed line, also continuing to implement indirect line to the St. Anthony Mine.
Projected Incident Activity:
The fire's activity will continue to be smoldering with backing and creeping. An increase in fire activity may occur due to the continued warming drying trend and predicted winds.
Remarks:
The two Type 2 helicopters, on scene, are critical to operations as interior pockets of fuel continue to burn.
Weather Synopsis
Weather Concerns:
Smoke and haze from fires to the west will continue to impact the local area, potentially limiting visibility. The warming and drying trend will continue through the week, followed by a chance of thunderstorms with gusty winds on Friday and Saturday.
Incident Contact
Incident Contact
Dillon Ranger District
Phone: 406-683-3900
Hours: M-F 8:00 - 4:30
Fire Unit Information
Beaverhead-Deerlodge National Forest
U.S. Forest Service
420 Barrett St
Dillon, MT 59725
Dispatch Contact
Dillon Interagency Communication Center
| Dillon, MT
Phone:
406-683-3975
Website:
https://gacc.nifc.gov/nrcc/dc/mtddc/