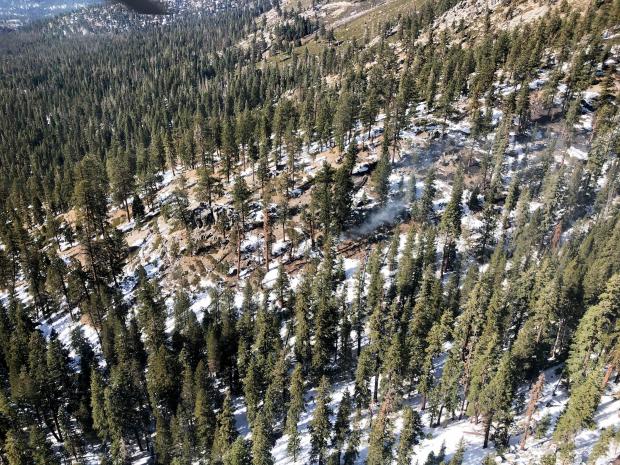 The Moraine Fire was discovered on August 21 after substantial lightning occurred over the area. It is located within the Sequoia - Kings Canyon Wilderness, southeast of Cedar Grove, Kings Canyon National Park. There is no threat to life or property at this time.
Due to limited firefighting resources and the fire burning in designated wilderness, the fire is being monitored via air. However, fire managers are prepared to send firefighters in if the activity warrants and direct suppression action.  Fire managers continue to use a confine and contain strategy with natural and human-made features to respond to the Moraine Fire. 

Following the winter storm from November 7 & 8, fire managers continue to conduct helicopter observation missions over the Moraine Fire. Like many of the fires in the Sierra Nevada following this storm, much of the energy was taken out of the fire. However, there was noticeable snow melt by mid-week. A few isolated pockets of heat remain but there are no concerns with any additional major fire spread at this time.
 
However, Fire managers will continue to monitor fire activity near the trail with the possibility of closing Avalanche Pass Trail at certain locations due to fire activity. If a closure goes into effect, that information will be shared on the Closures tab of the page.   
Wilderness travel is still allowed in this area with a valid wilderness permit.  However, please use caution and follow all posted trail signs.
The park is working with the San Joaquin Valley Air Pollution Control District. Smoke will be visible near and from high-country vistas. Smoke from regional wildfires in the State of California may also affect visibility over the area.
Sequoia and Kings Canyon National Parks Current Conditions Webpage

Air Quality Information from San Joaquin Valley Air Pollution Control District
Current Air Quality from AirNow.Gov
Basic Information
Incident Type:
Wildfire
Cause:
Lightning
Date of Origin:
Friday August 21st, 2020 approx. 09:00 PM
Location:
South of Palmer Peak ,south and east of Avalanche Pass Trail.
Incident Commander:
Sequoia and Kings Canyon National Parks
Coordinates:
36.718, -118.557
Current Situation
Total Personnel:
8
Size (Acres):
1,316
Containment:
85%
Fuels Involved:
High elevation conifers, forest litter, dead and down woody debris, standing dead trees, and understory vegetation.
Planned Outlook
Planned Actions:
Monitor via air and asses for any needs for direct suppression action.
Remarks:
Day use access to Cedar Grove is closed for the season and will reopen in 2021.
Incident Contact
Incident Contact
Fire Information Office
Email: seki_fire_info@nps.gov
Phone: 559-565-3704
Fire Unit Information
Sequoia & Kings Canyon National Parks
National Park Service
47050 Generals Highway
Three Rivers, CA 93271