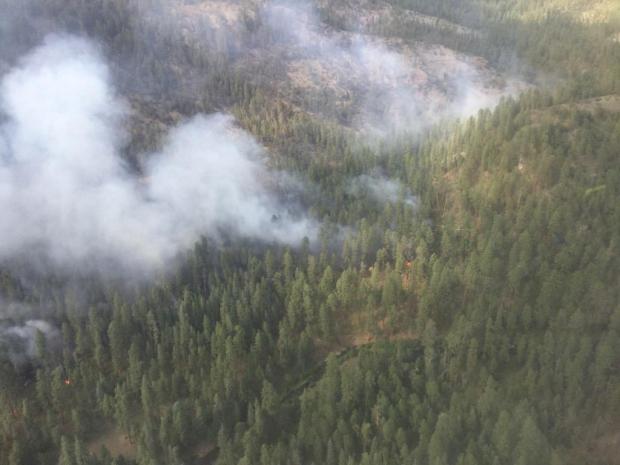 The lightning caused Lofer fire started on August 18 and is located 15 Miles East of Whiteriver, Arizona. Firefighter and public safety are the number one priorities on the Lofer Fire. All fire actions will be assessed in relation to protecting values and minimizing impacts on cultural resources, wildlife, rangeland, watersheds, recreation areas, natural resources, and infrastructure protection.
Basic Information
Incident Type:
Wildfire
Cause:
Lightning
Date of Origin:
Tuesday August 18th, 2020 approx. 02:45 PM
Location:
15 Miles East of Whiteriver, Arizona
Incident Commander:
BIA Fort Apache Agency
Coordinates:
33.742, -109.709
Current Situation
Total Personnel:
120
Size (Acres):
1,275
Containment:
65%
Fuels Involved:
Fuels consist of grass and pine litter in open pine stands on Lofer Bench and within Big Bonito Creek. The
upper SE facing slopes within Big Bonito Creek consist of a band of mixed brush and pine/oak litter. North slopes and the bottom of Big Bonito Creek drainage have pockets of mixed conifer.
Significant Events:
No fire spread and limited fire activity. Some backing fire is occurring in areas with full sun and/or available fine fuels, but most of the fire area is experiencing backing and flanking fire.
Planned Outlook
Planned Actions:
Crews will also monitor fire activity along the BIA 71
Road and in Big Bonito Creek. Crews will continue to monitor the fire to protect timber and plantation resources, watersheds and Apache Trout habitat.
Projected Incident Activity:
Creeping and smoldering fire behavior. Backing fire movement may occur in the afternoon, but only in areas with full sun and available fine fuels. Cloud cover, higher humidities, and cooler temperatures will negatively impact current and future fire movement.
Remarks:
The Flash Fire is in close proximity to the Lofer Fire and is 51 acres in size and approximately 100 percent contained.
Temporary flight restrictions are in place over the Lofer fire area.
A 10 mile section of BIA 55 Road is closed to the public travel.
Weather Synopsis
Weather Concerns:
After the frontal passage on Tuesday, conditions for the incident will be significantly different. Much lower temperatures and higher relative humidity values will be a welcome change to a region that has been moisture starved and experienced temperatures well above normal.
Incident Contact
Incident Contact
Phone line not in-service
Phone: 928-421-4984
Fire Unit Information
Fort Apache Agency
Bureau of Indian Affairs
P. O. Box 560 Whiteriver Arizona 85941
Whiteriver, AZ 85941