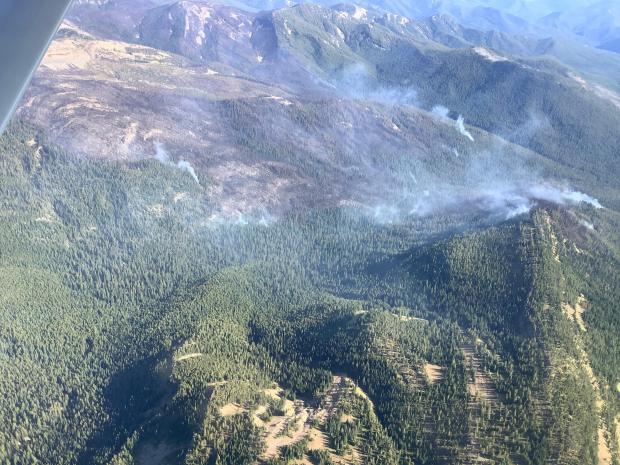 Closure orders will be revisited this Monday, September 28th to assess how long they will remain in effect; Schafer Meadows recorded 0.53" of rain on September 24th, and the area has the potential to receive more precipitation this week. Updates will be posted as soon as they are available. 

As the smoke from the west coast cleared, a recon flight was taken on September 22nd. At this time, the fire was still moderately active around the perimeter, primarily in the Drumming Creek drainage. Observed fire behavior included backing and creeping.

Based on increased fire activity and growth during the first week of September along with the anticipation of continued unseasonably dry and warm conditions, additional closures have been implemented on the following trails and in the surrounding area:
#179 Lodgepole Creek - closed in entirety
#391 Calbick Creek - closed in entirety
#175 Cox Creek - closed in entirety
#147 Badger Pass Cutoff - closed in entirety
#338 Cap Mountain - closed from junction with Cox Creek #175 to junction with Winter Creek #317
An area closure is also effect in the area surrounding these trails. See "Closures" tab for map.
The Flathead and Helena-Lewis and Clark National Forests both have previous trail closure orders separate of the new order.

The Fire is currently burning on both sides of the Continental Divide in the Flathead and Helena-Lewis and Clark National Forests. Smoke may remain visible from communities along the Rocky Mountain front in the coming weeks. For more information regarding wildfire smoke and Covid-19, please see the articles section. A monitor has been placed at the Heart Butte High School to gauge fire impacts on the surrounding communities.
 
The Drumming Fire was detected by a Forest Health flight during the afternoon of August 26th; the fire was originally reported as two separate starts, the Drumming Fire and Drumming 2. They joined together during the afternoon of the 26th, growing from 3-5 acres to 30 acres. The fire is burning within a 30-year-old burn on a southwest facing ridge, 4 miles east of the Continental Divide. It is actively burning in the heavy dead and down (1,000-hour fuels) and its growth is pushed by southwest winds. There is potential for the fire to burn east-northeast into the Beaver Lake area and onto the eastern side of the divide in the Elbow Creek drainage. The 2015 Family Peak burn and 2017 Crucifixion burn provide significant barriers to this spread toward the east, see the Fire History Map in the maps section for a visual representation. A third start in the area was detected on August 28th, the Lodgepole Creek Fire. As of September 6th the Drumming and Lodgepole fires have merged, and firefighters from the Spotted Bear Ranger District and Flathead Helitack crew were sent into Schafer Meadows to initiate point protection measures.
Initial attack measures were deemed inadvisable based on the current values at risk. Spotted Bear Ranger District will continue to manage the fire in the coming weeks; Flathead (SBRD) and Helena-Lewis and Clark (RMRD) have sent individuals to post closure signs and make visitor contacts near affected trails on both forests. Firefighters from the Rocky Mountain Ranger District will be initiating point protection plans at Badger Cabin if necessary, and firefighters from the Spotted Bear and Hungry Horse Ranger Districts have been inserted at Schafer Meadows Work Station to provide point protection for structures. Firefighters will remain at Schafer Meadows until a season-ending event.
 
Please see the official trail closure orders and maps for specific information on the CDT reroute and other impacted trails.
Basic Information
Incident Type:
Wildfire
Cause:
Lightning/natural
Date of Origin:
Wednesday August 26th, 2020 approx. 11:00 AM
Location:
23 miles SE of Essex, MT
Coordinates:
48.14, -113.165
Current Situation
Total Personnel:
11
Size (Acres):
4,351
Estimated Containment Date:
Thursday October 15th, 2020 approx. 12:00 AM
Fuels Involved:
Timber (Litter and Understory)
Significant Events:
Moderate, creeping and smoldering, single and group tree torching.
Planned Outlook
Planned Actions:
Spotted Bear (SBRD) and Rocky Mountain Ranger District (RMRD) employees are posting closure information and making visitor contacts in the affected area. RMRD firefighters are prepared to initiate point protection plans at Badger Cabin, if needed. SBRD firefighters and Flathead helitack members have been inserted into Schafer Meadows Work Center to provide point protection.
Projected Incident Activity:
Fire spread is anticipated to the east and uphill, pushed by westerly winds.
Weather Synopsis
Weather Concerns:
The long term forecast shows a potential for unseasonably warm temperatures and dry conditions.
Incident Contact
Incident Contact
Spotted Bear Ranger Station
Phone: 406-758-5376
Hours: 8:30 - 4:30 MDT, 7 days/week
Fire Unit Information
Flathead National Forest
U.S. Forest Service
650 Wolfpack Way
Kalispell, MT 59901
Dispatch Contact
Kalispell Interagency Dispatch Center
| Kalispell, MT
Phone:
406-758-5260
Website:
https://gacc.nifc.gov/nrcc/dc/mtkic/