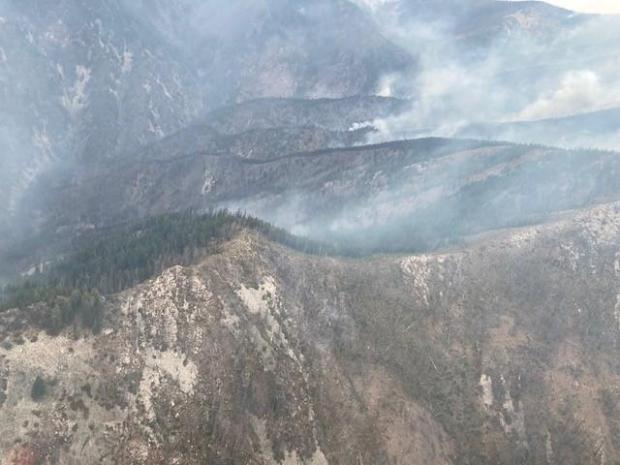 Porphyry Fire Update
September 19, 2020
The Porphyry Fire continues to burn in the Frank Church River of No Return Wilderness, 5 miles east of Hettinger Ranch. Twenty-one personnel are currently assigned to the fire and it is being managed by a Type 3 Incident Command Organization. The fire is now estimated at 15,000 acres and continues its growth to the east/northeast with southwest winds. Yesterday the forecasted winds developed over the fire later in the day and were accompanied by wetting rain. No significant fire growth occurred during yesterdays shift. The most significant growth has been in the drainage of the South Fork of Chamberlain Creek. Showers and thunderstorms are forecasted for todays weather over the fire area. Winds are forecasted to be out of the west 5 to 7 mph in the afternoon and a high temperature of 54.
An area closure remains in effect for the Porphyry Fire. Agency administrators urge South Fork boaters to move quickly through the section impacted by the fire, and for hunters to remain away from the closure area. There are no current threats to structures, but Golden Hand Mine is in the current path of the fire. Fire personnel are focusing on point protection preparations.
Basic Information
Incident Type:
Wildfire
Cause:
Natural - Lightning
Date of Origin:
Tuesday August 25th, 2020 approx. 12:00 AM
Location:
Frank Church Wilderness of No Return, McCall Ranger District. 20 miles North of Yellow Pine, Idaho.
Incident Commander:
Josh Erickson
Incident Description:
Wildfire - Located In The Porphyry Creek Drainage, In The Frank Church Wilderness Of No Return. Point Protection Strategy Is Being Used Due To Lack Of Safe Access For Firefighters.
Coordinates:
45.248, -115.438
Current Situation
Total Personnel:
21
Size (Acres):
15,000
Estimated Containment Date:
Thursday October 01st, 2020 approx. 12:00 AM
Fuels Involved:
Timber (Grass and Understory)
Significant Events:
Fire activity is moderate with backing, creeping and isolated torching.
Planned Outlook
Planned Actions:
Continue to monitor growth and areas of impact, reconnaissance flights, use of lookouts, and Infrared mapping. Implement structure protection at Golden Hand and Wardenhoff mines as needed.
Projected Incident Activity:
Colder weather has diminished fire activity significantly. Fire movement is expected to be
creeping and smoldering with approximately 100 acres of growth across the entire fire.
Weather Synopsis
Weather Concerns:
Haines values of 6 will be present today ahead of an approaching
low pressure system. This system will send increased moisture
over the fire for shower and thunderstorm development by this
evening. Some storms could produce gusty erratic winds. Showers
and thunderstorms associated with this system will continue into
Saturday, with continued threats of gusty wind. Rainfall totals of
between 0.25 inches and 0.50 inches are expected. Dry weather returns on Sunday.
Incident Contact
Incident Contact
Payette Fire Information
Phone: 208-634-0820
Hours: M-F 8:00am - 4:30pm
Fire Unit Information
Payette National Forest
U.S. Forest Service
500 N Mission St
McCall, ID 83638
Dispatch Contact
Payette Interagency Dispatch Center
| McCall, ID
Phone:
208-634-2757
Website:
https://gacc.nifc.gov/gbcc/dispatch/id-pac/pac/index.php