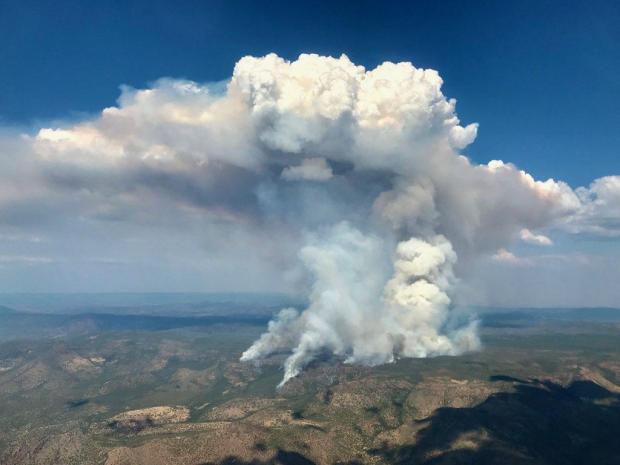 YESTERDAY: There was no growth on the fire yesterday. Helicopter bucket drops kept areas of heat in check. Crews continued to work on securing, patrolling and mopping up containment lines. Warmer weather and lower humidity caused increased fire activity within the perimeter as expected. The increase in heat ignited unburned interior pockets of fuel in burnout areas, helping to secure containment within the existing footprint.
TODAY'S ACTIVITY: Warmer weather today will continue to support burning operations, as interior pockets of brushy fuel ignite and burn out, lessening the potential for fire growth beyond containment lines. Firefighters will continue their focus on securing and mopping up fire lines. Masticators will be used for suppression repair work in areas where contingency and protection work was completed.
AIR SUPPORT: Due to the increased fire activity throughout the Southwest and California air support is limited. We are utilizing shared resources of air tankers and helicopters with our neighboring Type 1 Incident Management Team.
HIDDEN FIRE CLOSURE ORDERS:
• Please visit Tonto NF website for closure information: https://www.fs.usda.gov/detail/tonto/home/?cid=FSEPRD759501
• Facebook page: https://www.facebook.com/Hidden-Fire-Info-108681537629349
• View the closure order and map here: https://inciweb.nwcg.gov/incident/article/7094/54530/ 
 
Wildfires are a No Drone Zone. The temporary flight restriction in place over the fire area please visit: https://tfr.faa.gov/save_pages/detail_0_8593.html for additional information. As a reminder, every time a drone is seen near the fire all aircraft are grounded until we can be sure the drone is clear of the area. For more information visit Know Before You Fly, http://knowbeforeyoufly.org.
Basic Information
Incident Type:
Wildfire
Cause:
Lightning
Date of Origin:
Tuesday August 25th, 2020 approx. 04:15 PM
Location:
The fire is located near Chalk Mountain and Skunk Tank Canyon
Incident Commander:
John Pierson – SWA T1 Team 2
Coordinates:
33.981, -111.184
Current Situation
Total Personnel:
226
Size (Acres):
6,100
Containment:
74%
Estimated Containment Date:
Wednesday September 30th, 2020 approx. 12:00 AM
Fuels Involved:
Short Grass (1 foot)

Dormant Brush, Hardwood Slash

Timber (Litter and Under-story)

Narrative:

The fire area contains complex topography with intermixed fuels complexes.

Drainage bottoms generally contain ponderosa pine stringers (TL3/TU1) with consistent needle cast and short grasses forming a continuous fuel bed.

Pine stringers are often bordered by open pinyon/juniper stands (SH7) which contain sparse grasses.

Basins and consistent slopes contain a mix of manzanita and Emory oak (GS2) and lower elevation grasslands with short grasses (GR2).

NOTE: the letter/number combinations are fuel types and carry special meaning to fire behavior analysts as they anticipate how the fuels will burn as they interact with weather conditions and terrain.

Significant Events:
Moderate

Running

Creeping

Isolated Torching

Narrative:
Fire behavior was moderately active with essentially all activity within drainages on the interior of the fire area.

Active fire movement with isolated torching and short-range spotting was the primary fire behavior.

Manzanita/oak brush began actively burning by 1100 allowing sufficient flame lengths to torch interspersed juniper trees.

Torching was intermittent in the early afternoon and no spot fires were detected beyond control lines.



Planned Outlook
Planned Actions:
Patrol the green and mop up (bone pile) within control lines.

Monitor and suppress spot fires.
Continue suppression repair work.

Crew and engines will be available for initial attack within TFR area and available to the Tonto NF.

Projected Incident Activity:
12 hours:
Continued natural burning out of available fuels within the previous burnout operation areas until 1700-1800.

24 hours:
Fuels continue to be receptive to continued burning out if located near an ignition source. Due to continued and intensifying hot/dry conditions, smoldering pockets of brush and pinyon/juniper dominant areas within the fire perimeter will actively burn from late morning through mid-afternoon.

48 hours:
Unburned fuels will continue to sustain active combustion starting around 1000. High temperatures are expected to be lower as a strong cold front moves through the fire area in the mid-afternoon, but winds will be strong, gust, and shifting. Wind will likely ignite smoldering fires throughout the interior of the fire area, but fire is unlikely to negatively impact control features. After the frontal passage, humidity will rise and temperatures will fall. Fire behavior will likely decrease as well after winds begin to subside in the late afternoon.

72 hours:
Slow start to the day as conditions are not as favorable for continued large-scale natural burning out of interior islands of unburned fuels. Active fire movement will likely require several drying/warming days to resume activity.

Anticipated after 72 hours:
Continued burning out of the interior, but at a much lower scale than that observed prior to the cold front passage on Tuesday.

Weather Synopsis
Weather Concerns:
Current:

Excessively hot, partly cloudy with temperatures in the mid to upper 90s and minimum humidity between 11-15%.

Monday:

Dry and unstable conditions will persist and an excessive heat warning remains effect for elevations below 4000 feet.

High temperatures around 5500 feet will climb into the mid 90s and minimum humidity will fall into the mid teens.

W-SW winds of 10 mph with gusts to 20 mph are expected.




Incident Contact
Incident Contact
Eric Solomon
Phone: 480-339-9585
Fire Unit Information
Tonto National Forest
U.S. Forest Service
2324 E. McDowell Rd
Phoenix, AZ 85006
Dispatch Contact
Phoenix Interagency Fire Center
| Phoenix, AZ
Phone:
480-457-1551
Website:
https://www.az-phc.com/