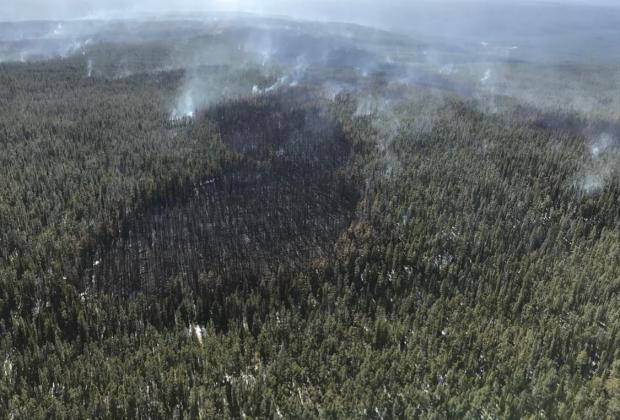 2020 Yellowstone National Park Lone Star Fire – September 17, 2020
Acres: 3,914
Total Personnel: 61        
Cause: Lightning
Updates will be released as significant changes occur.
Fire activity will likely remain same over the next few days as warm weather holds on in the area. A plume could form causing smoke on or near the road and low visibility. Motorists should be cautious. Cooler weather with some precipitation is expected to move into the area on Friday, transported by winds ranging from 10-23 mph. Smoke from western fires is expected to begin to clear as the system moves in.

 
Firefighter and public safety are always the top priority in all efforts.

 
Fuel reduction and structure protection continue. Fuel reduction efforts will focus on the Old Faithful residential area and other utility infrastructure. This creates a fire buffer that will continue to protect natural resources, cultural treasures, and visitors and residents well into the future.
Fire activity in the western United States has created high demand for firefighting resources. The nation is currently in Preparedness Level 5 (PL5). This represents the highest level of fire activity and demand for resources. All residents and visitors can assist fire efforts by following fire restrictions to reduce the potential of additional starts. Fire danger in the Yellowstone area remains very high; campfires in the backcountry are not allowed. Read more about backcountry fire restrictions in theBackcountry Situation Report.
What's Open:
All entrances to Yellowstone are open. For up-to-date road information see the Current Conditions webpage, call (307) 344-2117 for a recorded message, or sign up to receive Yellowstone road alerts on your mobile phone by texting "82190" to 888-777.
What's Closed:
Many of the trails and campsites around Shoshone Lake and Lone Star Geyser are closed. Hikers are encouraged to talk to park staff for alternate hiking and backpacking opportunities or visit the park'sBackcountry Situation Report.The Fern Cascades Trail remains closed for fire operations.

Trailheads on the Grand Loop Road between Old Faithful and West Thumb Junction remain closed to the public. A Lone Star Fire Campsite and Trailhead Closure mapis available for reference.

For complete technical information about the fire please visit the fire Inciweb site.
Basic Information
Incident Type:
Wildfire
Cause:
Lightning/natural
Date of Origin:
Saturday August 22nd, 2020 approx. 04:00 PM
Location:
Three miles south of the Old Faithful developed area. 23 miles southeast of West Yellowstone, MT.
Incident Commander:
Rob Smolczynski
Coordinates:
44.389, -110.821
Current Situation
Total Personnel:
61
Size (Acres):
3,914
Estimated Containment Date:
Friday October 30th, 2020 approx. 12:00 PM
Fuels Involved:
Fire is active in a mature, unburned forest of spruce, fir, and lodgepole pine.
Significant Events:
Moderate smoldering and creeping.
Planned Outlook
Planned Actions:
Fire monitoring will analyze fire spread potential. Crews will continue fuel reduction in infrastructure sites around the Old Faithful area.
Projected Incident Activity:
Impacts to trails and backcountry campsites. Fire is 1 mile from backcountry cabin.
Weather Synopsis
Weather Concerns:
Continued warm and dry weather is expected in the fire area through the next two days.
Incident Contact
Incident Contact
Yellowstone Fire Information
Email: 2020.lonestar@firenet.gov
Phone: 307-344-7102
Hours: 8:00 am - 8:00 pm
Fire Unit Information
Yellowstone National Park
National Park Service
Wyoming
WYOMING, WY 82190