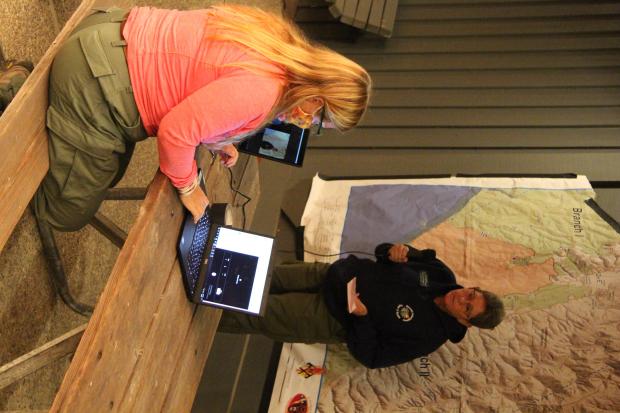 The Woodward Fire, located in the Point Reyes National Seashore, started August 18th, 2020, around 2:27pm just south of the Woodward Trail, west of the Bear Valley Visitor Center in Olema, California and about one mile inland from Limantour Beach. The cause of the fire was determined to be lightning.
 
Updates: The Woodward Fire is being managed by the Great Basin Type 3, Team 4. For the latest information click the News tab or visit our social media channels:
- Facebook: PointReyesNPS
- Twitter: @PointReyesNPS
- YouTube: https://tinyurl.com/yxpjg35c
 
Evacuation Notices: See Announcements tab for evacuation orders and warnings or visit Marin County Sheriff's Office at https://bit.ly/2QqxVm4. If residents want to receive emergency notifications, they can register at www.alertmarin.org.
  
Maps: See Maps tab for daily fire map update. Marin County also puts out an interactive map that shows current fire extent, hot spots, and evacuation status for the Woodward Fire area at https://bit.ly/2Ex41Ko.

Air Quality: Air quality maps are available through the Bay Area Air Quality Management District  at https://www.baaqmd.gov/ .  For additional air quality information visit: https://fire.airnow.gov/# or https://tools.airfire.org/monitoring/v4 or https://californiasmokeinfo.blogspot.com
 
Donations: We appreciate your support; however, due to COVID-19 we cannot accept personal donations at this time. To show support, firefighters enjoy seeing "thank you" signs posted throughout the community or consider giving to the Wildland Firefighter Foundation https://wffoundation.org.
 
Closures: Point Reyes National Seashore is closed to the public until further notice. For additional closure updates, see Closure tab.
 
Fire terminology: Visit the National Wildfire Coordinating Group Fire Terminology Glossary at https://www.nwcg.gov/glossary/a-z.
Basic Information
Incident Type:
Wildfire
Cause:
Lightning/natural
Date of Origin:
Tuesday August 18th, 2020 approx. 03:15 PM
Location:
3 Miles SW of Olema, CA
Incident Commander:
John Postlewait, Woodward Fire. Type 4 IC.
Incident Description:
A Lightning Strike Initiated A Wildfire Within The Point Reyes National Seashore. The Fire Is Being Managed By A Type 3, Great Basin Incident Management Team Under A Full Suppression Strategy.
Coordinates:
38.018, -122.839
Current Situation
Total Personnel:
62
Size (Acres):
4,929
Containment:
97%
Estimated Containment Date:
Friday September 25th, 2020 approx. 12:00 AM
Fuels Involved:
Timber (Litter and Understory)
Brush (2 feet)
Chaparral (6 feet)

Fire is burning in heavy coastal shrub, 4 to 8 feet tall and old growth mixed conifer coastal forest. Low fuel moisture values and historic maximum ERC contributed to active fire behavior. Fire is burning in area lacking recent fire history.
Significant Events:
Minimal
Creeping
Smoldering
Planned Outlook
Planned Actions:
Continue holding an mop up. Hazard tree removal.
Projected Incident Activity:
There is still intermittent heat along the perimeter and isolated heat within the interior of the fire. The fire continues to smolder in heavy, dense fuels.

With a warming and drying trend as mentioned in the weather forecast, fire activity has increased slightly over the next few days. Fire is expected to remain within containment lines.
Remarks:
Additional acreage is due to more accurate mapping. Type 3 Team's last shift is 9/18 and the incident will transition to a Type 4 organization on 9/19/20. The fire still has substantial heat and interior smokes that are visible from the surrounding communities. The fire is not expected to present significant control problems but if the fire reestablishes beyond containment lines, it would negatively affect private and public infrastructure, lead to evacuations of large swaths of residential areas, endangered species habitat, watersheds which provide salmon habitat, high value agricultural operations, communication sites of local and national importance, tourism opportunities, and associated economic impacts and job losses.
Weather Synopsis
Weather Concerns:
Today's Forecast: An upper level trough of low pressure over the Pacific will approach the coast of Oregon and Northern California. This trough is expected to bring increasing onshore flow promoting a deeper marine layer. Little or no meaningful moisture is expected with the actual passage of the trough, but the deeper marine layer will favor drizzle, especially along the coastal ridge crest (Inverness Ridge). Temperatures are expected to trend cooler for a few days associated with the upper trough, in addition to the higher humidity and breezy west to northwest winds.
Incident Contact
Incident Contact
Public Fire Information
Email: pore_web_master@nps.gov
Phone: 415-464-5100
Hours: *
Fire Unit Information
Point Reyes National Seashore
National Park Service
1 Bear Valley Rd. CA. 94956 Point Reyes Station California 94956
Point Reyes Station, CA 94956