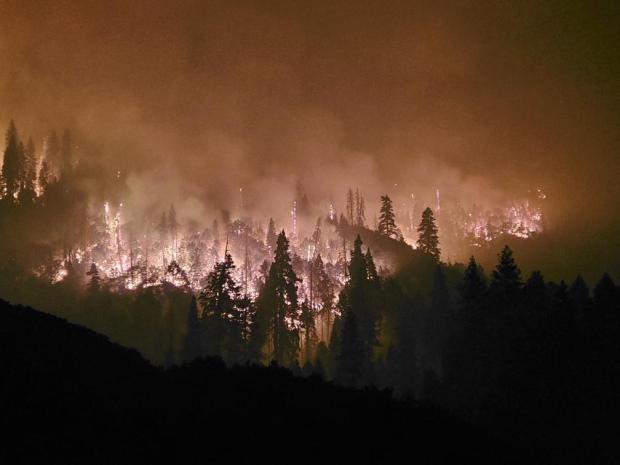 California recently experienced 12,000 lightning strikes, resulting in 560 new fires.  

The Sequoia Complex (#SQFComplex), is made up of the Castle and Shotgun fires. The fires were reported on August 24, 2020. Initial attack of these fires was a top priority.
Both fires are in the Sequoia National Forest. The majority of the Castle Fire is in the Sequoia National Forest, but it is also burning in the Inyo National Forest. A large portion of the Castle Fire is burning in the Golden Trout Wilderness Area. The several hundred acre Shotgun Fire is approximately 5 miles northwest of the Castle Fire. As of Monday, September 14, the Castle Fire reached the southern boundary of Sequoia National Park. The Shotgun Fire is still approximately 1 mile south of the Sequoia National Park boundary.
Dry conditions, high temperatures and low relative humidity have combined to allow for active fire behavior. Forest fuel located within the fire area varies with elevation and some areas have limited fire history. These include stands of dense mixed conifer with heavy brush. The McNally burn scar (2002) and Schaefer burn scar (2017) contain a mixture of grass, brush and dead trees and are supporting fire spread. Terrain is steep and rugged with frequent falling rocks and other debris.
Hand crews, heavy equipment, engines and aircraft are all being used to attack the fire. Firefighters are aggressively fighting the fire and implementing point protection to protect critical values at risk.
The Tulare County Sheriff has issued evacuation orders and road closures are also in place. Refer to the Sequoia Complex Daily Update and the closure and announcement areas of this Inciweb page for information on changing conditions.
Firefighter and public safety are the number one priority as we continue to battle this blaze. On September 14, Northern Rockies Team 1 joined forces with CAL FIRE Team 6 in Unified Command. Yesterday, September 15, Sequoia National Park also became an integral part of the Unified Command structure. Although the fire perimeter will be divided into a West Zone and an East Zone we come together as ONE Team to share resources and implement strategies to protect life safety and values at risk.
Today at 7:00 a.m., CAL FIRE Team 6 took command of the West Zone of the Castle Fire.


East Castle Zone

 
Fire Information: 559-697-5148, 8 a.m.-8 p.m. 
Email: sqfcomplex2020@gmail.com
Website: inciweb.nwcg.gov/incident/7048/
Facebook: www.facebook.com/SequoiaNF
         and https://www.facebook.com/inyonf
Facebook: www.facebook.com/TulareCountyFireDepartment
Twitter: @sequoiaforest and @Inyo_NF


West Castle Zone



West Castle Zone Information Line: (916) 618-3195 West Castle Zone Media Line: (559) 635-8206 (staffed 24 hours)

West Castle Zone Website: www.fire.ca.gov/current_incidents

West Castle Zone Email Updates (sign up): https://tinyurl.com/SQFComplexWest  

Evacuation Info: www.alerttc.com

Facebook: @CALFIRE_TUU Twitter: @CALFIRETUU
Basic Information
Incident Type:
Wildfire
Cause:
Lightning
Date of Origin:
Wednesday August 19th, 2020 approx. 07:15 AM
Location:
25 miles north of Kernville, CA
Incident Commander:
Northern Rockies Incident Management Team, Mike Goicoechea
Incident Description:
Wildfire Complex
Coordinates:
36.255, -118.497
Current Situation
Total Personnel:
1,384
Size (Acres):
128,902
Containment:
12%
Estimated Containment Date:
Wednesday September 30th, 2020 approx. 12:00 AM
Fuels Involved:
Timber (Litter and Understory)
Chaparral (6 feet)
Timber (Grass and Understory)


Fuel models located within the fire area vary with elevation and some have limited fire history. These include stands of dense mixed conifer with heavy brush below timber lines. The McNally burn scar (2002) and Schaefer burn scar (2017) contain a mixture of grass, brush and snags and are supporting fire spread.
Significant Events:

Active
Running
Group Torching
Short-range Spotting

EAST CASTLE ZONE:
Fire continues to move to the south toward the communities of Ponderosa, Camp Nelson, and Pyles Camp.

Backing and flanking fire to the east and west of Camp Nelson/Pierpoint continue to work to the south. With decreased daytime RH's activity is increasing.

Fire continues to move down Slate Mountain to the south and east. This east finger threatens to align with slope and cause an uphill run towards the community of Ponderosa. Active fire behavior started early this morning and is likely to continue through the dayshift into the night.

Active fire is making it's way through the last unburned section in the Freeman Grove. While a rock outcrop near the ridge will likely slow the progression, spread will likely continue to the south west past the needles.

The Shotgun fire exhibited low intensity surface fire in sparse fuel. Growth remains moderate.

WEST CASTLE ZONE:
Fire activity continues to be moderated by the dense smoke and inversion layer, producing understory burning effects. When the inversion lifts, dangerous rates of spread are being observed through dense old growth brush that is over 10 ft tall. The heavy dead and down fuels on the steep slopes is aiding in fire spread into the inaccessible drainages and terrain. Mid-range spotting is developing from dead standing beetle kill, and the abundance of fuels on the forest floor, with large cold ember cast material being found over 5 miles from the current fire perimeter. Dead standing beetle kill timber is creating single and group tree torching.

Planned Outlook
Planned Actions:
EAST CASTLE ZONE:
Branch I - Crews are focused on point protection for structures that are immediately threatened. Implement defensive firing in Ponderosa and Camp Nelson. Structure assessments are being conducted as conditions allow and working to restore power to the affected communities. As opportunities allow crews are looking for opportunities to create containment lines, though delayed to extreme fire behavior. Resource shortage is limiting containment effort while point protection remains the highest priority.

Branch II - Continue to scout fireline looking for fuel breaks and indirect containment line features.


Branch V - Minimum amount of resources will continue to monitor and hold completed lines and continue point protection in the back country structures. Structure protection is ongoing at the Kern Ranger Station. Crews are working to secure fireline from Lion Meadows north to Little Horse Meadows.


Monitor the Shotgun fire using aerial resources.

Continue to evaluate values at risk needs in areas north and west of the fire.

WEST CASTLE ZONE:
In DIV XXI, and DIV XXV Crews are preparing line of planned firing operations within the next 24-36 hours. Firing operation is to facilitate structure defense
Projected Incident Activity:
RH recoveries in the teens will allow for critical burning conditions through the night. These conditions along with forecasted weather conditions can produce another large growth day. The fire growth will continue to be primarily to the south and west. The fire will continue to impact the Freeman Creek Giant Sequoia Grove, structures in the Pyles Boys Camp area, and the community of Ponderosa. Mountain Home State Forest, the highway 190 corridor, USFS facilities and infrastructure, the Blue Ridge National Wildlife Refuge and a multi-agency repeater site, the community of Springville, Sequoia / Kings Canyon National Parks, as well as South Fork of the Tule municipal watershed, and economic and cultural significance of timber resources on the Tule River Reservation will be threatened.

The East Flank of the fire will continue to threaten the Blackrock Ranger Station and other USFS facilities, as well as the cultural values, over 10 structures, and other resources in the Monache Meadows area.

The north flank will continue to threaten the Kern River Guard Station, adjacent private land and the Sequoia / Kings Canyon National Park

Shotgun Fire: Expect all active edges to have minimal growth
Weather Synopsis
Weather Concerns:
EAST CASTLE ZONE:
Skies became mostly cloudy today mainly in high clouds. The winds at the ridges were out of the south-southwest at 10-15 mph, with southwest to northeast drainages and canyons experienced stronger gusts. Temperatures ranged from the mid 70s in the upper elevations to the upper 80s in the lower elevations. Relative humidity values ranged from the upper single digits to the teens. Expect poor RH recoveries once again tonight. Mostly cloudy skies will prevail on Friday and the winds will become gusty out of the west-southwest, as the upper trough moves across the region. Relative humidity will be higher on Friday ranging from the upper teens to the upper 20s. Clear skies will return on Saturday with cooler temperatures and RH's ranging from the upper teens to low 20 percent range. Mostly sunny skies will continue on Sunday with slightly warmer temperatures and relative humidity in the teens.

WEST CASTLE ZONE:
Moisture from tropical system Karina helped spread clouds over the area this afternoon leading to partly to mostly cloudy skies for much of the day. South to southwest were generally in the 5 to 10 mph range with some gusts at the higher elevations reaching 20 to 25 mph. This helped push the smoke to the north. Winds at the lower elevations remained fairly light leading to smoky conditions in most of the valleys. RHs on the ridges dropped into the single digits with readings generally above 20 percent below 6000 feet. Moderate overnight recoveries are expected tonight along with overnight northwest to north drainage winds. Additional cloud cover is expected Friday along with a slight chance of a light sprinkle. Min RH is expected to occur early morning and then gradually increase through the afternoon. High temperatures will range from the upper 60s to lower 80s. Dry conditions along with clear skies will return Saturday and continue through the early part of next week.
Incident Contact
Incident Contact
East Castle Zone
Email: sqfcomplex2020@gmail.com
Phone: 559-697-5148
Hours: Daily 8 a.m. - 8 p.m.
Fire Unit Information
Sequoia National Forest
U.S. Forest Service
1839 S. Newcomb St
Porterville, CA 93257