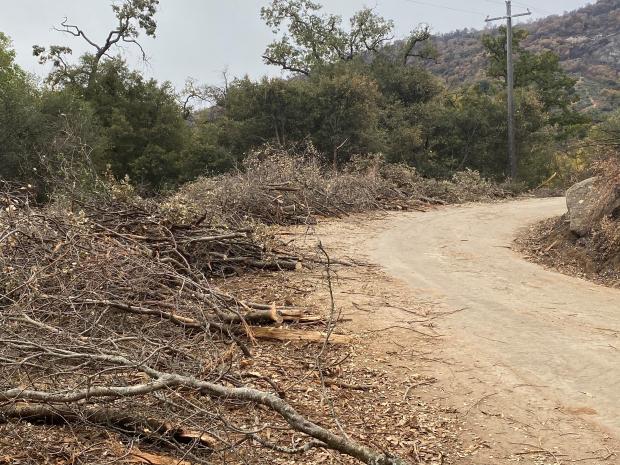 Operations Map |  Fire History Map |   Land Ownership Map   |  Fire Progression Map   |   Facebook          
Fire personnel in the Sequoia National Forest and Sequoia and Kings Canyon National Parks are now managing the 174,178-acre SQF Complex. This lightning-caused Castle and Shotgun Fires were discovered on August 19, 2020, and later managed as one incident named the SQF Complex. The Castle Fire burned on portions of the Sequoia National Forest and Giant Sequoia National Monument (129,975 acres), Inyo National Forest (12,283 acres), Sequoia National Park (18,292 acres), lands managed by the Bureau of Land Management (728 acres), State (4,036 acres), County, and private lands (4,726 acres) and threatened the Tule River Indian Reservation. 

Containment of the SQF Complex has increased to 90% for the portion of the fire managed by the Sequoia National Forest. Due to limited access to the fires edge in remote locations, full containment is not expected until it can be assessed on the ground. Most uncontained lines are at higher elevations where natural barriers have stopped the spread, and winter conditions will likely extinguish any remaining hot spots.  

Currently, heavy equipment work is nearing completion due to winter-time conditions. Much work is left to be done on fire suppression repair; heavy equipment is anticipated to return in the spring to continue this effort. Crews are making good progress on road-side chipping, this work will last all winter as conditions allow.  

Assigned fire resources are responding to reported hot spots that surface in the Castle Fire as well as new fires reported nearby.  Air resources are available as necessary to support the incident. 

An Interagency Emergency Task Force is working on preparations by establishing trigger points for flash floods and debris flow, and cleaning debris from culverts and drains to minimize impacts. 
 
ORDERS, CLOSURES AND LOCAL ASSISTANCE: 
Tulare County has a Local Assistance Center (LAC) at the Government Plaza, 1055 West Henderson Avenue, Porterville, CA. Hours are 8:00 am to 5:00 pm, Monday through Friday

The Tulare County Local Assistance Center (LAC) Hotline for affected citizens is 559-802-9790.  

For more information visit: https://tularecounty.ca.gov/recovers/  or the  FEMA Mobile Registration Intake Center 
USDA Forest Service Information - Sequoia National Forest or Inyo National Forest

Sequoia and Kings Canyon National Park - Current Conditions
Southern California Edison (SCE) is working to safely and quickly restore power. Call 1 800 250-7339 or Check www.sce.com/safety/assistance-center. 
 
Mountain Home Demonstration State Forest - https://www.fire.ca.gov/programs/resource-management/resource-protection-improvement/demonstration-state-forests/mountain-home/
Smoke: Current air quality may be found at https://fire.airnow.gov/ . 
Alert: To receive emergency notifications regarding evacuations and critical events sign up at alerttc.com
Safety Message: Prepare for the possibility of fire in advance, visit www.ready.gov/wildfires. 
We appreciate the outpouring of gratitude from the public and community organizations for our firefighters, including CONAFOR Fire Crews from Mexico and the United States. For those who would like the opportunity to thank our firefighters, you can tag us on Facebook at @sequoiaforest or send cards to: Sequoia National Forest Headquarters, ATTN: SQF Complex Firefighters, 1839 South Newcomb Street Porterville, CA 93257. Please note we are only accepting cards and thank you for your support.
Basic Information
Incident Type:
Wildfire
Cause:
Lightning
Date of Origin:
Wednesday August 19th, 2020 approx. 07:15 AM
Location:
25 miles north of Kernville, CA
Incident Commander:
Robert Nevarez/Juan Andrade(T)
Incident Description:
Wildfire Complex
Coordinates:
36.255, -118.497
Current Situation
Total Personnel:
60
Size (Acres):
174,178
Containment:
90%
Fuels Involved:
Timber (Litter and Understory)
Chaparral (6 feet)
Timber (Grass and Understory)

Significant Events:
No fire activity in the southern half of the fire.
Planned Outlook
Planned Actions:
Due to expected winter weather, all divisions have gone to a "Patrol and Monitor" status.

Continue suppression repairs when weather permits.
Projected Incident Activity:
Fire not expected to spread.

Fire activity will be limited to heavy fuels that were not affected by precipitation.

Remarks:
Melissa 'Kibby' McKibben, Castle Fire IC(t)for Sequoia and Kings Canyon National Parks



Incident Contact
Incident Contact
Sequoia National Forest
Email: sqfcomplex2020@gmail.com
Phone: 559-920-1588
Hours: Mon-Fri 8:30 a.m. - 4:30 p.m.
Fire Unit Information
Sequoia National Forest
U.S. Forest Service
1839 S. Newcomb St
Porterville, CA 93257