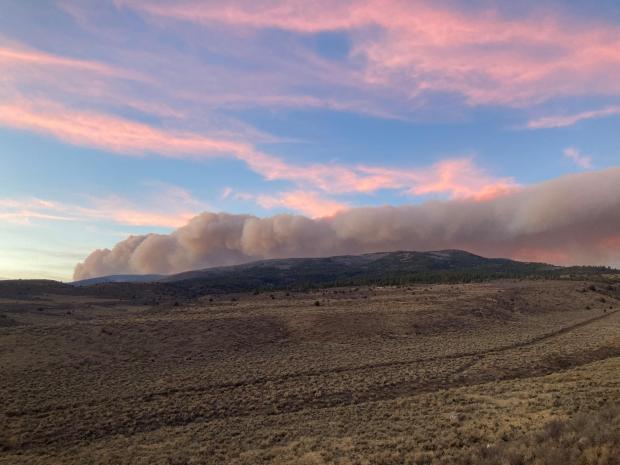 Minimal Fire Behavior is expected to continue with snow in the higher elevations this weekend.  This will be the last update unless significant activity occurs.
Basic Information
Incident Type:
Wildfire
Cause:
Lightning
Date of Origin:
Friday August 21st, 2020 approx. 10:45 AM
Location:
13 miles north of Hanna, Utah
Incident Commander:
Nevada Interagency Team 3
Coordinates:
40.611, -110.714
Current Situation
Total Personnel:
133
Size (Acres):
89,463
Containment:
70%
Estimated Containment Date:
Sunday November 15th, 2020 approx. 12:00 AM
Fuels Involved:
Timber (Litter and Understory)
Timber (Grass and Understory)

Upper elevations across the fire area are dominated by aspen and timber fuel models with heavy dead and bug kill, with many patches of rock that help break up continuity. Lower elevations are dominated by grass and sagebrush with timber stringers consisting of juniper and aspen. The fire travels through sparse fuels, continuing its progression, therefore increasing in size. Steep and rocky terrain, weather, and current fire behavior is a hazard to firefighters.
Significant Events:
Minimal
Smoldering
Creeping
Planned Outlook
Planned Actions:
Back haul of resources from the fire will continue as will monitoring wilderness areas. Continue to monitor and conduct suppression repair.
Projected Incident Activity:
24 Hours: Fire spread will continue to moderate and be minimal. High pressure will move back into the area. Maximum temperatures will be 30-36 degrees, with low temperatures in the teens. Variable N winds 5-15 mph on ridges. These conditions will continue to slow down the easterly spread of the fire into the Rock Creek drainage, Lake Fork Mountains, Brown Duck Basin and the Fish Creek area.
Remarks:
The fire received 1 inch of snow and is experiencing below freezing day time temperatures. Preparations and accommodations are being made for cold and moist weather patterns over the fire to protect values at risk and ensure firefighter safety. Yellowstone Canyon road has been reopened to all traffic.

There are still smokes around Moon Lake and the Yellowstone drainage.

IR flights are needed to monitor fire progression.
Weather Synopsis
Weather Concerns:
Cold temperatures and wind chills (near 10 degrees) continue over night and into the next operational period. Ridgetop NE winds at 15-25 mph gusting up to 35 mph. Slope/valley winds are NNE 10-15 mph gusting up to 25 mph. At 10,000ft, maximum temperatures are 18-23, minimum RH is 22-27, Haines of 3.
Incident Contact
Incident Contact
Fire Information
Email: Louis.haynes@usda.gov
Phone: 4357907055
Hours: 7 am to 9 pm
Fire Unit Information
Ashley National Forest
U.S. Forest Service
Utah
Vernal, UT 84078