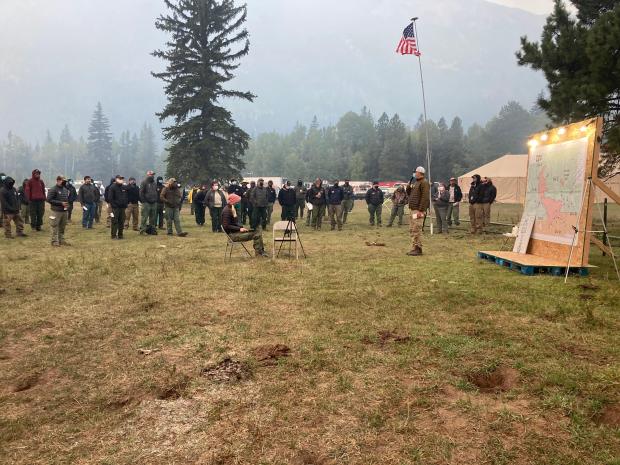 Fire crews have successfully completed burning operations on the SE portion of the fire. The burning operations have removed fuels along the fireline and continues to burn toward the main fire. Smoke will continued to be seen in this area for some time. Other areas of the fire will see increased activity as the winds increase and temperatures rise. Firefighters continue to make progress on primary and contingency lines.

The East Fork Fire started on August 21, 2020, after a lightning storm passed through the area. The area has not experienced a large fire in about 50 years, numerous standing dead trees create hazards for wildland firefighters. Suppression efforts are focused on protecting critical infrastructure, private property, and other assets near the fire.

Closures are in effect for the Ashley National Forest and Uintah and Ouray Tribal lands. Click on the closure and map tabs for details.
Flying drones in or near the fire area creates a hazard to helicopters working on the fire. Whenever drones are spotted near the fire area our helicopters have to land. Please do not fly drones near the fire area.
Basic Information
Incident Type:
Wildfire
Cause:
Lightning
Date of Origin:
Friday August 21st, 2020 approx. 10:45 AM
Location:
13 miles north of Hanna, Utah
Incident Commander:
Great Basin Team 7
Coordinates:
40.611, -110.714
Current Situation
Total Personnel:
288
Size (Acres):
60,057
Containment:
24%
Estimated Containment Date:
Wednesday September 30th, 2020 approx. 12:00 AM
Fuels Involved:
Upper elevations across the fire area are dominated by Aspen and timber fuel models with heavy dead and bug kill, with many patches of rock that help break up continuity. Lower elevations are dominated
by grass and sagebrush with timber stringers consisting of juniper and aspen.
Significant Events:
There is active fire behavior northwest of the Moon Lake campground in Brown Duck Creek, in upper Rock Creek drainage, north of Dry Ridge, and in the head of Mackentire Draw. These areas are seeing rapid rates of spread and passive crown fire and short-range spotting. There is minimal fire activity along the lower portions of Rock Creek drainage with moderate intensity along the West Fork Rock Creek.
Planned Outlook
Planned Actions:
Utilize crews to hold critical line during forecasted arrival of cold front bringing 40 MPH winds on NE flank. This will protect critical infrastructure by preventing fire spread into Hells Canyon and Yellowstone Canyon. Crews will also continue mop-up on southern perimeter and patrols in Rock Creek drainage.
Projected Incident Activity:
Fire activity today will remain minimal until inversion lifts after 1100. Then expect moderate fire
behavior in Brown Duck Creek NW of Moon Lake and active fire behavior in Mackentire and Raspberry draws with short runs and up to 1/8-mile spotting. Light activity is expected in the West Fork of Rock Creek and in the upper portions of the Rock Creek canyon. Interior islands
will continue to hold heat.

Tomorrow, higher relative humidity will decrease fire activity in the West Fork of Rock Creek and the upper portions of Rock Creek Canyon. Moderate fire activity in the Brown Duck Creek area NW of Moon Lake, in Mackentire Draw and in Raspberry Draw.
Weather Synopsis
Weather Concerns:
Observed: Temperatures warmed into the low 60s at higher elevations to mid-70s at lower elevations. Humidity dropped into the low to mid-teens. Winds were out of the south-southeast at 8 to 12 mph with gusts to 18 mph.
Forecasted: Cloudy skies on Friday will allow for slightly cooler temperatures and higher humidity. Max temperatures will be in the mid-60s to lower 70s, while humidity will be in the upper teens to low 20 percent range. Winds will be south-southwest 10 to 14 mph with gusts to 24 mph.
Incident Contact
Incident Contact
Fire Information
Email: 2020.eastfork@firenet.gov
Phone: 435-635-8738
Hours: 7 am to 9 pm
Fire Unit Information
Ashley National Forest
U.S. Forest Service
Utah
Vernal, UT 84078