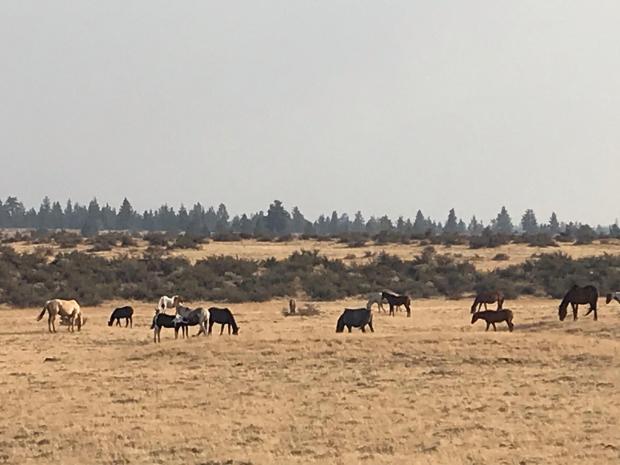 The Lionshead Fire continues to actively burn near multiple communities as well as in areas of timber with grass, shrub, and a patchy conifer understory. The lightning caused fire started on the Confederated Tribes of Warm Springs Reservation approximately 14 miles west of the Warm Springs community and has spread to the Willamette National Forest and beyond. 

The Lionshead Fire, which experienced historic windstorms in early September, is being managed with a full suppression strategy.

CLOSURES: For public and firefighter safety, roads and trails near the fires remain closed for public safety. This includes roads and trails on the Confederated Tribes of Warm Spring lands adjacent to the fire and a 40-mile section of the Pacific Crest Trail between Santiam Pass and Olallie Lake.  Forest closures are in place for the Deschutes, Mt. Hood and Willamette National Forests. Official closures can be found under "related links" below.
Incident Commander Dan Dallas with the Rocky Mountain Interagency Incident Management Team #1 [Type 1] assumed command of the fire Thursday, September 17, 2020 at 8:00 p.m.
Basic Information
Incident Type:
Wildfire
Cause:
Lightning
Date of Origin:
Sunday August 16th, 2020 approx. 10:45 PM
Location:
Lions Head Canyon
Incident Commander:
Dan Dallas, Rocky Mountain Team 1 [Type 1]
Incident Description:
Wildfire
Coordinates:
44.723, -121.679
Current Situation
Total Personnel:
1,015
Size (Acres):
198,763
Containment:
10%
Estimated Containment Date:
Friday October 30th, 2020 approx. 12:00 AM
Fuels Involved:
Primary fuels include timber with understory and litter. Much of the area has a heavy shrub component concealing heavy down fuels from previous fires. Snags and collapsed stands are common throughout the area. Dog-hair thickets of forest reproduction with low crown base heights with moss are present.
Significant Events:
Minimal, creeping smoldering with limited fire spread potential due to moisture received on the fire yesterday
Planned Outlook
Planned Actions:
Assess control options on uncontrolled fire edge. Seek opportunities to limit resource damage while maintaining containment. Implement a direct and indirect strategy on the northern flank of Lionshead. Work with ODOT on the reopening of travel corridors, specifically highways 22 and 46. Coordinate with Riverside operations on common operating picture for containment of the south side of the Riverside incident and Northern side of the Lionshead incident. Usage of air resources wth bucket work, reconnaissance, and installation of communication repeaters are planned for tomorrow.
Projected Incident Activity:
Fire behavior will be limited to mostly smoldering as heavy fuels continue to consume. No growth is expected. Smoldering with some creeping fire possible in areas that were sheltered from or did not receive significant precipitation, mostly on the east side of the fire.
Weather Synopsis
Weather Concerns:
Very mild conditions will continue for the next couple of days. Good to excellent humidity recovery at night followed by moderate minimum humidity during the day will limit fire spread in fine fuels. No fire weather concerns are anticipated on Sunday. It will be warmer with lower humidities. Highs on Sunday will be in the mid 60s and lower 70s, the relative humidity will range from 35 to 45 percent, and the winds will be west-southwest around 5-10 mph gusting to 15 mph.
Incident Contact
Incident Contact
Lionshead Fire Information
Email: 2020.Lionshead@firenet.gov
Phone: 971-277-5075
Hours: 7 a.m. until 9 p.m.
Fire Unit Information
Warm Springs Agency
Bureau of Indian Affairs
1233 Veterans Street
Warm Springs, OR 97761