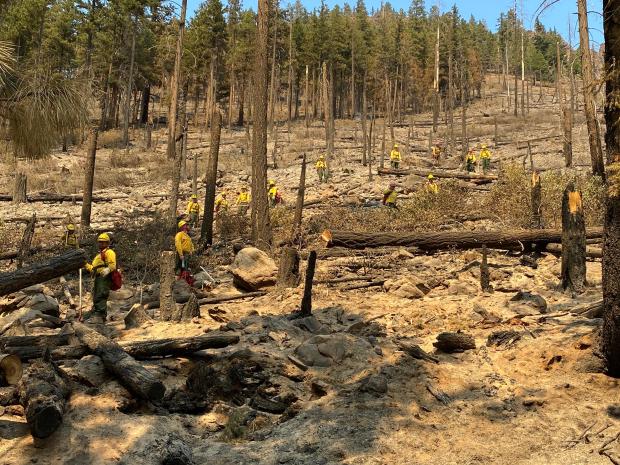 The P-515 Fire has merged with Lionshead Fire. Visit https://inciweb.nwcg.gov/incident/7049/ for additional information.
 
The fire is actively burning in areas of timber with grass, shrub, and a patchy conifer understory on the Warm Springs Reservation, approximately 14 miles west of the Warm Springs community.  It is being managed with a full suppression strategy. Lightning was determined to be the cause of the fire.  

Suppression priorities include limiting the spread of the fire, protecting structures, and minimizing impacts to important cultural and natural resources. 
   
Basic Information
Incident Type:
Wildfire
Cause:
Lightning
Date of Origin:
Sunday August 16th, 2020 approx. 05:00 PM
Location:
North Butte
Incident Description:
Wildfire
Coordinates:
44.773, -121.618
Size (Acres):
4,609
Containment:
95%
Estimated Containment Date:
Saturday September 12th, 2020 approx. 12:00 AM
Fuels Involved:
Timber, Brush
Significant Events:
Minimal
Planned Outlook
Planned Actions:
Lionshead resources will continue to patrol this fire as part of their control measures.
Projected Incident Activity:
The Lionshead fire has connected to the P515 fire. Lionshead resources will continue to patrol this fire.
Remarks:
This will be the final report for the P515 fire. Going forward the management will be by the Lionshead fire. Resources will be reassigned to the Lionshead fire, and reporting numbers will be adjusted as resources are reassigned in the system.
Weather Synopsis
Weather Concerns:
Upper level winds, including along exposed ridges of the Oregon Cascades, are increasing. This mixing will disperse smoke and improve visibility. Smoke remains thick in the valleys.
The weather pattern is changing w a low pressure system developing off shore. Periods of light rain is expected on the coast and the coastal range Monday through Wednesday. There is an increasing chance of showers and a slight chance of thunderstorms Thursday and Friday.
Incident Contact
Incident Contact
Fire Information
Email: 2020.p515@firenet.gov
Phone: 971-277-5075
Hours: 7 a.m. - 9:00 p.m. Daily
Fire Unit Information
Warm Springs Agency
Bureau of Indian Affairs
1233 Veterans Street
Warm Springs, OR 97761