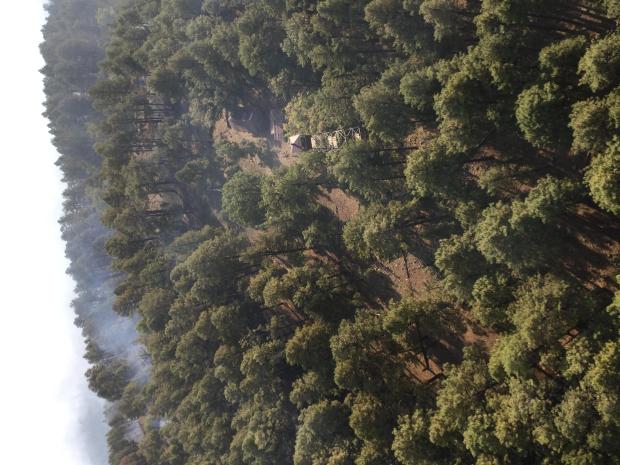 The Cow Canyon Fire was ignited by lightning on August 18, 2020 on the Alpine Ranger District on the Apache-Sitgreaves National Forests. It is burning in steep, rugged terrain with limited access, and is in a remote location within the Blue Range Primitive Area near the Arizona and New Mexico state border.
Basic Information
Incident Type:
Wildfire
Cause:
Lightning
Date of Origin:
Tuesday August 18th, 2020 approx. 12:00 AM
Location:
18 miles South of Alpine, AZ.
Incident Commander:
Everett Phillips
Coordinates:
33.561, -109.099
Current Situation
Total Personnel:
94
Size (Acres):
35,371
Containment:
23%
Estimated Containment Date:
Saturday October 31st, 2020 approx. 12:00 AM
Fuels Involved:
Fire is burning mostly within an open Ponderosa Pine stand and mixed conifer with light grass understory and pockets of heavier fuel loading. Active Backing and flanking with minimal isolated torching today. Light to moderate ground fuels. Backing into lighter ground and brush fuels on the lower elevation slopes.
Significant Events:
Fire received 2" of snow overnight, reducing fire activity tremendously. The fire is still experiencing some creep, smoldering, with consumption of 1,000 hour fuels.
Planned Outlook
Planned Actions:
Personnel will continue to monitor and map fire area. Crews will continue structure protection around structures along the Blue River if fire activity picks up and moves downhill.
Projected Incident Activity:
12 hours: Fire is expected to move to slowly back and flank through available fuels, Mainly in Division India to the north/northeast where the pine stringers are still available. With the predicted weather, fire activity will decrease.

24 hours: Expect little to no fire spread due to the high RH and precipitation. Heat will likely remain in the protected/sheltered heavy dead and down fuels within the fires interior.
Remarks:
This Fire is burning in the Blue Range Primitive Area in AZ and Blue Range Wilderness in NM. There is a full suppression strategy in place utilizing point protection when needed. Fire will be monitored as it moves towards desired holding features.
Weather Synopsis
Weather Concerns:
Moisture increased, bringing higher RH values with another chance of snow showers through Wednesday. Much colder weather with freezing conditions overnight Monday through Wednesday.
Incident Contact
Incident Contact
Steve Johnson
Email: steven_johnson@firenet.gov
Phone: 928-339-5000
Hours: M-Friday 8-4:30pm
Fire Unit Information
Apache-Sitgreaves National Forest
U.S. Forest Service
30 S Chiricahua Tri
Springerville, AZ 85938
Dispatch Contact
Show Low Interagency Dispatch Center
| Show Low, AZ
Phone:
928-537-5305