Gin
FIRE
4,849
acres
6.2 mi
N of Copper Hill, AZ
This fire is no longer active
Last Updated:
9 months ago
Incident #:
2020-AZTNF-002481
Fire Start:
Sunday, August 16, 2020 4:01 PM MST
Dispatch Notes:
Contain: 09/15/20 1200 | Control: 09/30/20 1800 | Out: 09/30/20 1800

Primary Fire Agency
US Forest Service — Tonto National Forest
Current Weather
Fire Growth Potential
Fire Weather Forecast
Incident Overview Updated: 12 months ago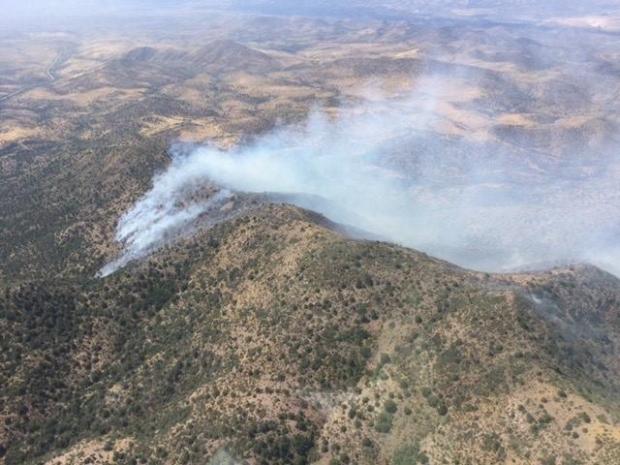 The Gin Fire is burning in the Apache Mountains 5 miles north of Globe, AZ. The Gin Fire is lightning caused, and started Sunday, August 16, 2020 at 4:00 pm. The size of the fire is 3600 acres, burning in grass and brush. The Gin Fire is the result of 2 separate fires in the area that merged.  
Fire officials are cooperating and communicating with Arizona State Department of Forestry and Fire Management. Smoke may impact the communities of Globe, Miami, Claypool, and San Carlos.
Basic Information
Date of Origin:
Sunday, August 16, 2020 4:00 PM MST
Incident Commander:
Mark Bernal
Coordinates:
33.525, -110.731
Fuels Involved:
Tall Grass, Brush
Planned Outlook
Planned Actions:
Scouting and planning for possible burnout operations and line construction along Highway 60 in the near future. Point protection for important values at risk in the fire area.
Weather Synopsis
Weather Concerns:
Temperatures up to 97 degrees. Humidity levels 20-25%.
Shifting winds, especially in the afternoon.
Incident Contact
Incident Contact
Salt, Gin and Griffin Fire Information Line
Phone: 928-421-4539
Hours: 8 am to 8 pm
Fire Unit Information
Tonto National Forest
U.S. Forest Service
2324 E. McDowell Rd
Phoenix, AZ 85006