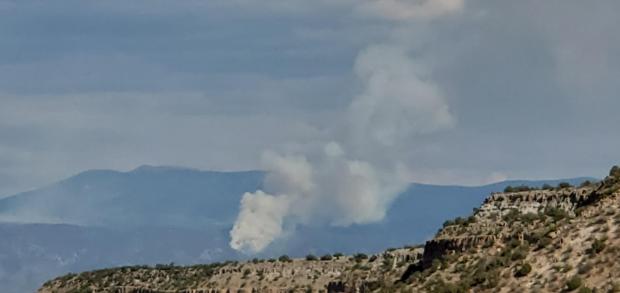 The Medio Fire started on August 17, 2020, close to the forest boundary with Nambe Pueblo and about 1.5 miles from the Village of Rio en Medio between two streams, the Rio Nambe and the Rio en Medio. Fuels are primarily dry mixed conifer tapering to ponderosa pine at lower elevations. Heavy fuels in steep, rugged terrain add complexity to efforts to control the Medio Fire. Contrary to a traditional monsoon season, fuel moistures are very low for this time of year, and other fire indices are unseasonably high. Fire behavior has ranged from moderate to extreme, driven by terrain and winds. Due to the remote location of the fire and the rugged terrain, the strategy will be a combination of direct and indirect perimeter control and point protection.

The Southwest Area Type 2 Incident Management Team 4, led by Incident Commander Carl Schwope, assumed command of the Medio Fire on Friday, August 21 at 6:00 AM.

Please see the News tab or the Recent Articles heading below for daily updates on the Medio Fire.
Basic Information
Incident Type:
Wildfire
Cause:
Lightning
Date of Origin:
Monday August 17th, 2020 approx. 07:00 PM
Location:
Off Rio en Medio Trail on Espanola Ranger District
Incident Commander:
Jacob Archuleta, Santa Fe National Forest - Type 5
Coordinates:
35.831, -105.863
Current Situation
Total Personnel:
203
Size (Acres):
4,010
Containment:
100%
Fuels Involved:
Primary carrier of fire has been the timber understory in the ponderosa pine forest. The fire is starting to transition on the western flank into a pinyon pine-juniper fuel type.
Significant Events:
Minimal,backing, creeping, smoldering. Fire continues to burn in remote terrain between Pacheco Canyon and Rio Nambe trail. Fire is primarily backing down slope with very limited up slope movement.
Planned Outlook
Planned Actions:
Burn outs have been completed and resources are holding previous burnout operations.
Projected Incident Activity:
Fire has burned into the Pacheco fire scar from 2011 on the northeast. Fuel change to green Aspen should significantly reduce fire behavior and movement. Fire has been pulled out to the containment lines and continues to consume ground fuels within the lines.
Weather Synopsis
Weather Concerns:
Warm and dry conditions are expected to continue throughout the week.
Incident Contact
Incident Contact
Julie Anne Overton
Email: julieanne.overton@usda.gov
Phone: 505-414-6438
Hours: M-F 8am-6pm
Fire Unit Information
Santa Fe National Forest
U.S. Forest Service
New Mexico
Santa Fe, NM 87508