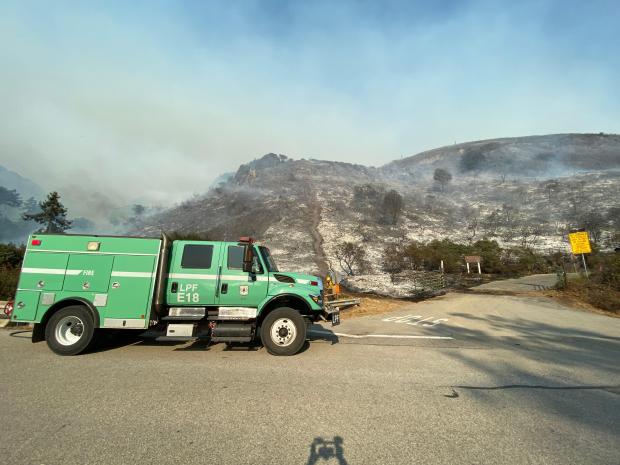 September 18, 2020 7:30 p.m.      |     Maps     |     Update    |     Video     |      Photos     |      Facebook       |     Twitter    | 
Wildfire activity can change quickly and so evacuation warnings and orders may also change at any time. Click here for an interactive map of Monterey County evacuations. To receive emergency notifications regarding evacuations and critical events in Monterey County please sign up for A!ert Monterey County.
PNW2 is unified command with US Army, Fort Hunter Liggett. The army's Incident Commander is Jeff Mannetti.

Fire actively burned through the night on the entire south end with active fire behavior observed on the north side of Nacimiento-Ferguson Road near Hwy 1 with short uphill runs. No threats to the fireline were observed.

The incident command post has relocated to King City, CA to have support personnel closer to firefighters on the line. Work continues along the Highway 1 corridor, including strategic burnouts to tie fire lines to Highway 1 in the southwest corner of the fire area. A burnout is being conducted along a dozer line constructed from Prewitt Ridge to McKern Road, and from McKern down to the Nacimiento-Ferguson Road. This is being done to secure the southern line before winds shift to becoming more northerly today and Saturday. In the Arroyo Seco area bulldozers have been working to reopen old fire lines on high ridge tops to protect communities to the north and east of those lines. Heavy helicopters have been dropping water on the leading edge of the fire near Arroyo Seco to slow its spread and allow time for the preparation of indirect control lines and structure protection.

Two of the three firefighters hospitalized after a burn-over on September 8th were released on the 9th. The third is in stable condition and still receiving treatment. An accident investigation is currently being conducted.
The Dolan Fire is now over 127, 000 acres and is 46% contained. Pacific Northwest Team 2 has extended its time on the fire to a 21-day assignment. A portion of CA Highway 1 remains closed because of fire activity and rocks and other debris rolling onto the highway. For information about state highway closures go to https://roads.dot.ca.gov/.
Basic Information
Incident Type:
Wildfire
Cause:
Unknown
Date of Origin:
Tuesday August 18th, 2020 approx. 08:15 PM
Location:
Highway 1(MM 32.20) North of Limekiln State Park, 10 miles South of Big Sur
Incident Commander:
Rob Allen, PNW Team 2
Jeff Mannetti, Fort Hunter Liggett
Incident Description:
Wildfire
Coordinates:
36.123, -121.602
Current Situation
Total Personnel:
678
Size (Acres):
127,724
Containment:
46%
Estimated Containment Date:
Monday September 28th, 2020 approx. 12:00 AM
Fuels Involved:
Chaparral (6 feet)
Brush (2 feet)
Timber (Grass and Understory)

Narrative:
The area is surrounded by recent fire scars except to the SE where there is no record of much of that landscape burning since 1999 if not earlier. Recent burn scars (Sobranes) have helped reduce fire spread. In the 2008 fire scar areas, where shrub growth is recent the fuels aren¿t receptive. Where there are dead fuel components (older, decadent brush) fuels are receptive and are carrying/consuming well.

A fire behavior advisory is in place for the mountain PSAs of Southern California for extremely dry fuels. Low live fuels moistures combined with poor humidity recoveries can result in very active fire behavior on the Dolan fire, even in the absence of significant winds.
Significant Events:
Active
Uphill Runs
Flanking
Spotting

Narrative: With low relative humidity values and poor recoveries above the marine layer, fuels remain available for active burning day and night. The big change today was some cloud cover in the morning and higher humidity values that tempered fire activity until later in the day. The Dolan fire footprint covers a large area with complex topography, varying vegetation types and numerous local weather factors that have been influencing fire behavior. With a wind change, the primary concern is relatively quiet areas of the fire showing increased activity. The burn period on the coastal side of the fire is relatively short due to the persistent marine layer. However, fire weakened trees and rolling material continue to be a safety concern.
Planned Outlook
Planned Actions:
Continue burn operations on the southern perimeter of the incident. Continue to prepare for burn operations if needed on the northern and eastern perimeter. Continued direct and indirect control actions along the northern, eastern and southern perimeters. Continue prep and protection of values at risk. Assess and scout areas of new fire growth for potential direct and indirect opportunities.
Projected Incident Activity:
12 hours: The main concern will be the impacts of north winds and potential spotting on the south side of the fire where firing operations were recently completed. Fire behavior will be dictated by the depth and persistence of marine layer and shading from area smoke.

24 hours: Continuing with a similar pattern of fuel moistures, forecasted temperatures and humidity values being conducive to active fire. Fire behavior will be dictated by the depth and persistence of the marine layer and shading from area smoke.

48 hours: A switch back to south winds and higher temps with continued dry fuels could lead to increased fire activity and growth along any unchecked fire edge on the north side of the fire.

72 hours: Continuing with a similar patter of fuel moistures, forecasted temperatures and humidity values being conducive to active fire. Fire behavior will be dictated by the depth and persistence of marine layer and shading from area smoke.
Weather Synopsis
Weather Concerns:
Friday started with mostly cloudy skies and very light precipitation over the fire as moisture streamed over the region. Clouds overnight kept temperatures warmer and provided for good humidity values overnight. Skies cleared through the morning hours into the early afternoon, allowing for humidity values to begin to fall in the late afternoon as temperatures rose. Winds generally remained light over the fire with a broad northwesterly flow. Overnight recoveries on Friday night are expected to be good once again with some marine layer influence.

Temperatures on Saturday will begin to rise as high pressure slowly moves back into the region. Humidity values will begin to slowly decrease through the weekend as dry air works back into the area. Highs on Saturday will reach back into the upper 80's with the low 90's expected by Sunday. Winds will begin to shift to the southwest Sunday into Monday before a weak weather system moves into central California on Monday afternoon.
Incident Contact
Incident Contact
Dolan Fire Public Information
Email: 2020.dolan@firenet.gov
Phone: 831-272-0222
Hours: M-F 7am-9pm
Fire Unit Information
Los Padres National Forest
U.S. Forest Service
6750 Navigator Way
Goleta, CA 93117