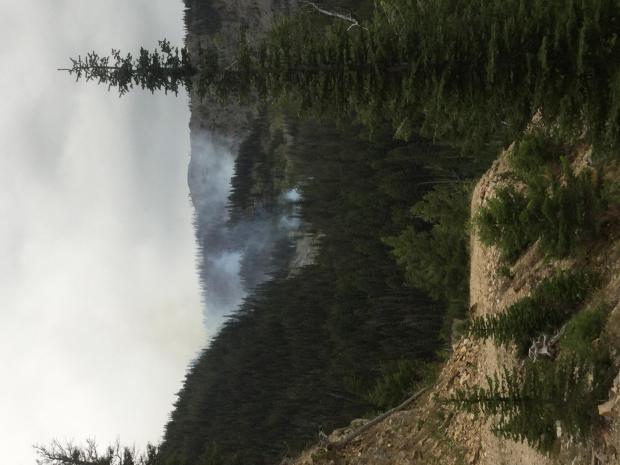 The Cinnabar Fire is a lightning-caused fire burning within the Welcome Creek Wilderness on the Missoula Ranger District on the Lolo National Forest in Granite County.

The fire is approximately 10 air miles east of Stevensville, MT and 15 miles south of I-90 in the Rock Creek drainage.

 

An emergency closure is in place for the Welcome Creek Wilderness on the Missoula Ranger District, as well as roads and trails adjacent to the area on the Missoula Ranger District and Stevensville Ranger District on the Bitterroot National Forest. Please visit the closure tab for detailed information. 

 

Rock Creek, Missoula Ranger District (Granite/Missoula Counties): The Rock Creek Road #102 corridor and recreation access remains open. The Welcome Creek bridge remains open for fishing access only, below the high-water mark on the west bank of Rock Creek. All fishing access sites and campgrounds in Rock Creek remain open.
Basic Information
Incident Type:
Wildfire
Cause:
Lightning
Date of Origin:
Wednesday August 19th, 2020 approx. 04:24 PM
Location:
Welcome Creek Wilderness on the Missoula Ranger District, Lolo National Forest, in Granite County.
Incident Commander:
Incident Commander JD Bauman
Coordinates:
46.591, -113.799
Current Situation
Total Personnel:
30
Size (Acres):
2,689
Fuels Involved:
Timber and brush
Significant Events:
Planned Outlook
Planned Actions:
Crews will remain on scene and assigned to the fire over the weekend to monitoring fire activity and perform mop-up of interior hot spots when necessary.
Projected Incident Activity:
Creeping and smoldering with minimal growth.
Weather Synopsis
Weather Concerns:
Strong inversions will keep the atmosphere stable and keep the smoke lingering into Saturday. Showers will develop overnight, with a wetting rain expected by Saturday afternoon for most locations. Sunday will be cool, followed by a general warming and drying trend through midweek. The flow pattern will allow for regional smoke to return next week.
Incident Contact
Incident Contact
Missoula Ranger District
Phone: 406-329-3814
Hours: Monday-Friday 8:00 to 4:30
Fire Unit Information
Lolo National Forest
U.S. Forest Service
24 Fort Missoula Road
Missoula, MT 59804
Dispatch Contact
Missoula Interagency Dispatch Center
| Missoula, MT
Phone:
406-829-7070
Website:
https://gacc.nifc.gov/nrcc/dc/mtmdc/index.htm