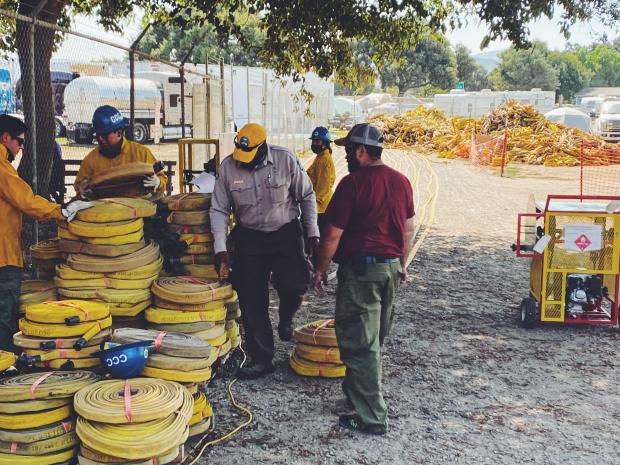 Yesterday a large plume of smoke could be seen from the south end of the fire. This was due to a green island, approximately 200 acres burning, but was no threat to the perimeter of the fire.  Firefighters successfully removed two large redwood snags that were unsafe for firefighters to cut down using an Explosive Hazard Treatment in cooperation with the Monterey County Sheriff's Department's Arson Bomb Squad. Once the trees were on the ground, crews were able to safely remove the debris from Nacimiento Ferguson Rd., eliminating the threat.  UAS IR (drone) was successful in identifying more than a dozen heat threats in the Santa Lucia recreational tract, these areas of heat are being addressed prior to allowing the residents back in.
Hot and dry weather conditions will play a roll in the next few days of our operational periods, with temperatures in the high 90's and winds reaching 20-25mph across the ridge tops.  Fire fighters will be at high alert to locate hotspots with the help of the VETs and the UAS IR (drone).  Helicopters will play a vital roll to keep the located heat pinned down until firefighters can get to those areas and extinguish the heat.
Evacuations: - The Evacuation WARNINGS have been lifted for Zones: 26, 24, B2- Lucia South, J-Prewitt Ridge Area, K-South Coast Ridge Rd.  Zone 27 has been downgraded to WARNING. For current evacuation information view the OES interactive map or call 211.
Closures: The Los Padres National Forest extended the forest recreation closure through October 1, 2020. Nacimiento-Ferguson Road is closed to all traffic from Highway 1 to the Fort Hunter Liggett base boundary line.  For more information visit https://roads.dot.ca.gov/
Basic Information
Incident Type:
Wildfire
Cause:
Unknown
Date of Origin:
Tuesday August 18th, 2020 approx. 08:15 PM
Location:
Highway 1(MM 32.20) North of Limekiln State Park, 10 miles South of Big Sur
Incident Commander:
James Harris, CIIMT 15
Incident Description:
Wildfire
Coordinates:
36.123, -121.602
Current Situation
Total Personnel:
496
Size (Acres):
124,924
Containment:
87%
Estimated Containment Date:
Tuesday October 13th, 2020 approx. 12:00 AM
Fuels Involved:
Chaparral (6 feet)
Brush (2 feet)
Timber (Grass and Understory)
Narrative:
The area is surrounded by recent fire scars except to the SE where there is little record of landscape burning since 1999 if not earlier. Recent burn scars, such as the 2016 Soberanes, have helped reduce fire spread. In the 2008 fire scar areas, where shrub growth is recent the fuels are not receptive. Where there are dead fuel components (older, decadent brush) fuels are receptive and are carrying/consuming well. A fire behavior advisory is in place for the mountain predictive service areas of Southern California for extremely dry fuels. Low live fuels moistures combined with poor humidity recoveries can result in very active behavior on the Dolan fire, even in the absence of significant winds.

Significant Events:
Moderate
Backing
Creeping
Uphill Runs
An unburned island, well interior of Div. W, burned out this afternoon. Although there was little threat to
the control lines, it was a reminder of the conditions present to sustain rapid rates of spread especially
when aligned with slope. The column could be seen from the Big Sur coast and in King City. The fire
footprint covers a large area with extremely complex topography, which makes large portions of the
perimeter impossible to access. Crews continue to coordinate with unmanned aircraft systems (UAS)
and manned infrared flights to identify and eliminate any material which may compromise containment
lines. Most of the heat sources found by the infrared equipment have been ash pits, heat held within
dozer berms, and smoldering logs within drainages.
Planned Outlook
Planned Actions:
Complete any residual aerial firing needs above the Nac Campground. Use hand crews and helicopters to
directly engage areas of heat that along the southern, southwestern, and northeastern perimeter of the
incident. Validate line segments with the IR technology we now have available. Use engines to mop up
and secure in areas of opportunity. Continue to prepare for contingency burn operations on the northern
and eastern contingency lines. Continue protection of values at risk. Assess for potential indirect
containment opportunities.
Projected Incident Activity:
12 hours: Hot and dry conditions with minimal overnight recovery could cause interior islands to burn.
There should not be any activity which would threaten containment lines.
24 hours:
Fire danger indices will be at their highest levels that we have seen over the fire area in the last
several weeks. It is likely unburned islands will continue to consume in the afternoon.
48 hours:
Weather conditions will stay warm and dry for the extended period. It will be a good test to
validate there in no longer heat holding along the perimeter.
72 hours:
If the fire were to come out of the perimeter on the eastern flank, it will want to burn into the
rugged Santa Lucia Creek drainage and move to the south with wind and terrain towards
contingency lines in and around Fort Hunter Liggett. If it were to get established across the
southern flank, it will be burning in remote, rugged terrain of the Silver Peak Wilderness. Most
of this area has not burned since 1970 with high fuel loading and minimal operational options.
Each day the perimeter holds, the probability of the fire growing outside the lines decrease.
Anticipated after 72 hours: Incident activity in the extended period will be determined by how the fire holds
(or not) through the next few days of critical fire weather conditions.
Remarks:
The significant reduction in acreage is due to an earlier controlled burn area previously thought to be
part of the Dolan Fire footprint. This area is on the south side of the fire, on Fort Hunter Liggett property.
The addition of the low elevation IR asset has been a valuable tool to validate the fire line.
All mandatory evacuation orders have been lifted as of 1200 hrs. 09-28-20. One evacuation warning
remains in place for Zone 27 (north Hunter Liggett)
Weather Synopsis
Weather Concerns:
A marine layer averaging 1000 feet deep brought cool and moist
conditions to the immediate coast near Big Sur and all the way to
King City in the Salinas Valley overnight with cold temperatures and
fog, while the remainder of the Dolan fire area above 2000 feet was
warm and dry with light winds. Winds are expected to favor an east
to southeast direction today and become more northwesterly on
Wednesday and increasingly gusty. Winds along the ridgeline are
expected to become northwest with time around 20 mph.
For tonight and Wednesday, expect conditions below 2000 feet to
cool after sunset with the potential for onshore marine layer effects.
Above 2000 feet temperatures are expected to remain in the 60s to
low 70s with winds starting to turn to the northwest and possibly
gusty. Hot and dry conditions are expected across the fire area
through Friday with temperatures of 12 to 20 degrees above normal
and minimum relative humidity values around 15 percent. Winds are expected to decrease on Friday into the weekend.
Incident Contact
Incident Contact
Dolan Fire Public Information
Email: 2020.dolan@firenet.gov
Phone: 831-272-0222
Hours: S-S 7am-9pm
Fire Unit Information
Los Padres National Forest
U.S. Forest Service
6750 Navigator Way
Goleta, CA 93117
Dispatch Contact
California Department of Forestry and Fire Protection
| Sacramento, CA
Website:
http://calfire.ca.gov/