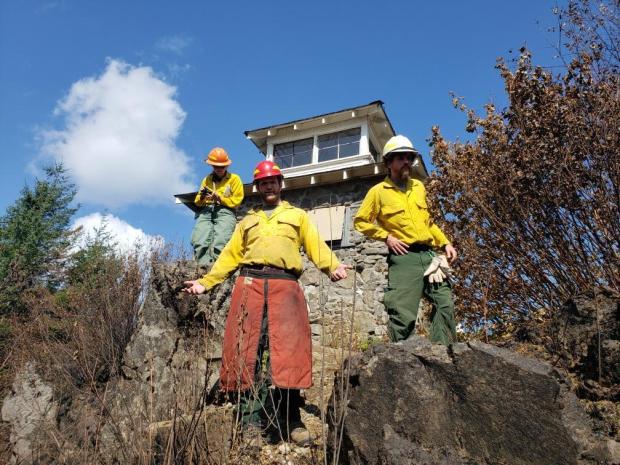 Pacific Northwest Team 3 will begin management of the Beachie Creek fire. Firefighters will resume work to secure the area around structures near the south end of the fire perimeter and the Highway 22 corridor/Elkhorn area. Mop up efforts will also continue in the Abiqua basin. Engines will be used to patrol and mop up areas of heat adjacent to private property and structures. Heavy equipment will be operating along fire impacted roads. An important focus will be on hazard tree mitigation to allow firefighters to work safely. The winds may cause smoke to drift into western Oregon from large wildfires in northern California. No significant fire growth on the Beachie Creek fire is anticipated.
SAFETY: As more residents are allowed back into the area, it is imperative that everyone heeds road closures and safety messages. Anyone who enters the fire perimeter jeopardizes firefighting operations and puts lives at risk. The roads are extremely hazardous due to falling debris, smoke and heavy traffic. Members of the public in the immediate area are asked to keep the Ready, Set, Go levels of evacuation in mind. READY your belongings; SET your things at the door or prepack them in your car; GO Leave immediately.
CLOSURES: Willamette National Forest, Bureau of Land Management, and State lands around the fire remain closed to the public.  View the official order located in the closure section of this page. Some state forests re-opened to the public on Friday September 18 and Saturday, September 26.
Basic Information
Incident Type:
Wildfire
Cause:
Unknown
Date of Origin:
Sunday August 16th, 2020 approx. 11:18 AM
Location:
Fire started 2 miles south of Jawbone Flats.
Incident Commander:
Noel Livingston, PNW Team 3
Incident Description:
Wildland Fire Suppression.
Coordinates:
44.821, -122.188
Current Situation
Total Personnel:
495
Size (Acres):
192,848
Containment:
58%
Estimated Containment Date:
Saturday October 31st, 2020 approx. 12:00 AM
Fuels Involved:
Timber (Litter and Understory)
Brush (2 feet)
Timber (Grass and Understory)
Significant Events:
Minimal
Smoldering
Creeping

Isolated heat sources will continue to smolder, but slow, creeping fire primarily in open canopy units may continue.
Planned Outlook
Planned Actions:
Tomorrow's efforts will focus on suppression and repair on Branches One and Three, personnel will also continue mopping up/patrolling line.
Projected Incident Activity:
A slow transition from stationary heat sources towards slow creeping through the rapidly curing fine, dead fuels will slow as winds drop off this evening. The loss of direct sunlight will further slow any fire. If thermal belts form again, fire behavior may remain slowly creeping within the belts, but no additional acreage gains are anticipated as fire activity is primarily interior of identified containment lines.

A thermal trough remains over coastal Oregon, bringing warm temperatures and lower humidity values. Fuels will continue drying which will allow minimal creeping of fire during the peak of the burn period each day. Winds are expected to slacken for the remainder of the week, so fire movement will be negligible. Smoke production will be slightly increased this shift but negligible growth.

A period of warming and drying over the fire area is bringing warmer temperatures and lower humidity values. Fuels will require several days of drying for the fuels adjacent to the remaining heat sources to become available for any significant fire movement. Smoke production will be slightly increased this shift, but negligible growth.
Remarks:
Evacuated home occupancy numbers is equal to 2.5 times the total number of residences evacuated under Level 3.

Evacuated residents by county:
Clackamas County- 348
Linn County- 15
Marion County- 243
Weather Synopsis
Weather Concerns:
Very strong ridge of high pressure centered over Western Oregon delivered warm and dry conditions. Subsidence inversions near sunrise resulted in ridgetops temperatures near 70F and humidity levels around 25 percent. Plenty of sunshine through the day allowed all elevations to warm into the 80s with light, terrain driven winds. Warm and dry weather will continue on Wednesday as high pressure remains in control. Afternoon temperatures will warm back into the 80s. Smokes drifting northward along the Oregon Coast will spread inland toward the fire bringing hazy skies and potential reduction in visibility. Winds will remain light with speeds around 5 mph.
Incident Contact
Incident Contact
Beachie Creek Fire Information
Email: 2020.beachiecreek@firenet.gov
Phone: 541-583-0526
Hours: 8am-8pm
Fire Unit Information
Willamette National Forest
U.S. Forest Service
Oregon
Springfield, OR 97477