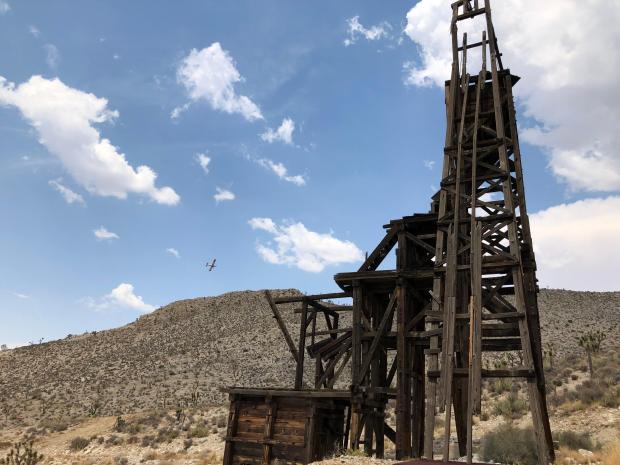 |Mojave National Preserve Facebook| Mojave National Preserve Twitter|
Location of Origin: Mojave National Preserve, Cima, CA
Start date: August, 15 2020,
Size: Approximately 43,273 acres
Percent Contained: 95%
Cause: Lightning
Resources Assigned: 180 personnel
Fire Information number: 760-252-6100
SUMMARY
The Dome Fire is a lightning-caused fire, affected by a series of strong thunderstorms that created extreme fire conditions. In the days following, gusty winds from afternoon thunderstorms and very hot and dry conditions made for challenging containment of the fire. The Joshua Tree woodland experienced extreme fire behavior, causing significant fire damage. The fire has also impacted ½ of the preserve's wilderness area. Isolated areas of heat remain within the interior portions of the fire, now producing very limited smoke. Today fire personnel will continue mop-up operations and begin their suppression repair activity where possible while strengthening containment. Incident command will transfer back to the local unit Type 3 organization at 6pm on August 22, 2020.
 
History of Mining on Mojave National Preserve Several individuals have made massive contributions in terms of both time and resources to the history of mining in the greater California Desert area, including the eastern Mojave. Without their efforts, this current study would have not been possible. The vast land base, rich geological resources, and more than a century and a half of mining activity have generated a history that is vast and detailed. Primary source documents are numerous, especially mining items in several historic-period southern California and Nevada newspapers. Compilation of those articles—along with photographs, mining-claim information, and other sources—has been a significant element in piecing together the history of mining in this remote and often misunderstood region. Larry Vredenburgh has been paramount in this effort. His research on mining in San Bernardino and Riverside counties for the five-county study entitled Desert Fever: An Overview of Mining in the California Desert Conservation Area is the most complete documentation of mining activity in the California Desert area. The report was written by Vredenburgh and co-authors Gary L. Shumway and Russell Hartill, and was produced for the Desert Planning Staff of the Bureau of Land Management in 1980 and later published by Living West Press as a limited edition under the same title. Learn More about Mojave National Preserve's Rich Mining History.
Significant Situation
Natural and historical resources potentially being impacted are the desert tortoise habitat, the largest natural occurring Joshua Tree forest, and two historical mines the Morning & Evening Star Mines. Crews are working on the ground, with one helicopter for air support. 
WEATHER
Increasing relative humidity is expected over this next week with a slight chance of afternoon and evening thunderstorms. More weather information
CLOSURES
All evacuations and paved road closures have been lifted. However, fire personnel and equipment are still working in the area and use of dirt roads within the fire perimeter are restricted. Before visiting a park, please check Mojave National Preserve to determine its operating status.
SAFETY:
A temporary flight restriction is in place over the fire area. Wildfires are a No Drone Zone. For more information visit Know Before You Fly, http://knowbeforeyoufly.org.
Basic Information
Incident Type:
Wildfire
Cause:
Lightning/natural
Date of Origin:
Saturday August 15th, 2020 approx. 03:22 PM
Location:
Mojave National Preserve
Incident Commander:
CAIIMT12, Michael Nobles
Coordinates:
35.301, -115.598
Current Situation
Total Personnel:
56
Size (Acres):
43,273
Containment:
95%
Estimated Containment Date:
Sunday August 30th, 2020 approx. 12:00 AM
Fuels Involved:
Brush and Tall Grass
Significant Events:
Minimal smoldering
Planned Outlook
Planned Actions:
Mop up, patrol, cold trail, and suppression repair.
Projected Incident Activity:
Any new start will run in the light fuels with a rapid rate of spread thereby threatening values at risk.
Remarks:
On 8/2/20 at 1800 hours, SCIIMT12 IC Michael Nobles will transfer command of the Dome Incident to Mojave National Preserve, National Park Service, Type 3 Incident Management Team - IC Jacob Sohr.
Weather Synopsis
Weather Concerns:
Moisture from former Hurricane Genevieve has worked in to the Mojave National Preserve and helped develop thunderstorms across the region this afternoon. Although there have been several lighting in strikes, most of theses storms have been wet producing a radar estimated 1-2 inches of rain and the potential does exist through the remainder of the afternoon for storms to develop in and around the fire perimeter.
High temperatures were down about 3 to 6 degrees today reaching the upper 80's to mid-90's. RH was also higher with minimum RH dropping into the mid-20s to mid-30s, which is about 10-20% higher than yesterday. RH recoveries overnight area expected to be good with max RH in the 45-55% ranges. Isolated thunderstorms will still remain in the forecast Sunday as moisture remains in places. The threat of brief heavy rains, gusty winds and lightning will exist. Majority of these storms are expected to be wet. Highs are expected to be in the upper 80's to mid-90s with minimum RH in the mid-20s to mid-30s.