Last Updated:
6 mins, 48 secs ago
Incident #:
2020-CACDF-22c6ea3c-304c-4b3b-bfba-7c9dfc63d9da
Fire Start:
Tuesday, August 18, 2020 2:25 AM PDT
Fire Unit:
California Department of Forestry and Fire Protection
Dispatch Notes:
This fire is approximately 98% contained.

Work continues on the SCU Lightning Complex. CAL FIRE personnel continue to patrol the fire lines looking for hot spots and working on the Suppression Repair plan. Full containment of the fire is expected on 9/30/20.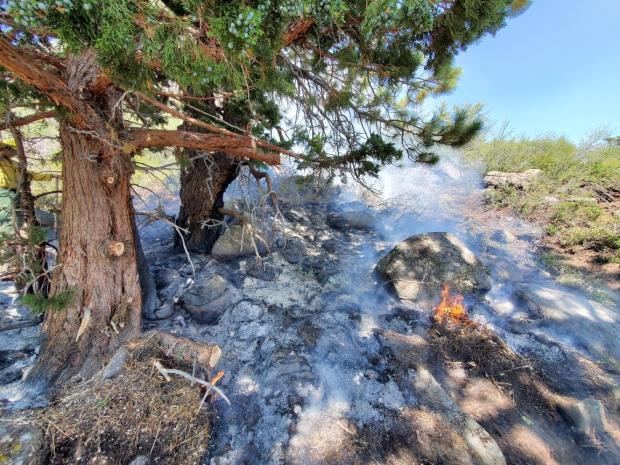 BLM-managed public lands within the Central Coast Field Office jurisdiction are included in the acreage burned by the Santa Clara Unit (SCU) Lightning Complex fire. The Complex is comprised of approximately 20 separate fires that are burning across multiple locations of the Diablo Mountain Range in Alameda, Contra Costa, San Joaquin, Santa Clara and Stanislaus counties.

Updates: This is not a federal incident, and is being managed by the CalFire Santa Clara Unit. For the latest information, please visit https://www.fire.ca.gov/incidents/2020/8/18/scu-lightning-complex/, or follow #SCULightningComplex on Twitter at https://twitter.com/calfireSCU. Sign up to receive daily updates at http://www.tinyurl.com/Lightningcomplex. 

Fire Restrictions: Any open flame is prohibited on all public lands managed by the Bureau of Land Management in California: https://www.blm.gov/press-release/bureau-land-management-increases-fire-restrictions-throughout-california. The Central California District, which includes public lands managed by the Central Coast Field Office, has temporarily suspended all target shooting: https://www.blm.gov/press-release/blm-temporarily-suspends-target-shooting-central-california-due-wildland-fire-danger. An interactive map and listing of fire restrictions throughout BLM California is available at https://go.usa.gov/xmUEG.
 
To learn how you can do your part to prevent wildland fires visit www.readyforwildfire.org. 

Fire Terminology: See https://www.fs.fed.us/nwacfire/home/terminology.html.
Basic Information
Incident Type:
Wildfire
Cause:
Under Investigation
Date of Origin:
Sunday August 16th, 2020 approx. 04:00 AM
Incident Commander:
CalFire Santa Clara Unit
Coordinates:
37.882, -121.777
Fuels Involved:
Tall grass (2.5 feet).
Planned Outlook
Weather Synopsis
Incident Contact
Incident Contact
Information Line
Phone: 916-618-3195
Fire Unit Information
Central California District
Bureau of Land Management
5152 Hillsdale Circle
El Dorado Hills, CA 95762
Dispatch Contact
California Department of Forestry and Fire Protection
| Sacramento, CA
Website:
http://calfire.ca.gov/