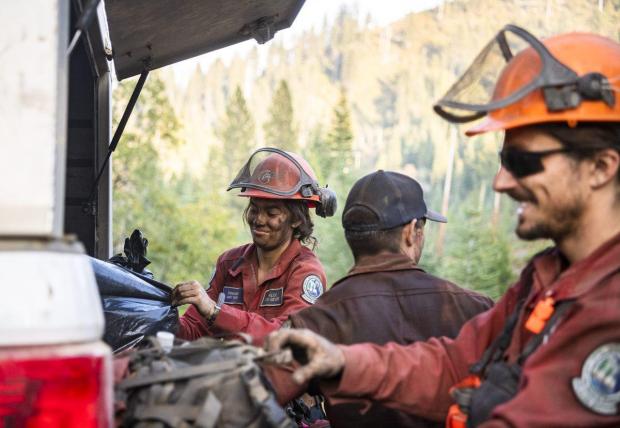 The incident command post (ICP) for North Complex (Claremont-Bear Fire) operations has shifted from Quincy to Oroville, CA, as higher elevation areas become less accessible for suppression repair and hazard tree removal.
The fire is expected to be 98% contained within a day or so with full containment a week or two off, weather & operations dependent; there is significant heat remaining in lower elevation areas not covered by snow.
Plumas National Forest officials have sharply reduced the closure area which now follows (generally) the actual fire perimeter and affects all national forest land, roads and trails with the fire closure area.  County roads and private land within the perimeter are not affected by the federal land closure. For more information about the closure, please check the forest website at: https://www.fs.usda.gov/alerts/plumas/alerts-notices .
Within the closure area, Forest Service trails, roads, and campgrounds are closed. Falling trees (often falling without warning), smoldering stump holes, and moving heavy equipment are some of the public safety hazards that exist within the fire perimeter. Longer term hazards includelandslides and flash flooding caused by erosion or suppression activities not yet repaired. These hazards may lead to serious injury or death.Law enforcement is patrolling the area. Please use caution as fire personnel continue working in and around the fire area; watch for logging trucks around La Porte Road.
A new series of weather systems will impact the fire and surrounding areas beginning Friday, November 13 and into the following week bringing periods of rain and mountain snow.  Following this weather event, operations will continue to ramp down for the season due to road and area conditions.
Please note the fire information phone number has shifted to the Mt. Hough and Feather River Ranger District offices (see phone numbers listed above). The Plumas National Forest has been overseeing all operations since October 29th.
We thank everyone in the local communities and beyond for their past and continued support of the firefighters working on this incident.
Basic Information
Incident Type:
Wildfire
Cause:
Lightning
Date of Origin:
Monday August 17th, 2020 approx. 09:00 AM
Location:
South of Quincy CA, west of La Porte, north of Challenge, east of North Fork Feather River
Incident Commander:
ITC4 Matt Clemins, Plumas National Forest
Incident Description:
Complex
Coordinates:
40.091, -120.931
Size (Acres):
318,935
Containment:
98%
Estimated Containment Date:
Monday November 30th, 2020 approx. 09:00 AM
Fuels Involved:
Brush (2 feet)
Closed Timber Litter
Timber (Litter and Understory)
Significant Events:
Minimal.
Planned Outlook
Planned Actions:
Complex suppression repair is planned and ongoing.
Projected Incident Activity:
Fire may continue to smolder and creep where sheltered by canopy/topography. Isolated smoke may be visible to public in aforementioned areas.
Remarks:
Breakdown of acreage:
North Zone/South Zone - 234,340 acres
West Zone - 84,595 acres
Total - 318,935 acres

West Zone: 98%
North Zone: 96% (Being the larger portion of the fire the weighted overall containment of the incident)

Breakdown of Responders with injuries/illness:

North Zone/South Zone -
Previous Report Total: 13
Number this Reporting Period: 0
Total number to date: 13

West Zone -
Previous Report Total: 2
Number this Reporting Period: 0
Total number to date: 2

Breakdown of costs to date:
North Zone /South Zone - $105,194,900
West Zone - $73,741,345
Total - $178,936,245

Breakdown of personnel on the incident:
North Zone /South Zone - 326
West Zone - 147
Total - 473

Area Closures:
The Feather River Ranger District of the Plumas National Forest along with the North Complex Fire area and the roads and trails within it are under a closure order.
Additional Information:
The 5 acre slop-over in the Letterbox creek area of the fire is fully contained and the perimeter has been mopped up. There is dozer line around the slop and engines and crews will continue to patrol and mop-up additional areas as needed.

A local Type 4 organization (ICT4 Clemins) has assumed command of the North Complex (11/15) and will continue road side hazard tree removal.

Weather Synopsis
Weather Concerns:
Below normal daytime temperatures continue with dry conditions through at least Monday afternoon. Winds will generally remain light over the next few days. A series of weather systems will impact the fire area beginning Tuesday and into Thursday of next week, with periods of rain, mountain snow.

Incident Contact
Incident Contact
Mt Hough Ranger District
Phone: 530-283-0555
Fire Unit Information
Plumas National Forest
U.S. Forest Service
159 Lawrence Street
Quincy, CA 95971