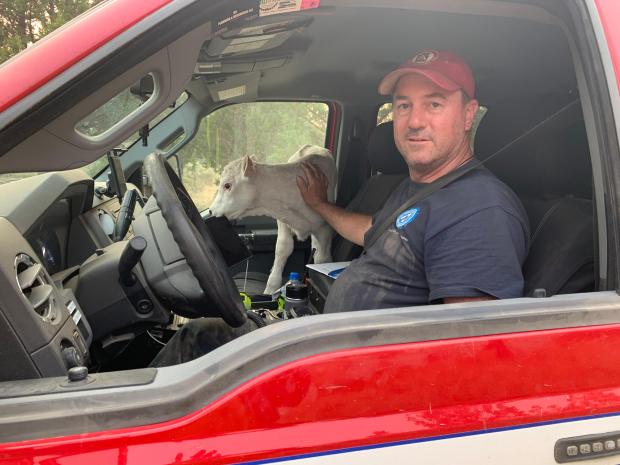 Indian Creek Fire Summary Updated August 29, 2020
Northwest Incident Management Team 13 will transfer the Indian Creek Fire suppression to High Desert Type 3 Incident Management Team under the command of Rob Gubser tomorrow, August 30th. NWIMT13's successful management and suppression efforts by firefighters over the past two weeks is due in large part to the tremendous support of the communities of Juntura, Harper, Westfall, and Vale.This will be the final update from Team 13. Future updates will be generated by Vale Bureau of Land Management as needed.
The Indian Creek Fire was reported at 12:30 p.m. MT Sunday, Aug. 16, along Hwy. 20 at Jonesboro, just outside Juntura, Ore. It is burning in priority sage-grouse habitat on private, state and Vale BLM-managed lands in sagebrush, juniper and grassland. The size of the fire is currently estimated to be approximately 48,128 acres.
Pacific Northwest Type 2 Incident Management Team 13, under Incident Commander Brian Gales, assumed management of the Indian Creek fire at 6:00 am on August 18th. Firefighters from the Vale and Burns Districts of the Bureau of Land Management performed initial attack in tough environmental conditions. Their actions provided a solid footing for current and future fire suppression efforts.

The cause of the Indian Creek Fire is under investigation. Anyone who was in the area of Hwy. 20 at Jonesboro near milepost 203 about 12:30 p.m. MT Sunday is encouraged to contact Vale BLM Fire at 541-473-6374 or the WeTip hotline at 1-800-472-7766. WeTip calls are toll free and anonymous.

Indian Creek Fire Information:  541-219-6863   lbgardus@blm.gov

Burn Restrictions:  Burn restrictions are in effect across the Bureau of Land Management Vale District and Bureau of Reclamation-protected lands. This includes a ban on campfires and open flames, driving or parking on dry vegetation, and operating equipment or engaging in activities that could create a spark. Go to https://tinyurl.com/Vale-BLM-fire-restrictions for details.  
Basic Information
Incident Type:
Wildfire
Cause:
Unknown
Date of Origin:
Sunday August 16th, 2020 approx. 12:30 PM
Location:
Nine miles west of Juntura, Oregon
Incident Commander:
Local unit
Incident Description:
Wildfire Full Suppression Operation Managed By A Type 2 Incident Management Team.
Coordinates:
43.805, -117.892
Current Situation
Total Personnel:
117
Size (Acres):
48,128
Containment:
100%
Estimated Containment Date:
Saturday August 29th, 2020 approx. 04:00 PM
Fuels Involved:
Sage brush, juniper, short and tall grass.
Significant Events:
The total acres for the fire remains at 48,128 acres. Although the observed fire behavior has been relatively minimal, reports of fire activity well interior from containment lines has increased (e.g. smokes and isolated torching) and this is likely due to recent warming and drying trends. No smoke or heat was reported near containment lines during the last operational period. All Divisions except L and a small portion of R have been contained. Crews are primarily engaged in suppression repair work at this time and working for more depth in areas that have not been contained. There remains a chance of local district initial attack from the lightning storm that went through on the evening of August 26. Forecasts going forward continue to indicate a drying and warming trend through tomorrow. Winds will be returning to a southwest-westerly flow, reducing concerns on DIVS E and L somewhat.
Planned Outlook
Planned Actions:
Continue to build indirect fire line to control the spread of the fire. Branch II will start suppression repair work on the southern-most part of the fire.

Projected Incident Activity:
The western Divisions (E & L) will remain priority areas of concern due some interior heat reported from the last IR flight, and the heavy fuel bed to the northwest. Forecasted temperatures and winds will continue to rise and humidity's will continue to drop into Saturday. In the afternoon and evening gusty westerly winds will arrive at the incident. These conditions will facilitate increased fire behavior in the interior.
Remarks:
Incident will transition to type 3 team on August 30th.
Weather Synopsis
Weather Concerns:
A cold front sweeping across eastern Oregon Saturday will arrive late in the afternoon and evening over Indian Creek. Winds will shift from the southwest to the northwest and will become breezy along the ridgetops Saturday night. Wind gusts 25 to 30 mph are forecast for the evening hours. The relative humidity during the day will be low but will increase with the frontal passage. It will be considerably cooler on Sunday.
Incident Contact
Incident Contact
Larisa Bogardus
Email: lbogardus@blm.gov
Phone: 541-219-6863
Fire Unit Information
Vale District
Bureau of Land Management
Oregon
Vale, OR 97918