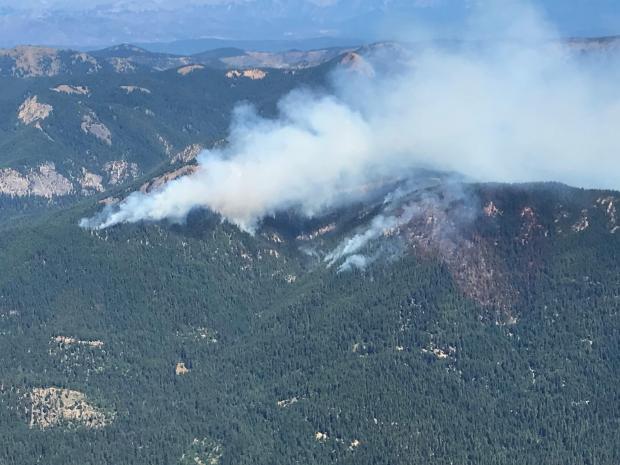 This is the final update on the Jungle Creek Fire. We want to thank forest recreationists for their patience with the road, trail, and area closures while firefighting efforts occurred on the Jungle Creek Fire.
We ask forest visitors to not let their guard down even though the fire has been declared 100% contained. The closure for the footprint of the fire remains in place; for public safety, do not enter the fire area as hazards still exist.
Fire crews will continue to monitor and patrol the fire over the next few weeks. Forest visitors may continue to see smoke in the interior area of the fire; fall rains will eventually extinguish these small hot spots.
Please contact the Naches Ranger District office (509-653-1401) for information about the area closure.
Basic Information
Incident Type:
Wildfire
Cause:
Unknown
Date of Origin:
Monday August 17th, 2020 approx. 03:15 PM
Incident Commander:
Thomas ICT4-t, Naches District Fire Management
Coordinates:
47.036, -121.144
Size (Acres):
588
Containment:
100%
Estimated Containment Date:
Wednesday September 02nd, 2020 approx. 12:00 AM
Fuels Involved:
Timber (Litter and Understory)
Timber (Grass and Understory)
Significant Events:
09/07/2020: Minimal fire activity. The Jungle Creek Fire has transitioned from a Type 3 Incident Management Team back to the local unit. There may continue to be smoke visible in the immediate area of the fire as interior fuels burn. Firefighters continue to patrol and monitor the fire.
Planned Outlook
Planned Actions:
Continue to patrol and monitor.
Projected Incident Activity:
Reinforcing containment lines.
Remarks:
This is the final update on the fire.
Incident Contact
Incident Contact
Naches Ranger District
Phone: 509-653-1401
Hours: Mon-Fri 8:00am to 4:30pm
Fire Unit Information
Okanogan-Wenatchee National Forest
U.S. Forest Service
215 Melody Lane
Wenatchee, WA 98801
Dispatch Contact
Central Washington Interagency Center
| Wenatchee, WA
Phone:
509-884-3473
Website:
https://gacc.nifc.gov/nwcc/districts/CWICC