Last Updated:
1 hour, 31 mins ago
Incident #:
2020-CAPNF-001299
Fire Start:
Monday, August 17, 2020 1:20 PM PDT
Fire Unit:
US Forest Service — Plumas National Forest
Dispatch Notes:
P5ngs4 (0511) so #70 mhrd # 34 iqcs # 508986 | Contain: 09/07/20 1800 | Control: 10/09/20 1200 | Out: 12/03/20 0800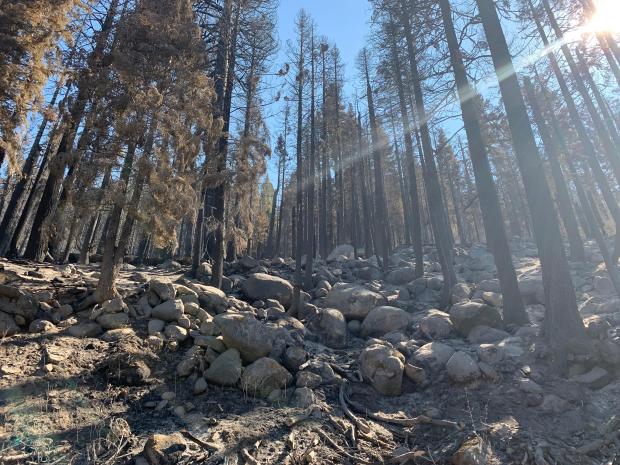 September 8, 2020: This will be the final update for the Sheep Fire unless conditions change.
 
The Sheep Fire started on August 17 as a result of lightning. As of 6 a.m. on Sept. 9, it is:

29,570 acres
100% contained

Smoke
Smoke conditions vary with fire activity, air quality information is available at https://fire.airnow.gov/.

Forest Closures
Lassen and Plumas National Forests have enacted Sheep Fire Closure Orders, the boundaries and map are outlined at https://www.fs.usda.gov/main/lassen/home.

Basic Information
Incident Type:
Wildfire
Cause:
Lightning
Date of Origin:
Monday August 17th, 2020 approx. 02:15 PM
Location:
Hennignan's Sheep Camp, PNF
Incident Commander:
Daren Dalrymple (CAIIMT10)and
Coordinates:
40.279, -120.761
Current Situation
Total Personnel:
180
Size (Acres):
29,570
Containment:
100%
Estimated Containment Date:
Saturday September 12th, 2020 approx. 12:00 AM
Significant Events:
CAIIMT 10
Planned Outlook
Planned Actions:
fire suppression and Burned Area Emergency Response repair operations will continue in divisions.
Remarks:
The Sheep Fire originated in Plumas County, but a majority of the fire is located in Lassen County.
Weather Synopsis
Weather Concerns:
A significant change in the weather will occur today through Wednesday. A Red Flag Warning will be in effect from 1300 Monday through 1100 Tuesday for gusty winds and low humidity. A Fire Weather Watch is in place for Tuesday and Wednesday for continuing gusty winds and low humidity. The Red Flag warning covers most of the state of California.
Incident Contact
Incident Contact
North Complex Fire Information
Email: 2020.NorthComplex.Info@firenet.gov
Phone: 530-316-4487
Hours: Daily 9:00am - 9:00pm
Fire Unit Information
Plumas National Forest
U.S. Forest Service
159 Lawrence Street
Quincy, CA 95971
Dispatch Contact
Plumas Emergency Communications Center
| Quincy, CA