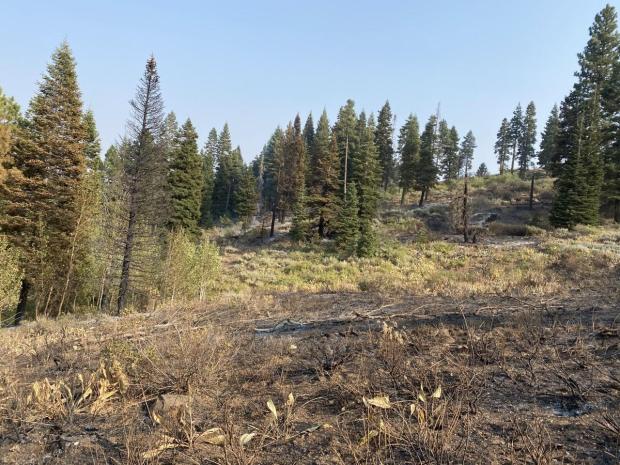 Thank you to the Lake County Fairgrounds, Lakeview High School, Lakeview Fire Department and the entire Lake County community for hosting and housing Northwest Incident Management Team 12!
Firefighters are wrapping up suppression repairs as they continue making headway in containing the Crane Fire about 10 miles southeast of Lakeview, Oregon. A transfer of command to the Fremont-Winema National Forest will take place at 6 AM on Thursday, August 27.
 
The Fremont-Winema Forest Closure Order has been revised with a reduced closure area, effective 8/27/2020.
The revised closure notice and map are posted on the Closures page. 
Basic Information
Incident Type:
Wildfire
Cause:
Lightning
Date of Origin:
Sunday August 16th, 2020 approx. 01:45 PM
Location:
10 miles SE of Lakeview, OR
Incident Commander:
Jeff Dimke
Incident Description:
Wildfire
Coordinates:
42.094, -120.269
Current Situation
Total Personnel:
443
Size (Acres):
2,993
Containment:
75%
Estimated Containment Date:
Monday August 31st, 2020 approx. 08:00 PM
Fuels Involved:
Timber and Brush
Significant Events:
Minimal, creeping, and smoldering. There is a chance of thunderstorms in the fire area. Outflow winds form the storms could increase fire
behavior with a slight chance of spotting near control lines.
Planned Outlook
Planned Actions:
Mop-up and patrol will continue in Div-A, Div-B and Div-Z. Crews will hold mop-up control line around
the spot in Div-D. Repair work will also commence in all Divisions including chipping on the roads that were prepped to be contingency lines.
Projected Incident Activity:
12 hours: Expect the fire to stay within the control lines with continued slow clean up of areas of dirty burn and small unburned islands.

24 hours: Expect continued smoldering and creeping. In those areas of dirty burn there is some risk of flare up due to outflow boundary winds from forecasted slight chance of afternoon thunderstorms.

48 hours: Expect the fire to stay within the control lines with continued slow clean up of areas of dirty burn and small unburned islands.
Remarks:
Resource demobilization from the fire will begin tomorrow.

Part of the fire area and the lands south of the fire area are designated roadless areas. There are many natural resources at risk near the fire including wetlands and scab-lands. The area sees heavy
recreation use including camping, hiking and is well known for hunting opportunities.

The one reported illness was dehydration.
Weather Synopsis
Weather Concerns:
Moisture from tropical storm Genevieve continued to move into the area today. The additional moisture helped to destabilize the atmosphere. In addition, a couple of weak disturbances moved through the region. One to the north this morning which resulted in a couple of thunderstorms and one to the south this afternoon which spawned a line of thunderstorms about 50 miles or so to the south of the Crane fire. Temperatures were from 75-80 across the high terrain with relative humidity 25-30 percent. At the lower end of the terrain temperatures were 85-90 with relative humidity 20-25 percent. Winds were SW 10 to 15 mph with gusts 20 to 25 mph.

Tomorrow the flow will remain southwest to west and turning
westerly through the day. Upper level moisture will remain over the region and will support one more day of thunderstorms. Otherwise
expect temperatures a few degrees warmer. Relative humidity will remain seasonally dry and remain in the 20-30 percent range. Winds
will become westerly around 10 mph in the afternoon.
Incident Contact
Incident Contact
Tamara Schmidt
Email: tamara.schmidt@usda.gov
Phone: 541-891-6758
Hours: M-F 0800-1700
Fire Unit Information
Fremont-Winema National Forest
U.S. Forest Service
1301 S. G St.
Lakeview, OR 97630
Dispatch Contact
Lakeview Interagency Dispatch Center
| Lakeview, OR
Website:
http://www.scofmp.org