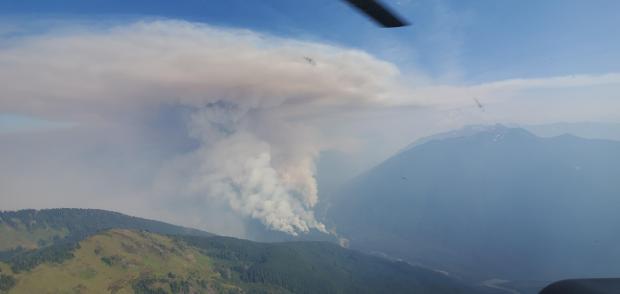 The Downey Creek Fire started on August 16, 2020 at 12:25 pm in the Glacier Peak Wilderness. The suspected cause of the fire is lightning. The fire is located approximately 17 miles from Darrington, Washington. Several trails and two campgrounds are closed as a result of the fire. The Downey Creek Fire Closure is in effect from September 11, 2020 until October 31, 2020, unless rescinded sooner.
Basic Information
Incident Type:
Wildfire
Cause:
Lightning
Date of Origin:
Sunday August 16th, 2020 approx. 12:30 PM
Location:
Downey Creek
Incident Commander:
Jason Montieth, Type 4 IC
Incident Description:
The Downey Creek Fire Started On August 16, 2020 At 12:25 Pm In The Glacier Peak Wilderness.
The Suspected Cause Of The Fire Is Lightning. The Fire Is Located Approximately 17 Miles From
Darrington, Washington. Several Trails And Two Campgrounds Are Closed As A Result Of The Fire. The
Downey Creek Fire Closure Is In Effect From September 11, 2020 Until October 31, 2020, Unless
Rescinded Sooner.
Coordinates:
48.264, -121.21
Current Situation
Total Personnel:
10
Size (Acres):
2,570
Estimated Containment Date:
Saturday October 31st, 2020 approx. 08:00 AM
Fuels Involved:
Timber, brush
Significant Events:
Precipitation occurred over the fire area this weekend and more is anticipated throughout the week. Minimal growth has occurred since September 13th. The fires Southern boundary is Forest Road 26 and the Suiattle River. It remains established West to East from Downey Creek to 1 mile beyond the Suiattle Trail Head along the Suiattle Trail. The majority of the fire resides in the Glacier Peak Wilderness.
Planned Outlook
Planned Actions:
Planned Action: Transition to a Type 4 Incident Commander took place Saturday Sept. 19th. Resources will continue to assess and monitor the fire this week. The Suiattle River Road (Forest Service Road 26) continues to be impacted by falling trees.
Projected Incident Activity:
Minimal fire growth is expected. Primarily creeping and smoldering.
Remarks:
Please note:
Updates will be made weekly starting Sept. 20th unless significant change occurs over the fire area.

Weather Synopsis
Weather Concerns:
Weather forecast for week of September 20th: Chance of showers Sunday, Monday, and Tuesday with highs of 61-71 degrees. Strong front arriving Wednesday with additional systems Thursday and Friday. Significant rain expected Wednesday through Friday.
Incident Contact
Incident Contact
Darrington Ranger Distric
Email: SM.2020DowneyCR@usda.gov
Phone: 360-436-1155
Hours: M-F 8-4:30
Fire Unit Information
Mt. Baker-Snoqualmie National Forest
U.S. Forest Service
Washington
Everett, WA 98201
Dispatch Contact
Puget Sound Interagency Communication Center
| Everett, WA