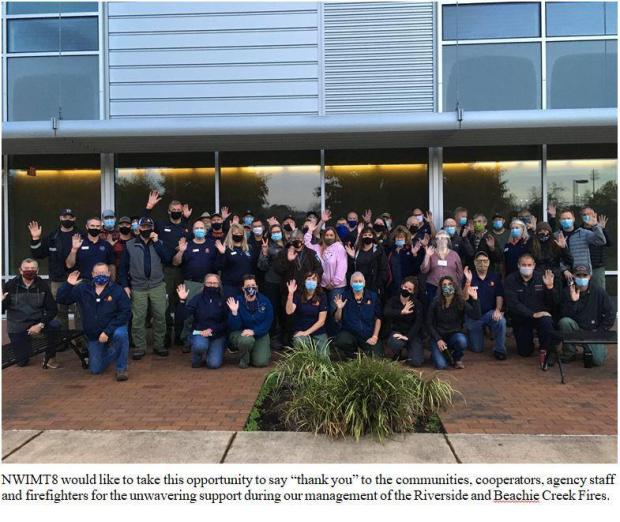 The Beachie Creek Fire was first detected on August 16, 2020 approximately 2 miles south of Jaw Bones flats in rugged terrain deep in the Opal Creek Wilderness. A Type 3 team was ordered to manage the fire on the day it was detected and implemented a full suppression strategy. A hotshot crew tried to hike to the fire within the first 24 hours. They were unable to safely access and engage the fire due to the remote location, steep terrain, thick vegetation and overhead hazards. Fire managers continued to work on gaining access, developing trails, identify lookout locations, exploring options for access and opening up old road systems. The fire was aggressively attacked with helicopters dropping water. A large closure of the Opal Creek area and recreation sites in the Little North Fork corridor was immediately signed and implemented. The fire remained roughly 20 acres for the first week. On August 23rd, the Willamette National Forest ordered a National Incident Management Organization (NIMO) Team to develop a long-term management strategy. This is a high-caliber team which has capacity to do strategic planning. The fire grew slowly but consistently and was roughly 200 acres by September 1st, fueled by hot and dry conditions.  
At the beginning of September, a Type 2 Incident Management Team (PNW Team 13) assumed command of the fire. The fire size was estimated to be about 500 acres on September 6th. On that day, the National Weather Service placed Northwest Oregon under a critical fire weather warning due to the confluence of high temperatures, low humidity and rare summer easterly winds that were predicted to hit upwards of 35 mph in the Portland area on Labor Day. The unique wind event on September 7th created an extreme environment in which the fire was able to accelerate. The winds were 50-75 miles per hour, and the fire growth rate was about 2.77 acres per second in areas of the Beachie Creek fire. This allowed the fire to reach over 130,000 acres in one night. Evacuation levels in the Santiam Canyon area went directly to level 3, which calls for immediate evacuation. Additionally, PNW Team 13 was managing the Beachie Creek Fire from their Incident Command Post established in the community of Gates. That evening, a new fire start began at the Incident Command Post forcing immediate evacuation of the Team and fire personnel. From the night of September 7th, these fires became collectively known as the Santiam Fire. Ultimately, the Santiam Fire name reverted back to Beachie Creek Fire in order to reduce confusion for the communities in the area. The Incident Command Post was re-established in Salem at Chemeketa Community College. At the end of the wind event, the Lionshead Fire also merged with the Beachie Creek Fire having burned through the Mount Jefferson Wilderness.
After the night of the wind event, the Beachie Creek Fire was managed under unified command by PNW Team 13 and the Oregon State Fire Marshal and the focus shifted to recovery and preservation of life and property. On September 17th, a Type 1 IMT (SW Team 2) assumed command of the fire. Growth on the fire slowed and the fire reached 190,000 acres. A second Type 1 team (PNW 3) took over command of the Beachie Creek Fire, along with the Riverside Fire to the north, on September 29th. Evacuation levels were lowered or removed as fire activity slowed. At the beginning of October, seasonal fall weather moved over the fire producing several inches of rain. During these weeks, a BAER (Burned Area Emergency Response) team assessed the burned landscape and habitats to try to evaluate damage. On October 8th, PNW Team 8, a Type 2 team took over management of the fire. Focus efforts on the ground shifted from suppression and mop-up to suppression repair. On October 14, the fire was downgraded and transitioned command to local Type 3 Southern Cascades team.  The acreage topped out at 193,573 acres. Closures remain in place to keep the public safe from hazards like falling trees and ash pits that can remain hot and smolder for months after the wildfire event.
Basic Information
Incident Type:
Wildfire
Cause:
Unknown
Date of Origin:
Sunday August 16th, 2020 approx. 11:18 AM
Location:
Fire started 2 miles south of Jawbone Flats.
Incident Commander:
Jonah Gladney
Coordinates:
44.821, -122.188
Current Situation
Total Personnel:
67
Size (Acres):
193,573
Containment:
100%
Estimated Containment Date:
Saturday October 31st, 2020 approx. 12:00 AM
Fuels Involved:
Timber (Litter and Understory)
Closed Timber Litter
Medium Logging Slash

Fuel types consist of mixed conifer, grass and shrub fields with numerous snags and heavy dead and down. Private lands have various aged conifer plantations, NFS lands and upper elevations transition to mature Douglas fir with significant snag component. Live fuels are dormant, grasses are cured, and both may contribute to fire intensity and spread. Previous management and multiple ownerships contribute to many fuel type changes, including residual activity fuels (slash). BOW spot is in heavy down fuels from previous fire event, not spreading into the green areas readily.
Significant Events:
Minimal
Planned Outlook
Planned Actions:
Suppression repair work will continue.
Projected Incident Activity:
12 hours: Very Isolated heat and smoke in the interior with some smoldering. Some smoke may be visible in isolated burning stumps, large down logs, and snags.

24 hours: Very Isolated heat and smoke in the interior with some smoldering. Some smoke may be visible in isolated burning stumps, large down logs, and snags.
Remarks:
Transfer of command to a type 3 organization took place on 10/15/2020 at 7 am.
Weather Synopsis
Weather Concerns:
Conditions remain cool and wet.

No significant weather is
expected that will increase fire behavior.
Incident Contact
Incident Contact
Beachie Creek Fire Information
Email: 2020.beachiecreek@firenet.gov
Phone: 509-228-7805
Hours: 8am-8pm
Fire Unit Information
Willamette National Forest
U.S. Forest Service
Oregon
Springfield, OR 97477
Dispatch Contact
Eugene Interagency Communication Center
| Eugene, OR
Website:
http://oreic.org/intelreport.shtml