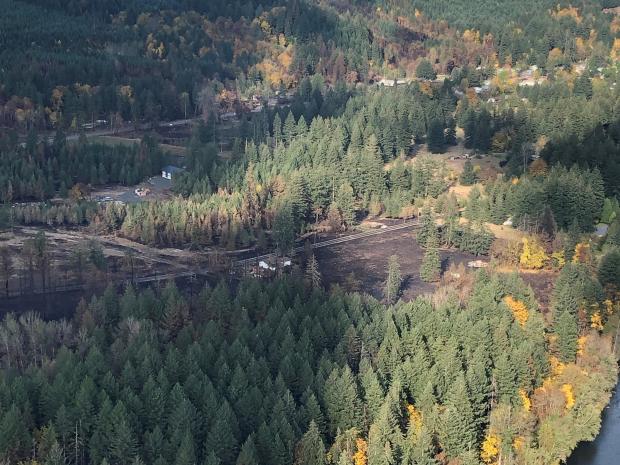 Southwest Incident Management Team 2, under the leadership of Incident Commander John Pierson, is managing the Beachie Creek Fire.
Additional hot shot crews and Canadian firefighters are directly attacking hot spots Monday on the Beachie Creek fire. These new resources are working the southern edge of the fire along State Route 22 between Stayton and Detroit. There is heat around Rock Creek, and crews are securing that area. The North Fork area remains closed and structural firefighter crews are there conducting additional protection and safety work.
The Incident Management Team and Marion County Sheriff are advising residents about potential hazards of hot ash, falling trees, hazardous debris, and possible rockslides. A tree may look alive and green; and yet, the fire may have burned the base, making it a falling hazard. On State Route 22, debris is constantly being removed which is why it remains closed. Insurance firms are getting in the area to assess damage, and utility companies are making repairs. The Marion County Sheriff deputies are also escorting specific boat owners in the removal of boats from Detroit Lake due to low water levels; only those owners whose names are on the Sheriff's list are allowed in the area.
Firefighters are working directly on the western edge connecting the pieces of containment line, and weather conditions will be favorable this Monday and Tuesday.  Just to the east of Silver Falls State Park, adjacent to the fire line, heavy equipment will be used to strengthen the containment lines. Over on the eastern edge of the fire, there is more intense heat in the Nasty Rock area, pushing towards Burnt Mountain; additional acreage will burn there on Monday.  which has backed down to the bottom of the slope along Molalla River.When it crosses the drainage, expect fire to accelerate up the western aspect towards Burnt Mountain. which has backed down to the bottom of the slope along Molalla River.When it crosses the drainage, expect fire to accelerate up the western aspect towards Burnt Mountain.By Wednesday, a windy and wet weather pattern moves in that is forecast to produce up to an inch of rain.  Wind gusts could reach 45 miles per hour; crews are preparing the areas for the weather. 
Currently 1,118 structures are at Level 3 evacuations and another 4,574 are in level 2 evacuations.
SAFETY: As more residents are allowed back into the area, it is imperative that everyone heeds road closures and safety messages. Anyone who enters the fire perimeter jeopardizes firefighting operations and puts lives at risk. The roads are extremely hazardous due to falling debris, smoke and heavy traffic. Members of the public in the immediate area are asked to keep the Ready, Set, Go levels of evacuation in mind. READY your belongings; SET your things at the door or prepack them in your car; GO Leave immediately.

SMOKE: Smoke levels will remain elevated in and around the most active fire parameters. Expect to see small columns of smoke emerging as stumps, roots, and unburnt fuels increase activity late today. This evening, smoke will pool back into the drainages with cooler temperatures. Communities of Mill City, Gates, Detroit, and Estacada will remain the most impacted due to proximity to the fires. From Eugene to Portland, the region will see Good to Moderate air quality.
CLOSURES: Willamette National Forest, Bureau of Land Management, and State lands around the fire remain closed to the public.  View the official order located in the closure section of this page. Some state forests re-opened to the public on Friday September 18.

For a complete list of what is and is not allowed, please visit the Willamette National Forest fire webpage: fs.usda.gov/main/willamette/fire. Never leave a campfire unattended. Drown it with water, stir it thoroughly, and feel it with your hand to ensure that it is out cold. Fires are only allowed in designated campgrounds.
Basic Information
Incident Type:
Wildfire
Cause:
Unknown
Date of Origin:
Sunday August 16th, 2020 approx. 11:18 AM
Location:
Fire started 2 miles south of Jawbone Flats.
Incident Commander:
John Pierson, Southwest IMT 2
Incident Description:
Wildland Fire Suppression.
Coordinates:
44.821, -122.188
Current Situation
Total Personnel:
677
Size (Acres):
192,838
Containment:
52%
Estimated Containment Date:
Saturday October 31st, 2020 approx. 12:00 AM
Fuels Involved:

Timber (Litter and Understory)
Brush (2 feet)
Timber (Grass and Understory)
Significant Events:
Minimal
Smoldering

Widespread precipitation over the fire area continued to keep the multitude of isolated heat sources in a smoldering state.
Planned Outlook
Planned Actions:
Utilize heavy equipment to open existing road systems in DIV A, Abiqua Basin. Purpose is to mitigate hazard trees to allow crews safe access to work remaining areas of heat. Construct handline and cold trail with Type 1 crews. Heavy equipment will be utilized to finish direct and indirect lines in divisions W and R. Engines will be used to patrol and mop up areas of heat and hazard trees adjacent to private property and associated infrastructure.
Projected Incident Activity:
Precipitation is predicted to continue throughout the evening. The multitude of isolated heat sources will continue smoldering with primary combustion sub-surface in root systems and partially buried dead/downed fuels.

A further 0.25" of precipitation is anticipated tomorrow. Widespread cloud cover and intermittent showers will maintain fire in a smoldering state. Falling trees and rockfall is still possible and likely on steeper slopes.
Remarks:
Evacuated home occupancy numbers is equal to 2.5 times the total number of residences evacuated under
Level 3.

Evacuated residents by county:
Clackamas County- 348
Linn County- 15
Marion County- 2433
Weather Synopsis
Weather Concerns:
Observed: A cold front passed through the fire in the morning bringing gusty southwest winds and steady light rainfall. Wind gusts of 30-35 mph were common. Behind the front, moisture continued to stream into the area bringing on and off showers throughout the afternoon. Rainfall amounts between a quarter and half an inch were observed through Friday afternoon. Temperatures struggled to warm out of the 50s and humidity levels hovered around 90 percent throughout the day.

Predicted: Moist onshore flow will continue across Western Oregon on Saturday. This will bring a heavy presence of low clouds and occasional light showers. A few breaks in the cloud cover in the afternoon will allow temperatures to warm back into the lower 60s. Wind gusts to 15 mph will be possible in the afternoon.
Incident Contact
Incident Contact
Beachie Creek Fire Information
Email: 2020.beachiecreek@firenet.gov
Phone: 541-583-0526
Hours: 8am-8pm
Fire Unit Information
Willamette National Forest
U.S. Forest Service
Oregon
Springfield, OR 97477
Dispatch Contact
Eugene Interagency Communication Center
| Eugene, OR
Website:
http://oreic.org/intelreport.shtml